By LINDSAY ZECK
Rockies catcher Tony Wolters is hitting .134 so far this season—third worst of all catchers with at least 50 plate appearances, ahead of only Alex Avila and Roberto Pérez.
So why haven't the Rockies sent him down to the minors and brought up the hot-hitting Tom Murphy from Albuquerque? Murphy is currently hitting .301 with 11 home runs with the Triple-A Isotopes this season, in only 34 games.
The answer is in the defensive value the Rockies see in a catcher who is not even hitting three quarters of his weight. Wolters' defense has been outstanding so far this season. He is currently leading all catchers with eight runs saved—two more than anyone else at the position—and is only one behind the leader for the entire league, Brewers shortstop Orlando Arcia. This is new for the Rockies, as their catchers of the past haven't exactly been skilled defensively.
Here is a table showing the number of runs the Rockies' primary catchers have cost the team going back to 2012:
| | | | |
| --- | --- | --- | --- |
| Season | Primary Catcher | Defensive Runs Saved | Rank |
| 2018 | Chris Iannetta | -5 | 33 |
| 2017 | Tony Wolters/Jonathan Lucroy | -1/-15 | 20/35 |
| 2016 | Nick Hundley | -16 | 35 |
| 2015 | Nick Hundley | -11 | 32 |
| 2014 | Wilin Rosario | -14 | 31 |
| 2013 | Wilin Rosario | -13 | 31 |
| 2012 | Wilin Rosario | -18 | 33 |
We can see that in 2016, Nick Hundley cost the Rockies 16 runs—more than any other catcher cost his team. In 2017, Jonathan Lucroy cost a combined league-worst 15 runs—seven for the Rockies after being traded at the end of July, and eight for the Rangers. Prior to the trade, the Rockies catchers (Tony Wolters—who cost the team a run, Ryan Hanigan, Dustin Garneau, and Tom Murphy) combined to cost the team six runs.
So far this season, Chris Iannetta is tied as the second-worst defensive catcher, already costing the Rockies five runs.
As a rookie, Wolters saved the Rockies five runs in 2016 while both filling in for an injured Nick Hundley and serving as his backup. He was the first Rockies' catcher with positive runs saved since Yorvit Torrealba saved the Rockies one run back in 2013.
This season, Wolters is the only catcher in the league to have saved runs in all five defensive components of Defensive Runs Saved for catchers—Stolen Bases, Bunts, Good Fielding Plays and Defensive Misplays Plus Errors, Adjusted Earned Runs Saved, and Strike Zone.
Three of Wolters' eight runs saved are due to his pitch framing—tied for the most in the league. He has currently obtained the second-most extra strikes called in the league with 21, behind only Yan Gomes with 23. Iannetta has zero extra strikes called this season and has been inconsistent in this stat throughout his career.
The images below show the percentage of called strikes Wolters received by location along with the overall league percentage.
Wolters Called Strike Rate, 2018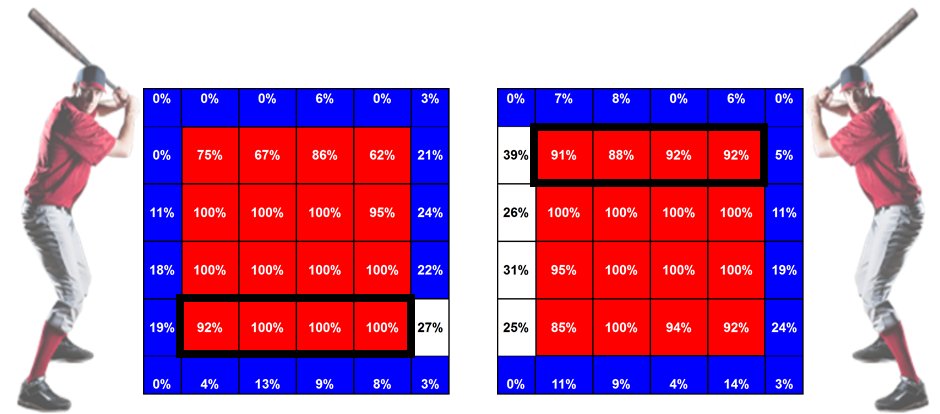 Overall League Called Strike Rate, 2018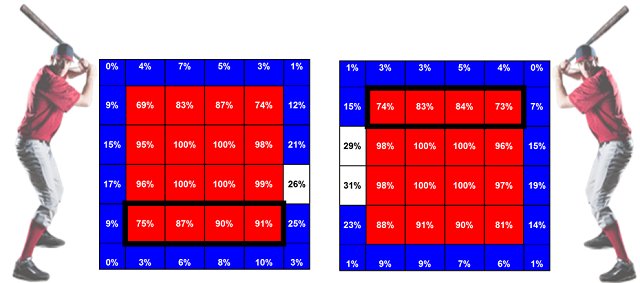 We can see that against left-handed batters, when compared to the league, Wolters excels at receiving strike calls when the ball is low in the zone. Against right-handed batters, he is much better than the league at receiving called strikes high in the zone.
Wolters, however, doesn't only excel at pitch framing. Here are a few more facts about his defense:
Pitchers Perform Better when he is Catching — The combined ERA of Rockies pitchers with Wolters behind the plate is 3.89. When Iannetta is catching, their ERA is 4.85.
He limits stolen bases — Wolters has thrown out base-stealers in 6-of-17 opportunities (35 percent), right in line with his 37 percent last season. The overall league percentage for catchers is 21 percent.
He can field a bunt — Wolters is one of only four catchers with a run saved due to bunt defense this season (our bunt runs saved rewards fielders who limit hits and cut down baserunners).
He blocks – Wolters ranks 13th out of 48 catchers in pitch block rate (nearly 95 percent). He's five percentage points better than Iannetta.
The question the Rockies need to ask is, does the value of Wolters' terrific defense significantly outweigh his shortcomings as a hitter? That they're keeping him in the major leagues may tell you the answer to that.