If you haven't noticed, Mike Zunino has been smashing baseballs lately. Since his call-up from Triple-A (May 22) where he underwent mechanical changes, he's hit .311/.364/.667 with nine home runs and five doubles. He's driving the ball to center field and making an honest effort to use all parts of the field. And the mechanical changes he made are proof of this new found approach. So what's changed?
The Set-Up
In April, Zunino's set-up featured an open stance, with the bat comfortably rested on his shoulder, and his feet spread about shoulder width. Since being recalled, Zunino has brought his feet closer together and is starting his left foot in a slightly-more closed stance. He also has raised his hands a bit above his head, similar to Nelson Cruz.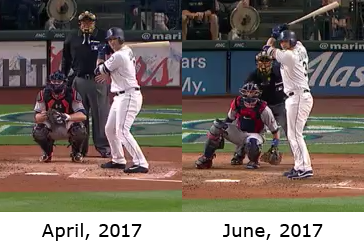 The Stride
As you grow up playing baseball, you're generally taught to stride towards the pitcher. In April, Zunino's front foot would have a tendency to land in what's commonly known as "the bucket", meaning he was striding away from the plate. His initial stride looked to be headed towards the pitcher, but right as his front leg started to come down, his foot swung his hips open and his front foot landed towards third base. That type of stride typically makes it more difficult for batters to cover the outer half of the plate, and Zunino's hot-and-cold zones from April demonstrate that he faced similar problems: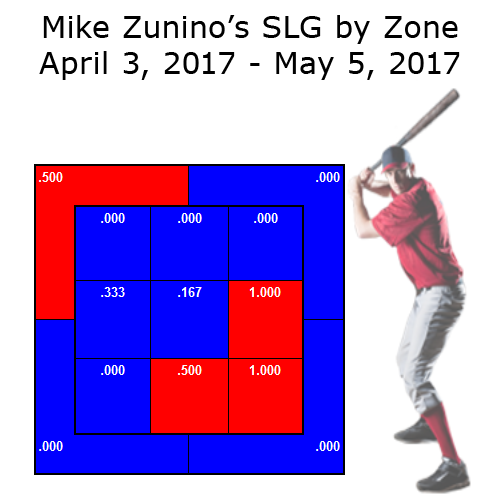 For that period, Zunino slugged just .130 in the three outside zones combined. Compare that to Zunino's heat map over the last month since he was recalled: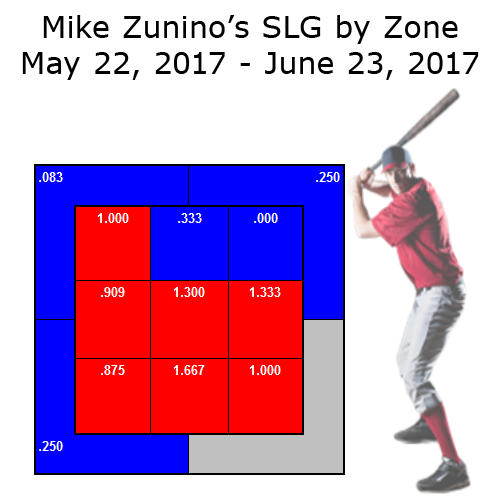 Zunino's mechanical changes now have his front foot landing parallel to the pitcher, and the evidence supports that he's now able to do damage on the outer half.
You'll also notice that he's no longer striding to a pointed toe, instead choosing to land more on the balls of his feet. The result is that once he decides to swing, his trigger (front-foot) can fire faster, creating more time for him to process the pitch. Basically, there's less wasted movement which results in a more explosive and compact swing.
Zunino's always been touted as being incredibly strong, and this newfound approach and mechanical adjustments give him more opportunities to take advantage of his natural power.