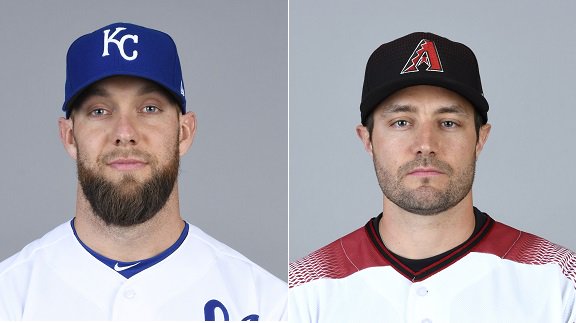 By MARK SIMON
On Monday, we looked at which infielders were the best at avoiding mistakes. Today, we'll look at which outfielders rank the best at doing the same.
To recap, Sports Info Solutions does video review of every pitch of every game and tracks both Good Fielding Plays in 30 classifications and Defensive Misplays & Errors in about 60 categories. Mistakes come in many forms, ranging from slipping and falling to dropping a ball, or misreading a ball bounce off the wall.
Our look back covers since the start of the 2015 season through games played on April 23.
Left Field: Two of your better left fielders head the list in Alex Gordon of the Royals and Christian Yelich of the Brewers, Gordon averages 1.1 misplays and errors per 100 innings, ahead of Yelich at about 1.4. Gordon also has the highest ratio of Good Fielding Plays to Defensive Misplays & Errors in that span (1.9).
Center Field: A.J. Pollock of the Diamondbacks doesn't often get brought up as an elite player at the position, but he does come out as the leader in this metric, a hair ahead of Mike Trout (both 1.3). This goes with Pollock's defensive ratings in center field. He's finished in the top 10 in Defensive Runs Saved at the position all five times that he's played more than a handful of games in a season.
Trout's defense is a topic of much debate. There are those who question just how good his range or arm is. But he doesn't get critiqued often for making mistakes, and rightfully so.
Right Field: Curtis Granderson of the Blue Jays is known as one of baseball's good guys. He's also a good guy when it comes to this stat. His 1.1 Misplays & Errors per 100 innings are the fewest at the position. Granderson has fared well in terms of Defensive Runs Saved in the past, largely because of his ability to chase down fly balls hit to the deepest part of the ballpark.
J.D. Martinez of the Red Sox ranks second. Often criticized for his defense, Martinez has made only 1.5 misplays per 100 innings in this stretch. However, he's made so few Good Fielding Plays, that his ratio of good to bad is among the worst in the majors.
For those wondering where Jayson Heyward is, he's just behind Martinez and Seth Smith. Heyward has long been the standard-setter at the position and continues to be here.