BY COREY FISHMAN
In 2015, Matthew Boyd was acquired by the Detroit Tigers in a trade that ultimately sent David Price to the Toronto Blue Jays. That same season Boyd won the MiLB.com Fans' Choice Award for best starting pitcher in the minor leagues and he was also selected to be a Double-A All Star by Baseball America.
Although Boyd excelled at the minor league level, he has not performed as well in the majors.
Until now.
From 2015 to 2017 Boyd had a 5.47 ERA while allowing a .284 batting average and .836 OPS. This year he has been able to improve these statistics drastically as he has a 3.23 ERA, .205 batting average allowed, and .613 OPS allowed.
The most surprising thing here is that after digging into Boyd, it seems that he has decided to turn back the clock and pitch relatively similar to the way he did in 2015.
When Boyd broke into the league in 2015 his best pitch by far was his slider, but as you'll see in the graphic below, it became much more hittable after that.
Batting Avg Against

| | | Slug Pct |
| --- | --- | --- |
|  2015 |  .158 |  .237 |
|  2016 |  .208 |  .340 |
|  2017 |  .375 |  .569 |
The one major change Boyd made was increasing the velocity on his slider over time. From 2015 to 2017 it sped up from 80 to 86 MPH. The one constant we notice here is that the faster he threw this pitch, the worse his numbers got.
By isolating just the 2018 season, we are able to see the drastic improvement in this pitch. He has decreased the MPH on his slider to 81 MPH, experienced a career high in miss rate at 32 percent, and he holds down a terrific .155 batting average and .194 slugging percentage. So why does slowing down this pitch improve his overall game so much? The answer can be defined in one word; placement. With help from heat maps available on Boyd's player page at Fangraphs.com, we can show you the difference in where he locates the slider, specifically to right-handed hitters.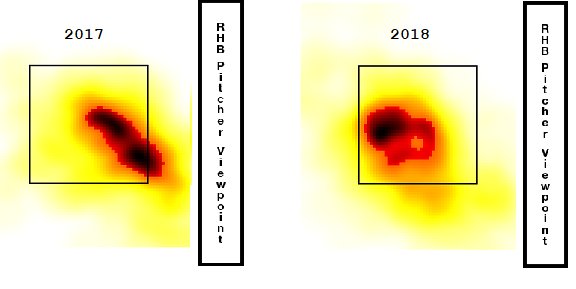 What we are able to identify in the images above is that by taking off velocity from his slider, Boyd is able to paint the outside corners with tremendous success, reducing the number of hard-hit balls against it.
So what we have here is a pitcher who has turned back the clock to redevelop the pitch that was giving him so much success in the minors. What has truly elevated Boyd to the next level is his willingness to deviate from being heavily reliant on his fastball to allowing his slider to take control of his game.
As we established earlier, in 2015 Boyd's slider was almost a mirror image of how it is today. The issue seems to be that he only threw it 17 percent of the time. This season he has upped the percentage to 34 percent.  This puts him right behind Diamondbacks pitcher Patrick Corbin (37 percent), who has been dominant at times when throwing sliders with high frequency.
If Boyd is able to stick to this plan and rely heavily on his dominant slider, it is tough to see a future that doesn't hold success for him at this level. Over the last four seasons, Boyd's FIP- (a stat found on Fangraphs that accounts for ballpark factors) has dropped all the way down from 161 to 94.
Overall, while many people may have lost hope in Boyd over the years, there is plenty of data to suggest that he has what it takes to be a quality starter at the highest level.