BY MARK SIMON, SPENCER HARRISON AND ANDREW KYNE
Mets ace Jacob deGrom started the season outside the top 10 in Bill James' starting pitcher rankings, but he's ascended to No. 5 with an incredible start to 2018. You might be aware that deGrom has received poor support from the Mets. He has a 1.69 ERA, but the Mets have won only six of his 16 starts.
You might also know that deGrom has become the master of the high fastball, using it as one of his weapons to strike out more than 11 hitters per 9 innings.
But what else should you know about deGrom's success in 2018?
Four great pitches
Per Fangraphs' pitch value stats, DeGrom is the only pitcher in baseball to have at least three runs saved for each of the four primary pitch types (fastball, curveball, slider or changeup) and the only starting pitcher to have at least one run saved per 100 pitches for all four of those pitch types.
In other words, the hitter has to be ready for more than just deGrom's fastball.
Working Inside
Pitching coach Dave Eiland said before the season started that Mets pitchers would take a much more aggressive approach at pitching hitters inside, going as far to say he hoped the Mets led the NL in hit batsmen.
DeGrom is among those who have taken Eiland's message to heart. This pair of heat maps shows how deGrom has gone from pitching left-handed batters primarily away with his fastball to attacking inside with it (the red indicates where deGrom has pitched most frequently, the blue is where he has pitched least often).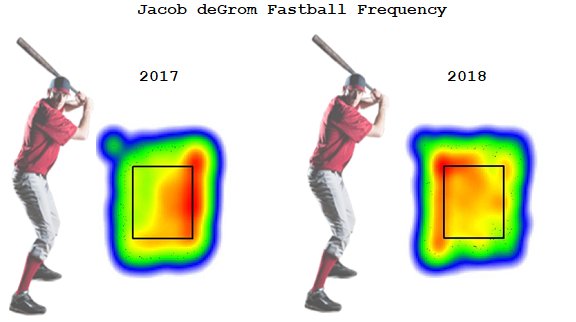 We can put numbers to it: This season, 46 percent of deGrom's fastballs to left-handed hitters have either been on the inner edge of the plate (defined as the inner-fourth) or off the inside corner.
That's up from 19 percent in 2017. The 27 percentage point increase ranks first among MLB pitchers.
Much of deGrom's improvements from last season to this one have come against right-handed hitters, but left-handed hitters have been held to a .654 OPS against him this season, down 39 points from 2017.
First-Pitch Curveballs
A few times a game, deGrom likes to change things up and throw his curveball to start an at-bat.
He's done this with significant success this season, throwing 41 of 48 first-pitch curves for strikes, with a major-league best 76 percent called strike rate (22 strikes on 29 first-pitch takes).
The Shift
Though the Mets rate as a poor defensive team, they've managed to succeed in one area. They are one of the best teams in baseball at defensive shifting and when deGrom is on the mound, they often get the results they're looking for.
There have been 32 ground balls, or line drives hit less than 175 feet, against a shifted Mets defense with deGrom on the mound. They've gotten at least one out on 30 of those 32. The 94 percent out rate is the best in baseball for a starting pitcher.
His teammates seem to have risen to the occasion around him in the field, if not at the plate.