In the first game following their Week 6 bye, the Saints faced a 17-7 deficit heading into the 4th quarter against the Ravens. Thanks to the Saints potent offense, they were able to salvage a one-point win that moved them to 5-1 on the season.
Despite the win and the league's third-best winning percentage, the Saints took to the trade market to address a secondary that notoriously keyed their exit from the 2017 playoffs and had so far surrendered 8.9 Yards/Att (27th) and an opponent QBRating of 115.5 (31st) to a group that included Ryan Fitzpatrick, Tyrod Taylor, Matt Ryan, Eli Manning, Alex Smith, and Joe Flacco.
They acquired Eli Apple from the Giants in exchange for fourth- and seventh round picks.
Prior to the trade, their secondary featured Ken Crawley and Marshon Lattimore lined up on the outside, P.J. Williams in the Slot, with Vonn Benn and Marcus Williams at Safety.
Lattimore, who was coming off Defensive Rookie of the Year honors, hadn't quite been living up to the same standards with slightly below average Yards/Att (8.7) and QBRating Allowed (96.4) but his talent was obvious – it was also obvious that Crawley was the main culprit.
Looking at the 80 CBs with the most coverage snaps through Week 7, Crawley ranked 79th in both Yards/Att ( 12.3) and QBRating Allowed (152.1).
Among the same sample size since the acquisition, Apple has ranked 46th in Yards/Att (7.7) and 32nd in QBRating Allowed (81.0).
Going from a league-worst CB as the their most-targeted player to a league-average CB has helped improve the Saints secondary by 26 Passing YPG, 21 points on their QBRating Allowed, and resulted in the league's largest jump in terms of Pass Defense Points Saved from 30th to 4th.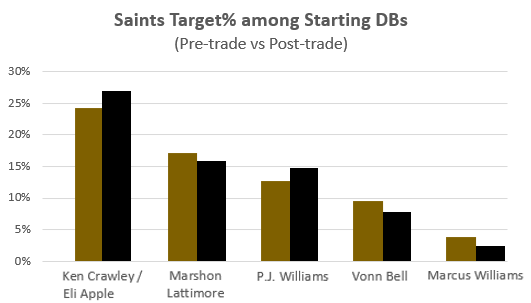 What else changed?
As Keegan Abdoo pointed out on Twitter, the Saints have transitioned from 31.7% Man Coverage to 43.3% Man Coverage following the trade. Across the league, Man Coverage has resulted in a 37.9% Pressure Rate compared to 31.2% in Zone.
More Man Coverage and better coverage in general has helped the Saints double their Pressure Rate from 21.2% (30th) to 46.0% (1st) since Week 7 despite the same four players leading the team in Pass Rushes.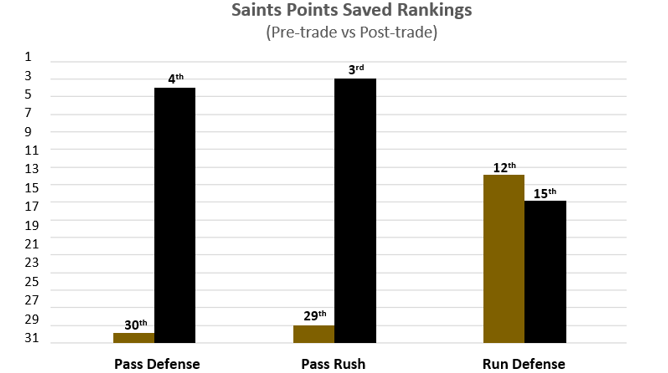 The Saints prepare for their Divisional Round matchup with the Eagles, an offense that features Nick Foles, who leads the NFL in On-Target% under pressure (82.4%) and boasts the 7th-lowest Sack% (4.4%).
With pressure figuring to play less of an impact, the role of Apple and the Saints secondary will be more important than it has been all season.