by COREY MARCH
Tyreek Hill, or "TyFreak" as he will be referred to from this point forward, is underrated if you ask me.
Expected Points Added by WR (when targeted) – 2018
Michael Thomas: 77.3
Davante Adams: 74.0
DeAndre Hopkins: 71.9
Julio Jones: 68.8
TyFreak Hill: 66.4
The thing is, he's actually "rated" pretty highly by the football community, say as a top-10 wideout, but numbers like this suggest he's more like top-5.
What makes him so good? He's a dynamic athlete who specializes in catching deep passes, running past defenders with and without the ball, and attacking you from every skill position alignment – so basically all the things.
I got a good look this week when I charted and mapped all his snaps from the Chiefs 43-40 loss at New England back in Week 6.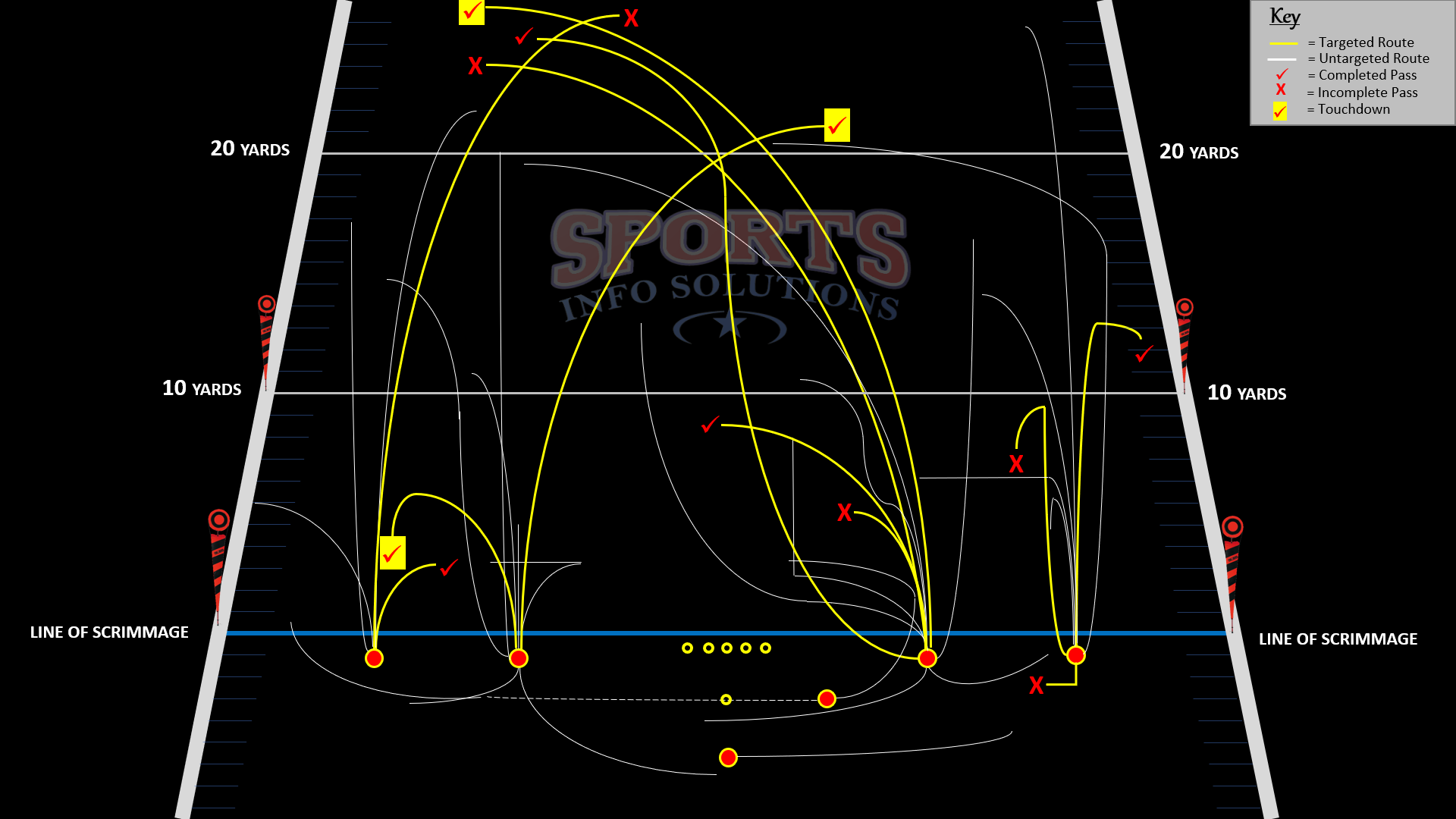 Hill lined up all over the field. He played at least 3 and as many as 12 snaps from Slot Right, Slot Left, Wide Right, Wide Left, and the Backfield (in order of frequency).
Unless you're strictly shadowing him with a top-tier Cornerback, he's going to find a lot of mismatches over the course of a game. According to Aaron Schatz on this week's "Off The Charts" podcast, in Week 6, the Patriots used Stephon Gilmore to cover Sammy Watkins, while Jason and Devon McCourty were tasked with stopping Hill as a duo. This was mostly true by my observations, but Hill still managed to draw coverage from three different linebackers and three different safeties on a total of 12 routes (33%).
He beat them for 99 yards and 3 TDs.
Most Frequent Coverage on TyFreak in Week 6 (snaps)
Jason McCourty (13)
Stephon Gilmore (5)
Jonathan Jones (4)
Patrick Chung, Devin McCourty (3)
Part of what makes TyFreak so unique is his versatility. There were seven receivers who were targeted on at least 20 passes that were thrown behind the line of scrimmage and 20+ air yards downfield: Hill, Antonio Brown, Brandin Cooks, Davante Adams, Nelson Agholor, Juju Smith-Schuster, and Stefan Diggs.
If you add "receivers who carried 20+ times" to the criteria, Hill becomes the only qualifier.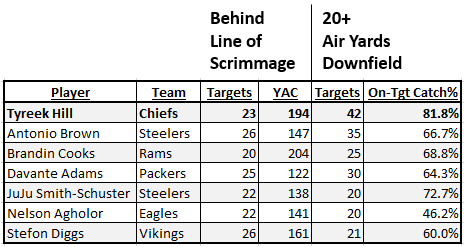 Among this group of six elite receivers and Agholor, Hill ranked second in YAC on receptions behind the line of scrimmage and first in On-Target Catch Rate on deep balls.
More than his speed and playmaking ability, this emphasizes his skill for catching the football, which is an overlooked weapon in his arsenal.
Here is a leaderboard that sorts Wide Receivers and Tight Ends by On-Target Catch Rate. Again, a very strong group of qualifiers – notice the Yards per Reception.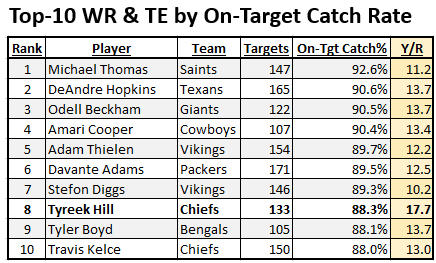 On to Sunday's AFC Championship Game.
The Patriots play the highest rate of Man Coverage in the NFL (79.2% in last week's win over the Chargers). This is especially interesting because the Chiefs are coming off a matchup against the Colts, who play the league's highest rate of Zone Coverage.
The numbers suggest, that while both Hill and Kelce are tremendous across the board, Hill tends to be the biggest threat against Man and Kelce against Zone.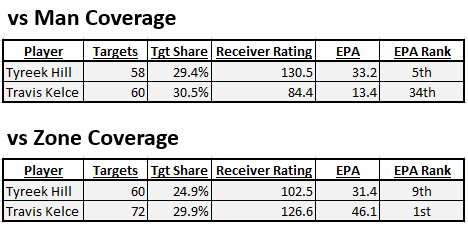 Here is the breakdown of how Hill performs against the coverage types that he's most likely to see a lot of on Sunday: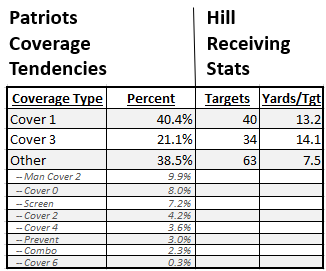 I heard Bart Scott say something interesting this week on Good Morning Football. He said that the field conditions will be a favorable factor for the Chiefs because the grass surface responds differently to the freezing cold than the artificial surface at Gillette Stadium, specifically citing that it will be hard for defenders to hold their footing in pursuit of ball-carriers. I trust this man's opinion to mine on field conditions considering my only football playing experience was barely contributing to a flag football dynasty at Marist College.
This week's "Off The Charts" podcast also provided evidence that bolsters that theory. Schatz (who was quoting Dave Brown) referenced that in the last six seasons on the road/neutral sites, the Patriots are 21-5 with a 22.2% DVOA on artificial surfaces, but are just 13-14 with a 6.4% DVOA on grass.
It sounds like TyFreak will once again be in position to thrive this weekend on the biggest stage of his career.
If you liked this article then you'd probably like the SIS DataHub – $99.99/month for the tool that was used to research most of the data in this article. Sign up for a free week-long trial today at www.SISDataHub.com or email me to subscribe.