By John Shirley
Tale of the Tape
It should be unsurprising that both the Rams and Patriots rank highly on offense. Both teams rank in the top ten in both EPA/Called Pass (includes scrambles and excludes spikes) and EPA/Called Run (excludes scrambles and kneel downs). The weakest unit based on average EPA is the Rams' run defense, which could be in for a long day facing the fifth-ranked Patriots' rushing offense.
| | | | | |
| --- | --- | --- | --- | --- |
| | Rams | Rk | Patriots | Rk |
| EPA/Called Pass | 0.18 | 4th | 0.14 | 7th |
| EPA/Called Run | 0.15 | 1st | 0.07 | 5th |
| EPA Allowed/Called Pass | 0.03 | 13th | 0.03 | 12th |
| EPA Allowed/Called Run | 0.02 | 20th | -0.05 | 5th |
Tendency Report
The Rams and Patriots have similar tendencies based on overall pass/run percentage and the use of shotgun and play-action. Both teams are on the low end of the league in shotgun usage, but they rank highly in play-action usage. One tendency in which they differ is in the use of jet motion. The Rams lead the league by using jet motion on 18 percent of their plays, while the Patriots only use it on 4 percent of plays.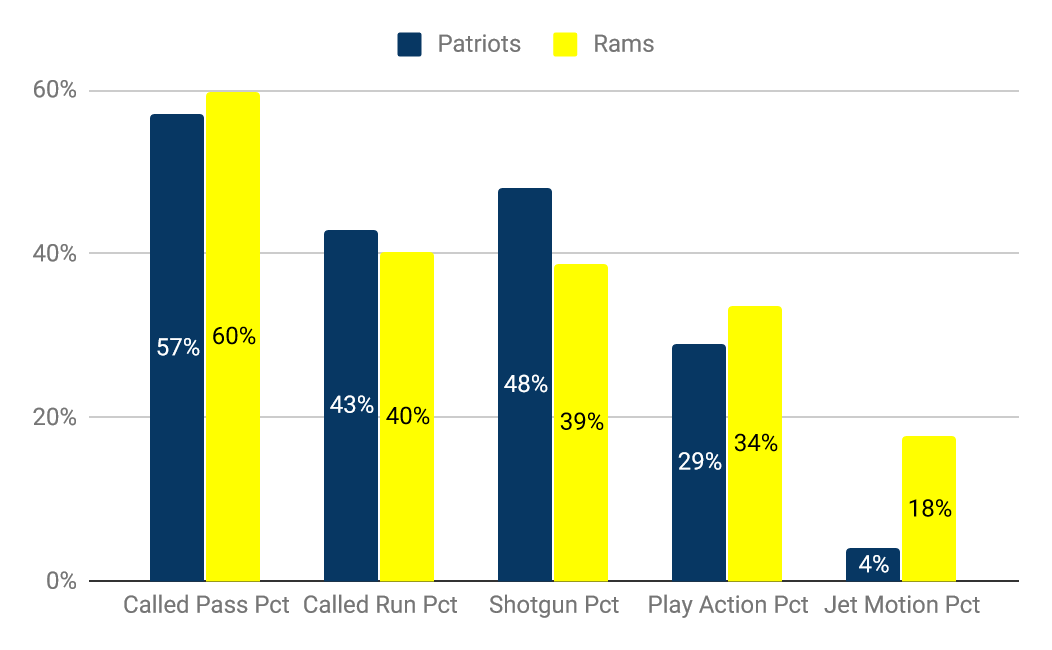 Personnel Usage
The Rams use of 11 personnel (1 RB, 1 TE) since Sean McVay arrived has been well documented over the past two years. They used 11 personnel on 92 percent of their offensive snaps in 2018. However, they started to use 12 personnel (1 RB, 2 TE) a little more often after Cooper Kupp was injured.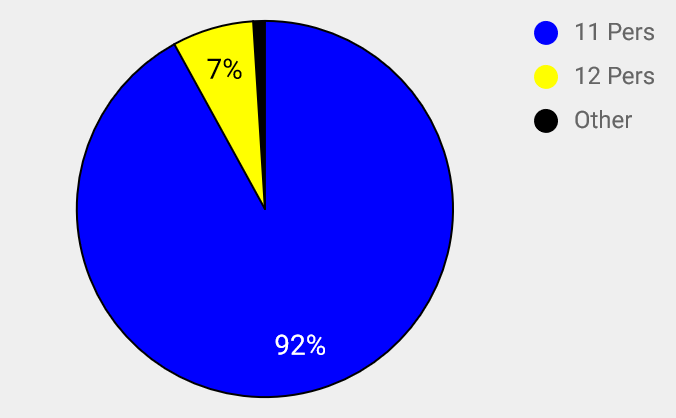 The Patriots' offense also favors 11 personnel, but they mix up their packages much more often. When they are not in 11, they prefer to bring in another running back (usually FB James Develin).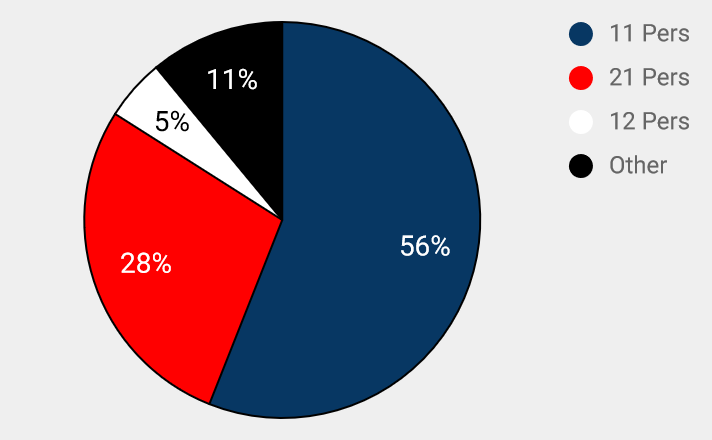 Key Matchups
Patriots' Short Passing Game vs. Rams' Pass Defense
The Patriots throw the ball within five yards of the line of scrimmage on 54 percent of their attempts, which ranks 13th-highest. They also target their running backs the second most often in the league.
The Rams' defense is the best at defending against short passes (5 yards or fewer), only allowing a positive percentage of 38 percent on them.
Patriots' Guards vs. Aaron Donald
The Patriots' offense line has been phenomenal this season both in pass protection and run blocking. Their guards, Joe Thuney (1st) and Shaq Mason (8th), both rank highly among all offensive linemen in SIS's Total Points metric.
Aaron Donald primary lines up in either the 3-technique or 4i-technique in the Rams defense. Teams on average allow pressure (a hurry, hit, knockdown, or sack) from either of these two positions on 9 percent of dropbacks. Donald generates pressure on 16 percent of his pass rushes from these positions.
The Patriots' offensive line ranks first in the league by allowing pressure from a player lined up at the 3-technique or 4i-technique on only 5 percent of their snaps.
Rams' Rush Offense vs. Patriots' Rush Defense
The Rams running game was successful during the regular season, no matter if it was Todd Gurley or CJ Anderson in the backfield. That success followed them into the Divisional Round of the playoffs, but they struggled against the Saints in the NFC Championship. That was due to the Saints having the third best run defense in the NFL, allowing only -0.07 EPA/Called Run Play.
The Patriots have the fifth-best run defense in terms of EPA/Called Run Play, allowing an average of only -0.05. They also rank fifth in run defense versus 11 personnel, still allowing an average of only -0.05 EPA/Called Run Play.
Rams' Passing Game vs. Patriots' Man Coverage
The Patriots use man coverage on defense 58 percent of the time, which is the highest percentage in the league.
Unfortunately for the Rams, their best receiver vs. man coverage, Cooper Kupp, is injured. Kupp led the league (min. 10 targets) in yards per target against man coverage with 14.6 yards per target.
Fortunately for the Rams, they still have solid options at receiver. Brandin Cooks ranks sixth averaging 11.9 yards per target against man coverage. Also, TE Tyler Higbee has the third-highest positive percentage of all players (min. 10 targets) against man at 81 percent, albeit on only 11 targets.