With the free agency finally slowing down, all eyes are turning towards the draft. With that in mind we looked at how teams at the top of the draft have used free agency to bolster their records, and how it may affect their decision come draft day. Team need charts are based on SIS's unique Total Points metric compared against the league average at each position.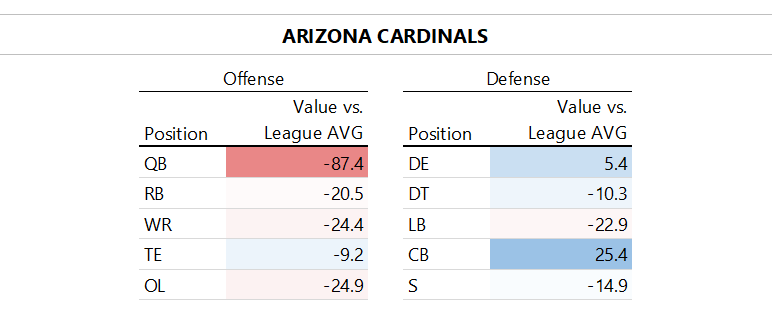 Biggest acquisitions:
The Cardinals have been relatively busy already this offseason, but have yet to make a splash signing. Terrell Suggs and Jordan Hicks were arguably the two biggest signings for the team, both signed in an attempt to bolster a linebacker unit that struggled in 2018.
Hicks was solid against the run in 2018, but struggled in the pass game. On 28 targets Hicks allowed 22 catches for 271 yards and a touchdown. A QBR against of a little bit over 100. Using Total Points, Hicks ranked as the 98th best linebacker in pass coverage among players with at least 10 targets.
The soon-to-be-37 years old Suggs, while listed as a linebacker, will slot in on the edge, and despite his age he should still be able to add value to a pass rushing unit that actually fared pretty well in 2018.
Additional signings:
In terms of weapons for whoever the QB is in 2019, the Cardinals signed TE Charles Clay, TE Ricky Seals-Jones, and WR Kevin White, a rather uninspiring trio for a team lacking weapons and moving into a Kliff Kingsbury offense in 2019. The Cardinals also added a couple of offensive linemen in Max Garcia and Marcus Gilbert and defensive lineman Darius Philon.
What to expect in the draft:
The speculation of Murray to the Cardinals seemingly won't go away, and while Rosen's rookie season was nothing short of a disaster, it seems crazy to think they would move on from him only one year removed from moving into the top 10 to select him.
Compounding the intrigue, Cardinals defensive ends were one of only two position groups that put up numbers above the league average in 2018. Outside of Murray, the only player's who have been mocked at the top of the draft are pass rushers, namely Nick Bosa and Josh Allen. Either of those players would provide an immediate impact and be an upgrade over current Cardinals pass rushers, but it still makes the pick all the more interesting.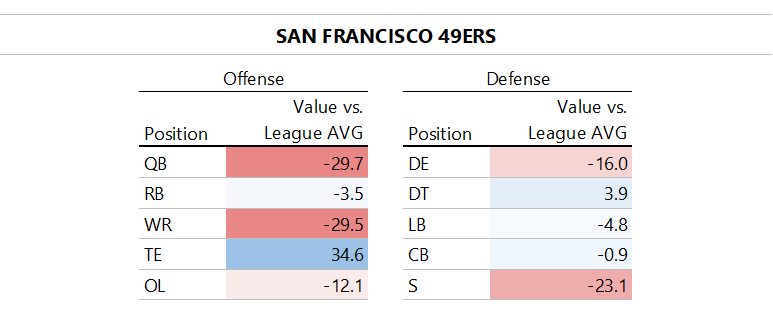 Biggest acquisitions:
It has been a relatively quiet offseason so far for the 49ers outside of sending second round pick to Kansas City for Dee Ford, adding a star player in a position of need.
Ford was a force in 2018, generating 13 sacks and 72 pressures, good for 9th and 2nd best respectively. Additionally, his 6 forced fumbles also tied with J.J. Watt for the lead league. Overall, Ford was far and away the top rated pass rusher by Total Points 2018 with 37.7 Points Earned, outpacing the like of Frank Clark, Aaron Donald, and J.J. Watt.
The 49ers also gave a massive 4 year deal to former Bucs linebacker Kwon Alexander, worth $54 million, including $25.5 million guaranteed. Alexander is a young high upside linebacker, but is coming off of a torn ACL. The 49ers are betting he can return to his 2017 form when he had 96 combined tackles, including 6.5 for a loss.
Additional signings:
The 49ers did also add another playmaker to their offense in Tevin Coleman. The 49ers were able to get solid production from a committee of running backs last season, namely Matt Breida, Alfred Morris and Raheem Mostert. Coleman will join a crowded but talented backfield, including a newly healthy Jerrick McKinnon.

What to expect in the draft:
The 49ers will have their fingers crossed hoping that the Cardinals take Murray with the 1st overall pick, allowing them to take whoever is on the top of their big board. 49ers GM John Lynch has made it clear he plans to take the "best player available".
That "best player" is very possibly another pass rusher to go alongside Dee Ford. Nick Bosa or Josh Allen lining up opposite of Ford would quickly turn an impotent pass rush from last year into one of the more dangerous tandems in the league.
Defensive tackle was also a position of weakness for the 49ers last year, and the recent acquisition of Ford may allow the 49ers to select Quinnen Williams, a player many view as the best in the draft (including our rookie handbook). The Outland Trophy winner was dominant against the run, leading the nation in tackles for non-positive yards, and his hurry rate when pass rushing was also far and away the best among college defensive tackles.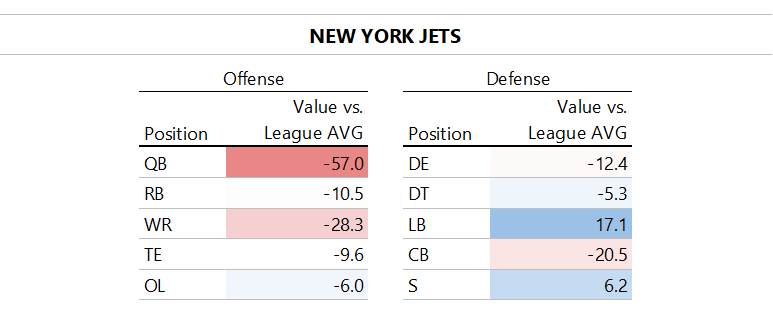 Biggest acquisitions:
The Jets have been among the biggest spenders in free agency this season, most notably inking Le'Veon Bell to a four-year deal. Bell's year off certainly adds some question marks, but it seems more likely than not that Bell will again find himself among the best at the position. Our Bryce Rossler took a deeper dive on what Bell does well earlier this offseason.
The Jets also added LB C.J. Mosley. The former Raven was productive over the course of his rookie contract, particularly against the run. In 2018 Mosley had 101 combined tackles, including 4.5 for a loss. Mosley did struggle in pass coverage in 2018 though, allowing a QBR against of 100 on 39 targets. By SIS's Points Saved metric Mosley ranked as the 40th best linebacker in pass coverage this past season.
Additional signings:
Some other notable transactions for the Jets include WR Jamison Crowder, who they are hoping can turn into a reliable target for Sam Darnold, and also WR Josh Bellamy.
What to expect in the draft:
After selecting their franchise QB in last years draft, the Jets will likely be taking the "best player available" approach with the No. 3 pick. This would likely be one of Nick Bosa, Josh Allen, or Quinnen Williams, all of whom would provide tremendous value at positions of need.
It is also likely that the Jets will be fielding offers from QB-needy teams, especially if Murray slides past the Cardinals. This could allow the Jets to recoup some of the assets they parted ways with last year to get Darnold, and depending on the suitor could still leave them in position to get either Greedy Williams or Deandre Baker. Gaining assets while also grabbing the best player at arguably their biggest position of need may be the best case scenario for the Jets.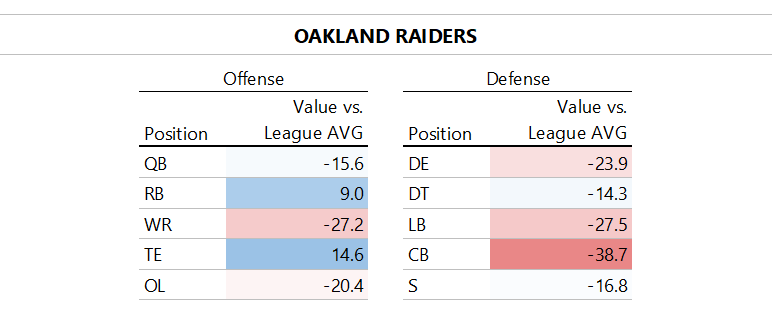 Biggest acquisitions:
After trading away Khalil Mack and Amari Cooper during the season, it appeared the Raiders were entering a lengthy rebuilding period. By trading for Antonio Brown they made it abundantly clear that was not the case. Brown immediately slots in as the best playmaker on the team, and the number one option for Derek Carr. I have already done a more detailed analysis on this trade here.
The Raiders also gave a record setting contract to offensive tackle Trent Brown, fresh off a Super Bowl win and the best season of his career. By Total Points, Brown was the 4th highest rated offensive lineman, and was especially strong pass blocking, earning 4.4 of his 5.7 Points in the pass game.
Additional signings:
The Raiders also added more talent to their wide receiving core by adding the speedy Tyrell Williams, who should find himself as their No. 2 option. LaMarcus Joyner was also brought in to help bolster the secondary, and more recently the Raiders added LB Vontaze Burfict.
What to expect in the draft:
Even after a busy start to the offseason, the Raiders have needs just about everywhere. They also conveniently have three picks in the first round this year. While their have been fun rumors about Kyler Murray throwing to Antonio Brown, it would be surprising to see them do anything other than replace the Khalil Mack-sized hole in their pass rushing unit. Depending on what happens in the first three picks this may mean one of Montez Sweat or Clelin Ferrell, but a run on quarterbacks at the top of the draft could certainly shake things up.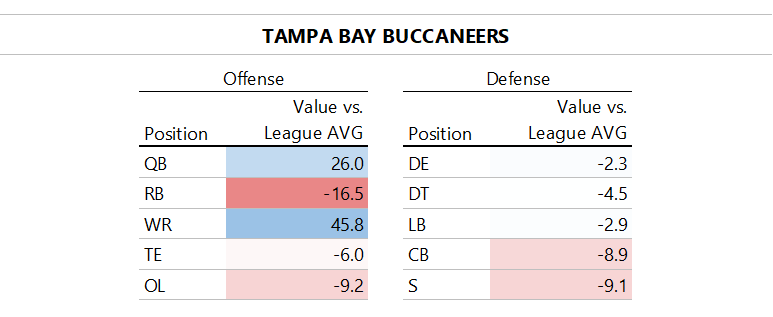 Biggest acquisitions:
Because of cap concerns, the Bucs have been forced into an uneventful offseason. The honor of being their biggest signee likely belongs to LB Deone Bucannon.
Bucannon played well in his time under Arians in Arizona, and now get's a chance to be re-united with the coach who made him a first round pick in 2018. A converted safety, Bucannon will likely play a similar hybrid type role that he flourished in during his time in Arizona. In 2017 (his last season with Arians), he had 82 combined tackles, allowed a QBR against of only 76 on 44 targets, limited quarterbacks to 5.6 yards per attempt, and scored two defensive touchdowns.
Additional signings:
Outside of Bucannon, the Bucs have mostly looked to add depth. Other signings for the Bucs include S Kentrell Brice, G Earl Watford, and LB Shaqil Barrett.
What to expect in the draft:
By Total Points, the Bucs weaknesses aren't quite as glaring as the rest of the top 5, but this is at least in some respects due to some Fitz-Magic early in the season. It is also worth noting that the future of their star defensive tackle, Gerald McCoy, is up in the air as the Bucs currently don't have the cap to sign their upcoming draft picks.
Whether or not the Bucs are able to retain the services of McCoy will likely play a huge role in who they take with the number 5 pick. It is not impossible that Quinnen Williams is still their for the taking, and he would provide a solid, and more importantly, cost controlled, consolation for the loss of McCoy.
Two potential positions of need for the Bucs are at cornerback and on the offensive line. If the top of the draft goes as expected they will have the luxury of taking whoever is on the top of their board at either of the those positions, if they decide to go that route.
On the offensive line this would likely mean a debate between Alabama product Jonah Williams, or the incredibly athletic Jawaan Taylor. At corner, DeAndre Baker and Greedy Williams sit atop our big board. All four could provide an immediate impact for the Bucs in 2019.
The Bucs pick could also be a prime target for teams looking to make a move for a sliding QB. Projecting what Dave Gettelman will do at No. 6 is tricky, but the Giants taking a QB seems like the most likely outcome. A team like Washington or Cincinnati my need to jump to No. 5 if they want to grab their franchise QB in this draft.