By ANDREW KYNE
Infield shifts are on the rise in Major League Baseball again this season. On balls in play, Baseball Info Solutions recorded 26,705 shifts in 2017 (22% of balls in play) and 34,671 in 2018 (29% of balls in play). This year, there have been 13,272 shifts (38% of balls in play), which prorates to more than 44,000 for a full season.
And while our company and others in the industry have talked a lot about shifts at the MLB level, what about shifts in the minor leagues? Are they rising like they are in the majors? Are they are as common?
BIS charts all AAA games and nearly all AA games (about 90-95%), so let's take a look.
Here's a comparison of MLB, AAA, and AA in terms of percentage of balls in play against an infield shift over the last three seasons.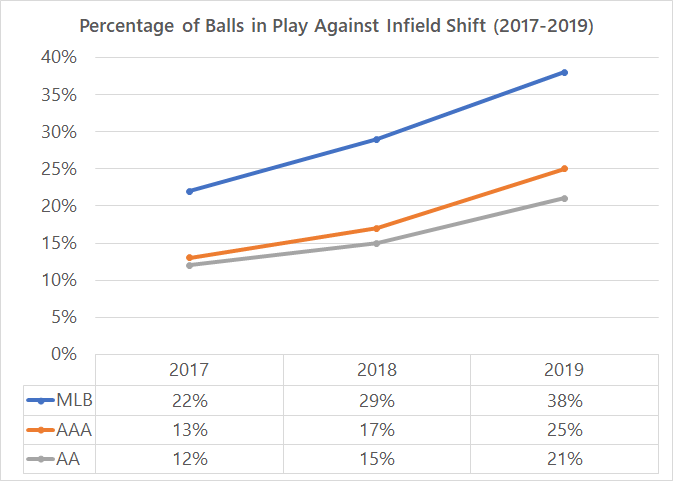 Although the infield shift isn't as common in the upper minors as it is in the majors, it is increasingly prevalent. This season, both AAA and AA teams have had a shift on for more than 20% of balls in play for the first time.
Here are the leaders and trailers in shift usage at the AAA level this year, combining the International and Pacific Coast leagues: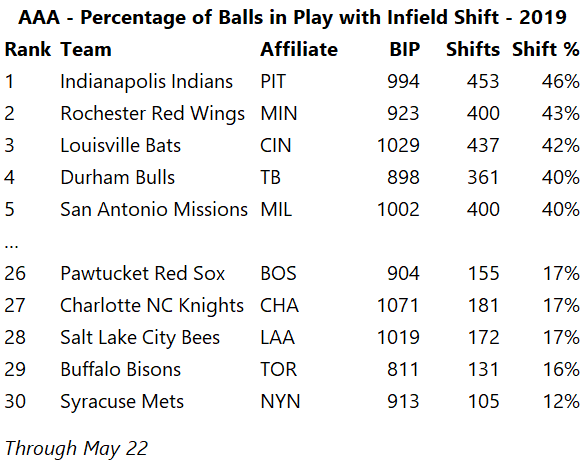 And here are the leaders and trailers at AA, combining the Eastern, Southern, and Texas leagues: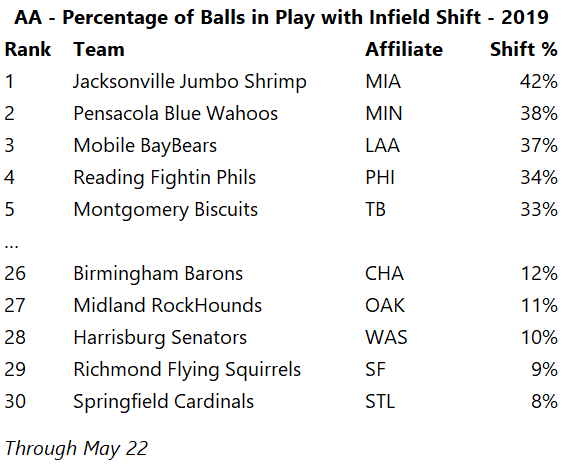 The Twins have shifted the highest percentage of balls in play in the majors this year, so it's not surprising to see their affiliates near the top in AA and AAA as well. Teams like the Rays and Pirates have also historically shifted a lot and have minor league clubs listed near the top here. And the Marlins have increased their shift usage this year, and their Jacksonville affiliate leads all AA teams.
How well does a minor league team's shift usage track with the shift usage of its parent club? For 2019, the correlation between MLB and AAA…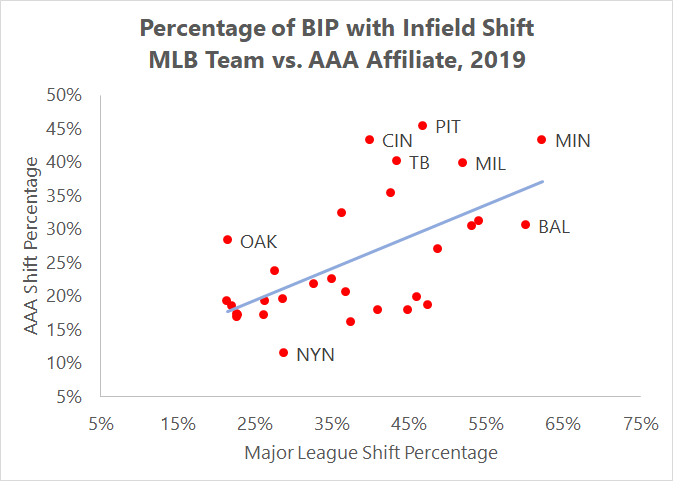 … appears stronger than the correlation between MLB and AA.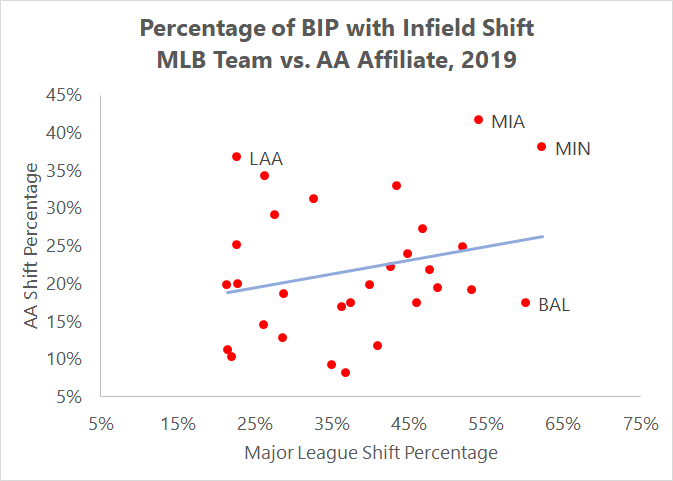 So while teams don't shift as much in the minors as they do in the majors, they are becoming more popular. Infielders, pitchers, and hitters are getting accustomed to extreme infield alignments before they even get the call to MLB.