By NATE WELLER
After a hectic start to the NFL offseason, things have slowed considerably as GMs do their final draft prep and learn how to use Zoom. At some point, though, the market will pick back up, and the biggest non-QB domino left to fall is Jadeveon Clowney.
It's a weird time to be an NFL free agent, and Clowney is undoubtedly feeling the effects, probably more than any other player. Given his checkered injury history and team's inability to perform a physical with their own doctors, Clowney has been unable to generate as much of a market as one might expect for a talented 27-year old pass rusher. Beyond that, teams are no doubt hesitant to throw top edge rusher money at a guy coming off of a three-sack campaign, even if that's not really a fair reflection of Clowney's performance.
Clowney generated 48 pressures in 2019, which still ranked him tied for 29th in the league despite missing time. The problem was that Clowney only turned those pressures into sacks a little less than six percent of the time, which ranked him 50th of 51 players with at least 40 pressures. Turning pressures into sacks is an inherently noisy metric, and there's plenty of reason to believe Clowney will bounce back. Between 2016 and 2018 Clowney ranked 13th in the NFL in pressures with 163, and he turned 16 percent of those into sacks.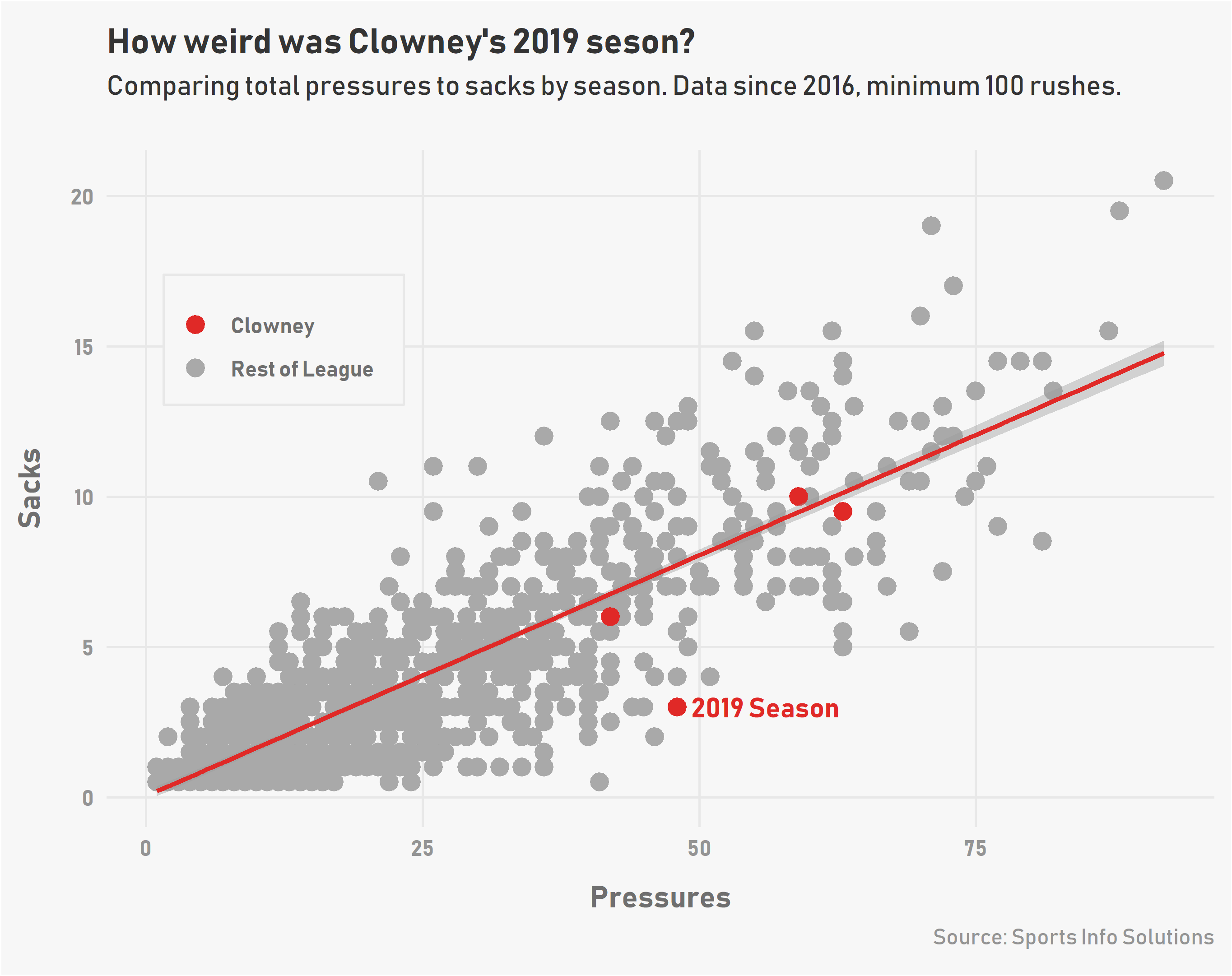 Arguably the best part of Clowney's game, though, is his ability against the run. Clowney was solid as a run defender 2019. His 13 Run Defense Points Saved in 2019 (a stat explained here) ranked him 12th among defensive ends. But even after a (relatively) down year against the run, Clowney still leads all defensive ends by this metric since 2016, edging out Calais Campbell.
It's impossible to say precisely how much of Clowney's limited market can be attributed to his medical history and how much is a reaction to his stats in 2019. Regardless, Clowney is likely to have a strong market once things return to relative normalcy. And whatever team does pay Clowney will likely be getting production that is much closer to his performance between 2016 and 2018 than what we saw last season