2020 MLB Draft Top 5 College Baseball Prospect Rankings
Leading up to the 2020 MLB Amateur Draft, Baseball Info Solutions will be publishing a series of position-by-position scouting reports from two of our Video Scouts for the top 5 collegiate draft prospects and two honorable mentions. Each player is graded by the 20-80 scouting scale, given a comprehensive evaluation, and assigned a floor and a ceiling comparison, which indicate–if a player makes the Major Leagues–the range of the type of player into which he can develop.
#2
Asa Lacy, LHP
Texas A&M University (JR, 2020)
L/L 6-4, 215 lbs.
Date of Birth: 6/2/1999
Fastball- 60 (70) Curveball- 45 (50) Slider- 60(70) Changeup- 45(55) Control- 45(55)
Future Value: 60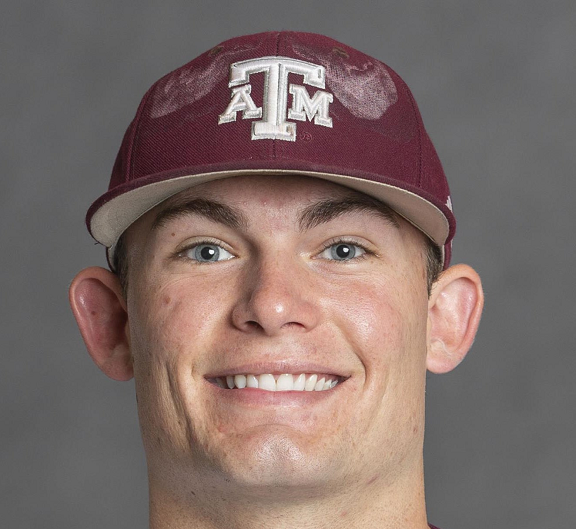 Written by Brandon Tew
Analysis
Lacy is the best pitching prospect in the 2020 MLB Draft and it is because he turned himself into the unquestioned ace in College Station. Lacy rocketed up draft rankings and on the radar of scouts based on what he did his sophomore season. Lacy had a stellar campaign tossing a 2.13 ERA in 15 starts, led Division I in fewest hits allowed per 9 innings (5.0), and ranked eighth in strikeouts per 9 (13.2). Showing swing-and-miss ability, that also produces weak contact as batters rarely square his pitches.
Throwing with a fluid motion Lacy stays on balance and in rhythm. He creates a great downhill plane out of his high 3/4 arm slot. With Lacy shifting over more to the third base side of the pitching rubber he has been able to increase his downward movement while hiding the ball very well behind his back leg. He glides more to the arm side of his body towards first base and this causes him to throw across his body as he uncoils to the plate with max effort. Although, that might scare some injury-wise, his durable frame and build can hold up with this delivery and the added deception only elevates his pitches. 
Throwing a plus fastball with increased velocity and vertical break, Lacy has also improved the spin rate of the pitch. This leads to an explosive fastball in the mid-'90s that stays at the top of the zone and misses bats. Lacy can easily reach back and hit 97 mph.
Lacy could have one of the best 4-seamers in baseball in a few years. His new and improved slider truly launched his draft stock. Arguably, the best projectable pitch in this draft. Lacy's slider is more gyroscopic in spin, meaning it spins like a football spiraling towards the plate as gravity causes the ball to pull down to the ground. The result is a wipeout slider that ducks underneath the bat of a righty and down-and-away from lefties while being hard and tight.
Lacy is special because he can manipulate the spin on this pitch. He can get a tighter spin on the ball or more of a sweeping action to it. He can also turn the slider into more of a cutter depending on the situation and how he wants to attack a hitter but it is at its best when it's hard and diving to the plate.
Lacy's favorite pitch to throw is his changeup, a circle change with great depth and run, without losing arm action on the pitch allowing it to still look like a fastball at release. He still needs more consistency with the pitch but Lacy's willingness to throw it to start at-bats as well as to end them is a promising sign. 
Lacy's command and control is the biggest issue. With a 4.4 BB/9, his Sophmore season he did improve that mark over the first three starts of this season lowering it slightly to 3.0. Unfortunately, the season was cut short after those three starts. The control and command issues are concerning as Lacy continues to work on honing his powerful offerings.
Although, he looked to turn the corner in this aspect during his last start of the season. Throwing seven innings of no-hit ball while striking out 13 against a New Mexico State lineup that featured Nick Gonzales and some other pro prospects.
He was pinpoint accurate during the start commanding his fastball and slider well. Lacy has a proven track record of striking out the best competition in college baseball carving up the SEC last season. His command has been suspect, but the performance against New Mexico State to end his college career only highlights Lacy can command the zone.
Summation:
 A highly-competitive, elite, pitching prospect with two plus pitches that have a real chance to be 70 on the 20-80. Lacy lacks consistent command right now but has shown flashes of excellent control and command. With an advanced understanding of how to pitch and three potential above-average offerings depending on the development of his changeup. A potential dominant top of the rotation starter and future ace. Lacy is so dominant at points that if he reaches his true potential, he could start an All-Star game at some point in his MLB career.
Projection:
All-Star potential starter, with an elite fastball and slider combo, that possesses a solid four-pitch mix
Ceiling: David Price
Floor: Matthew Boyd
Draft Expectation: Top-3 Pick