By BRYCE ROSSLER
The timelines can vary, but most people in the personnel community would agree that by the end of their third professional season, you usually know how good a player is. Perhaps that is why the cutoff point to accept a first-rounder's fifth-year option falls in the May following their third year.
That deadline has passed and only two of the three quarterbacks taken in the first round had their options picked up. The Chiefs and the Texans opted in on Pat Mahomes and Deshaun Watson, respectively, whereas the Bears traded a fourth-round pick for Nick Foles' bloated contract and decided on a four-year term limit for Mitch Trubisky.
This means that Marquise Williams' old backup at UNC is currently not guaranteed to make any money in the NFL after the upcoming campaign, but it's still possible for him to earn 2021 guarantees similar to what his former backup Chase Daniel earned this offseason ($1.5M). Now would be a good time to compare the members of the 2017 quarterback class.
For this article, we'll contrast Trubisky and Mahomes. There are several ways we can do this. We can do it by career accolades:
| | |
| --- | --- |
| Mahomes | Trubisky |
| NFL MVP (2018) | Ohio's Mr. Football (2012) |
| NFL OPOY (2018) | 247Sports' #206 HS recruit (2013) |
| NFL passing TDs leader (2018) | Third-team All-ACC (2016) |
| 2x Pro Bowl (2018, 2019) | 2nd overall pick in NFL Draft (2017) |
| Super Bowl champion (LIV) | Pro Bowl alternate (2018) |
| Super Bowl MVP (LIV) | |
| | |
We can do it by comparing weekly performance from a Total Points perspective: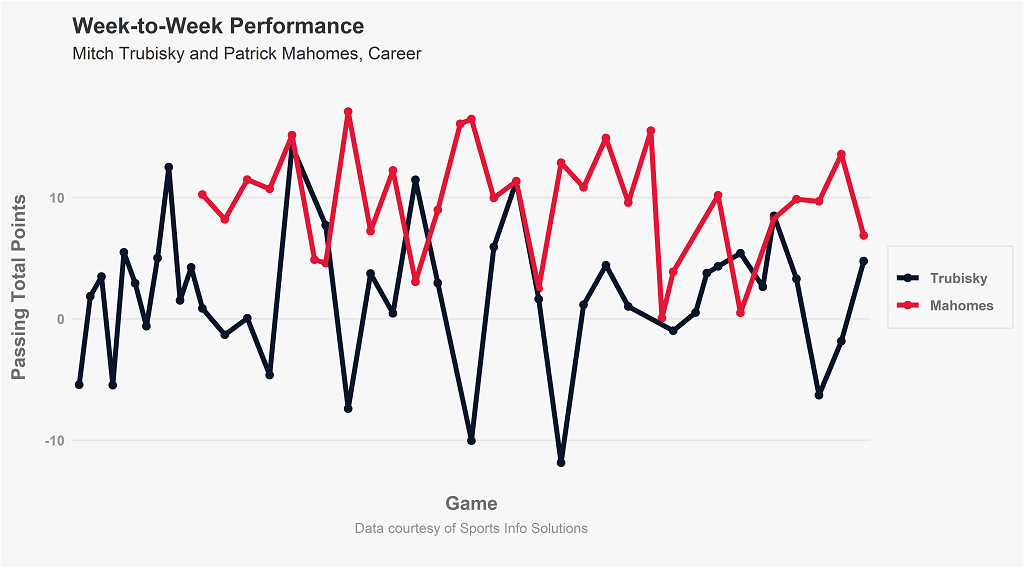 Or, we can do it by comparing how they executed some of the same concepts in 2019.
Mesh out of 2×2 Slot Gun Weak
Week 16 (KC at CHI) Q4 10:11
The Chiefs are facing 3rd & 8 on the +14 (i.e., the opponent's 14 yard line), and they're looking to extend their two-touchdown lead and put the game away with roughly ten minutes to go in the fourth quarter. Mahomes appears to be expecting man coverage pre-snap and alerts the wheel route. When he sees the traffic created by the route distribution post-snap, he confirms that Nick Kwiatkoski (#44) will not be in a good position to leverage the wheel and lays it out for Damien Williams, showing Trubisky and the Bears how it's done.
Week 3 (CHI at WAS) Q3 3:18
That play occurred in Week 16, though–months after Trubisky's Monday night mishap against Washington on the same concept from the same formation. On 2nd & 3 from the +6, Trubisky's eyes go to Allen Robinson off the snap. This is fine; it's a good matchup and you would generally expect Robinson to be the first receiver in the progression in this look.
The problem is, Trubisky never comes off it. Josh Norman remains patient at the LOS and gets a good collision to deny a clean release on the fade. Nevertheless, Trubisky giftwraps an underthrow to Norman, giving him his only pick of the season–one in which he ranked 114th in pass defense Points Saved (-2).
Curl-Flat out of 3×1 Gun Weak
Week 16 (KC at CHI) Q1 3:32
Trubisky has yet another opportunity to witness how a franchise quarterback operates in a critical situation, this time on 3rd & Long. It's a tie game in the first quarter, Kansas City is facing 3rd & 18 on the +47, and Andy Reid has dialed up curl-flat to the sticks. The post safety ends up being too deep to drive and assist the nickel defender, and Mahomes delivers a laser to Tyreek Hill for the first down.
Week 1 (GB at CHI) Q2 2:19
That route is the first read for Trubisky, too, but he's once again too reluctant to move on. On 3rd & 14 from his own 23, he stares down Robinson and narrowly avoids disaster.
The Packers are in a quarter-quarter-half look, and the positioning of both the mike linebacker and the strong safety suggest that Trubisky should come off this read and look towards the outside curl. Instead, he affords the strong safety an opportunity to drive on the route and make a play on the ball.
Four Verts out of 3×1 Open Gun Weak
Week 14 (DAL at CHI) Q4 11:33
Unlike some of the other plays, it's hard to fault Trubisky for the decision he makes here. It's the fourth quarter, the Bears are down three scores, and it's 3rd & 7, so he admittedly needs to make something happen. If this is 1st & 10, it might be a different story, but I have no problem with him trusting his best receiver here.
The problem is that he doesn't give Robinson a chance to make a play on the ball. Byron Jones quickly tops this route and the only way to beat his coverage is to backshoulder the throw. It's definitely not an exercise in pitch-and-catch, but the inability to see the leverage and adjust accordingly is certainly less than ideal.
Week 3 (BAL at KC) Q2 0:53
Mahomes, though, is able to recognize the kind of throw he needs to make whenever the corner denies vertical access. In this play, the corner's body positioning is more exaggerated – he's in a bail technique and isn't playing tight to the route–but Mahomes nevertheless demonstrates an understanding of where he needs to put the ball. Again, these are not easy completions to make, but NFL quarterbacks need to be able to provide such opportunities to their receivers.
Conclusion
Chicagoan holders-on might tell you that Foles' arrival will be enough to jumpstart Trubisky's career, but he's never ranked better than 28th in passing Total Points in a season and seems a lost cause at this point. Both the numbers and the film lead to the same conclusion: Trubisky has a long way to go in order to prove that he can operate an NFL offense effectively.