By BRYCE ROSSLER
Carson Wentz has become such a morbid subject. His early career arc and the bitterness with which his time in Philly ended has made him one of the greatest sources of NFL schadenfreude in recent memory.
By now, we're all familiar with the story. Second-year breakout and MVP favorite blows his knee out, watches his backup win a Super Bowl, and thus begins a slow descent that culminates in a departure that costs his team $34 million. The Carson Wentz that existed in 2017 has since been turned to stone by the gorgon that is Philadelphia sports, and now, the only statue to commemorate Wentz's tenure in Philly is a bronze tribute to his former backup, Nick Foles. The Eagles traded Wentz to the Colts for a 2021 third-round pick and a conditional 2022 second-round pick that could become a first-round pick based on playing time.
Wentz is something of a fixer-upper at this point. It feels obvious to say that this will go down as a good deal for the Colts if he can be restored to his former glory, but 2017 Wentz is probably a mirage from both a statistical and a practical sense. For the Win's Steven Ruiz pointed out that Wentz's MVP campaign was largely fueled by unstable third down and red zone splits. Indeed, our Total Points metric suggests that he wasn't that good in 2017. He was also so bad in 2020 that it seems like a Sisyphean task to get him back there.. And while his peak has been exaggerated, his downfall has not been.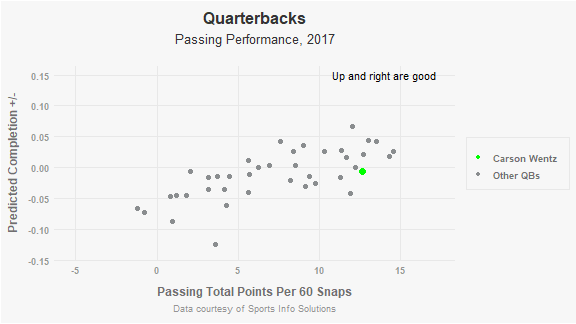 It doesn't help that Wentz has a good chance to fulfill the playing-time criterion—70% if the Colts make the playoffs (while playing in a pretty bad division), 75% if they don't—that would escalate the 2022 pick to a first-rounder. While the Colts have ultimate control over whether or not Wentz meets that threshold, it's unlikely that he will miss it due to injury. The general public's hypochondriac perception of Wentz doesn't comport to the fact that he played in 83% of possible regular season snaps during his Eagles tenure. In fact, he's only dipped below the 70% threshold once in his five-year career—in 2018, when he was on the field for two-thirds of Philadelphia's offensive plays.
Our in-house injury coordinator John Verros reviews every injury that occurs at the FBS and NFL levels and isn't particularly concerned about Wentz reaggravating any of his battle scars in 2021. "He tore his ACL in 2017 and instability in his other knee didn't follow suit, and he didn't require surgery on the vertebrae he fractured in 2018," Verros said.
As for the concussion he sustained in the 2019 playoffs? "Usually players are at elevated risk for subsequent concussions for about a year after the initial brain injury, but he wasn't listed as having accumulated further concussions this past season," Verros said. "He should only carry a baseline level of risk moving forward."
All told, our predictive injury model gives Wentz just an 11% chance of sustaining an injury which would land him on injured reserve (IR) or require him to miss at least one game in 2021.
So we should expect the Colts to escalate the conditional 2022 2nd-rounder.
That is, of course, if we're basing this on availability.
It is not particularly helpful to wax poetic about Wentz's reunion with former offensive coordinator Frank Reich. As much as we might like it to be, football isn't some feel-good human-interest story. Of course, there exists the possibility that Reich is able to successfully reverse Wentz's decline, but it will be difficult.
For example: last year, Wentz ranked 41st out of 44 qualifying quarterbacks (minimum 100 attempts) in Time to Throw Over Expectation (TTOE).
This statistic helps contextualize time to throw by using factors like offensive line performance, the quarterback's drop, and the use of play action to set a baseline for how quickly the ball should come out. Wentz's TTOE of +0.22 was a half-second worse than his predecessor's. Philip Rivers, who ranked first in 2020 with -0.31 TTOE. There are notable stylistic differences at play here, but that's a pretty large gap.
At Sports Info Solutions, we have limited historical throw time data, but Next Gen Stats suggests that Wentz's base Time to Throw has been pretty consistent regardless of whether Reich has been there (2.65 in 2016, 2.72 in 2017) or not (2.72 in 2018, 2.71 in 2019), with 2020 (2.91) being the obvious outlier. If Reich's departure indeed impacted this facet of Wentz's game, why did it take several seasons to manifest?
Furthermore, Reich cannot be blamed for Wentz seemingly forgetting how to throw a football. Wentz's On Target Rate Over Expectation has been trending downward since it was +2.3% in 2018 to -1.8% in 2019 and then an abysmal -6.9% in 2020. This gradual decline provides hope for a renaissance, but the onset occurred well after Reich left and suggests repairs will have to occur incrementally.
Perhaps the most compelling argument for a hypothetical Carson Wentz redemption story is not about the coordinator he lost, but the receivers he's played without. Looking at his Total Points through the lens of on-off splits for Alshon Jeffery and Zach Ertz might be helpful in this regard.
Carson WentzÔÇÖs Passing Efficiency With and Without Alshon Jeffery and Zach Ertz, 2018-19
| Split | Passing Total Points Per 60 Snaps |
| --- | --- |
| Jeffery & Ertz | 9.9 (891 snaps) |
| Only Ertz | 6.5 (626 snaps) |
| Only Jeffery | 4.7 (135 snaps) |
| Neither | 1.5 (137 snaps) |
Before Wentz fell off the cliff that was 2020, when he couldn't seem to do much of anything right, he had been extremely reliant on his top two targets in order to perform efficiently.
Greg Ward (778 snaps) and Travis Fulgham (541) got the most use in 2020. Rookie first-rounder Jalen Reagor (505) came in at third, while 2019 second-round pick JJ Arcega-Whiteside got just 137 snaps. Ideally, you would like top-64 picks to start over former undrafted free agents and sixth-rounders, and this upside-down sourcing of wide receiver contributions is a testament to the franchise's recent failures to infuse a once lush roster with talent.
2020 may not have been an ideal situation for Wentz, but he very much earned the criticism he has received from both a national audience and an admittedly vitriolic fanbase. He struggled to operate with timing and precision, he took sacks at a league-worst rate (9.8%), and he threw interceptions at the fourth-worst rate in the NFL (3.4%). Colts fans are likely hoping for the best, but it will take a Coach-of-the-Year type performance from Frank Reich to rescue Wentz, the embellished MVP candidate of days of yore who performed like a fringe starter in 2020.