Recap
This is the final article in our series of pieces imagining an NFL Expansion Draft scenario.
In our first article, we laid out Protection Lists for each NFL team. In the following article, we detailed my picks with analysis and featured all 21 roster submissions we received.
Before we get into how the team would do based on our numbers, here's a reminder of who I picked with the picks by NFL team and the projected depth chart.
Pick-by-Pick
Expansion Draft Recap – By Team
Team
Player
Pos

Arizona Cardinals

Chase Edmonds

RB

Arizona Cardinals

Zach Allen

DE

Atlanta Falcons

Jacob Tuioti-Mariner

DE

Atlanta Falcons

Jaylinn Hawkins

S

Baltimore Ravens

Marquise Brown

WR

Baltimore Ravens

Alejandro Villanueva

OL

Buffalo Bills

Devin Singletary

RB

Buffalo Bills

A.J. Klein

LB

Carolina Panthers

Pat Elflein

OL

Carolina Panthers

Joey Slye

K

Chicago Bears

Mario Edwards Jr.

DE

Chicago Bears

Bilal Nichols

DT

Cincinnati Bengals

Drew Sample

TE

Cincinnati Bengals

Mike Hilton

CB

Cleveland Browns

Rashard Higgins

WR

Cleveland Browns

Joel Bitonio

OL

Dallas Cowboys

Michael Gallup

WR

Dallas Cowboys

Jourdan Lewis

CB

Denver Broncos

Teddy Bridgewater

QB

Denver Broncos

Bryce Callahan

CB

Detroit Lions

John Penisini

DT

Detroit Lions

Jack Fox

P

Green Bay Packers

Jordan Love

QB

Green Bay Packers

Robert Tonyan

TE

Houston Texans

Desmond King II

CB

Houston Texans

Jon Weeks

LS

Indianapolis Colts

Zach Pascal

WR

Indianapolis Colts

Tyquan Lewis

DT

Jacksonville Jaguars

Gardner Minshew II

QB

Jacksonville Jaguars

James Robinson

RB

Kansas City Chiefs

Mecole Hardman

WR

Kansas City Chiefs

Tershawn Wharton

DT

Las Vegas Raiders

Foster Moreau

TE

Las Vegas Raiders

Nicholas Morrow

LB

Los Angeles Chargers

Justin Jackson

RB

Los Angeles Chargers

Oday Absouhi

OL

Los Angeles Rams

Austin Corbett

OL

Los Angeles Rams

Taylor Rapp

S

Miami Dolphins

Jesse Davis

OL

Miami Dolphins

Byron Jones

CB

Minnesota Vikings

Adam Thielen

WR

Minnesota Vikings

Josh Metellus

S

New England Patriots

Isaiah Wynn

OL

New England Patriots

Chase Winovich

DE

New Orleans Saints

Adam Trautman

TE

New Orleans Saints

Cesar Ruiz

OL

New York Giants

Tae Crowder

LB

New York Giants

Xavier McKinney

S

New York Jets

Vinny Curry

DE

New York Jets

Sheldon Rankins

DT

Philadelphia Eagles

Eric Wilson

LB

Philadelphia Eagles

Rodney McLeod

S

Pittsburgh Steelers

Chuks Okorafor

OL

Pittsburgh Steelers

Terrell Edmunds

S

San Francisco 49ers

Kyle Juszczyk

FB

San Francisco 49ers

Samson Ebukam

LB

Seattle Seahawks

Alton Robinson

DE

Seattle Seahawks

Cody Barton

LB

Tampa Bay Buccaneers

Ryan Jensen

OL

Tampa Bay Buccaneers

Carlton Davis

CB

Tennessee Titans

Rashaan Evans

LB

Tennessee Titans

Jayon Brown

LB

Washington Football Team

Cole Holcomb

LB

Washington Football Team

Jimmy Moreland

CB
Projected Depth Chart
(click to enlarge)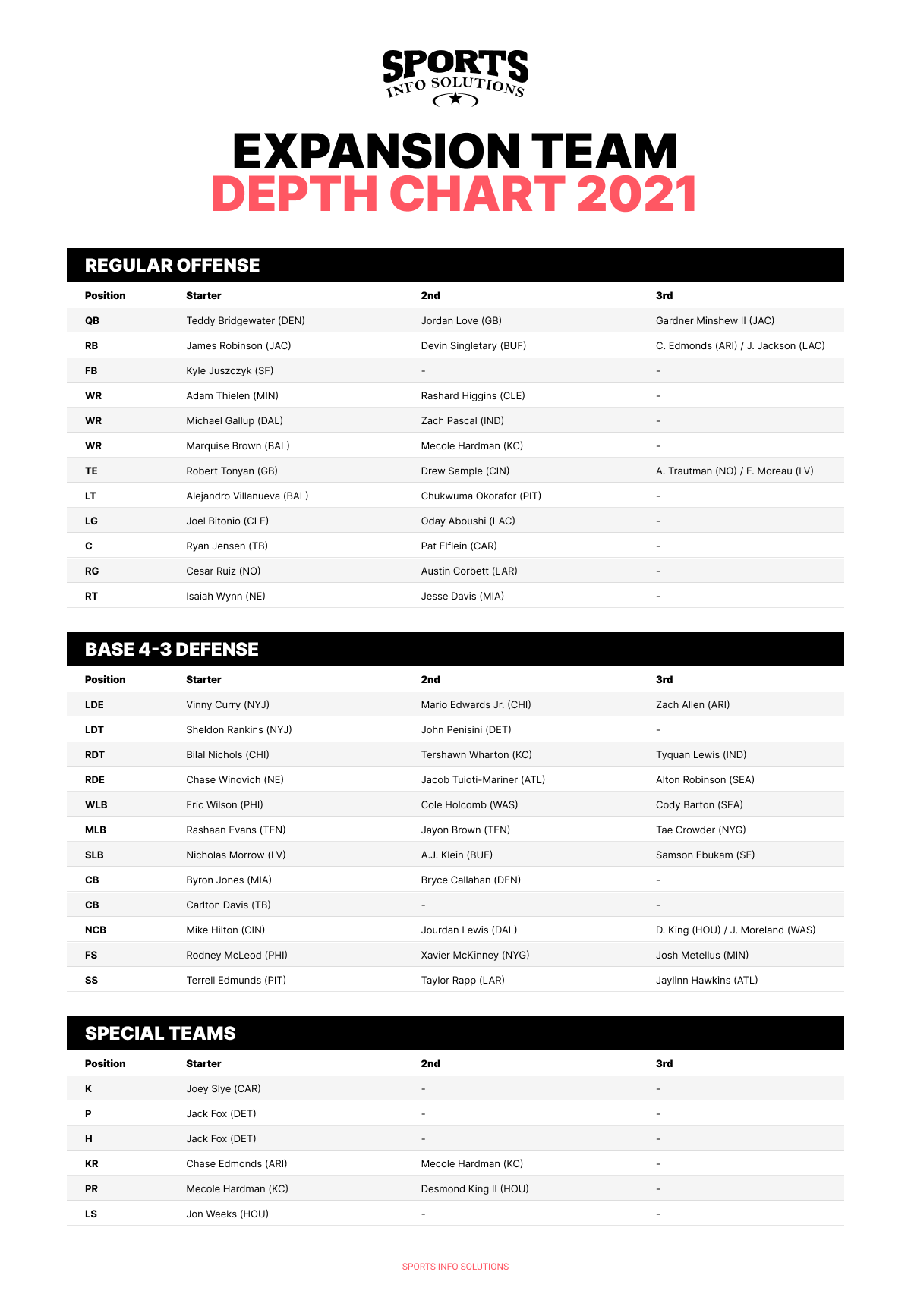 How Would This Team Do?
Alex Vigderman, Lead Football Researcher at SIS, crunched the numbers to see how our team would fare.
Obviously this team doesn't have a real schedule, so he assumed their strength of schedule to be league-wide average at .500. He used WAR per snap from the last three seasons to project each player's WAR for this season and used a Marcel-based system where he weighted 2020 performance as a 5, 2019 as a 3, and 2018 as a 1.
Additionally, he regressed everyone by one full season's worth of replacement-level snaps both to downweight small-sample performances and to account for everyone being on a new team.
When all the numbers were crunched, this team would accumulate 9.1 expected wins in a 17-game season based on SIS-WAR.
While this may not make the playoffs, the team is competitive and does have a chance. An above .500 record would be a major win for an expansion team and something to build upon for the future.
Looking on an individual level, the top five players in Total WAR for this hypothetical season are: 
1) Teddy Bridgewater 
2) Carlton Davis 
3) Bryce Callahan 
4) Adam Theilen 
5) Chase Winovich. 
Out of the 56 players I had getting snaps during the season, 46 players finished with a positive WAR.
While I would love to assume all of my starters will play 100% of the snaps, we based snap counts on last year's, making adjustments as to whether they would get more or less playing time on this team based on the projected depth chart, and also took into account that if a player has an injury history, they would likely miss time.
Looking Ahead
When looking at this roster, the focus was put into building a strong defense that can rush the passer and cover on the back end, and an offense that is strong along the offensive line. 
This team was assembled with a win-now mentality, but also with a look ahead to the future. With this roster, the team could go out and compete right away, but it also has the flexibility to make changes after Year 1, if needed. As it currently stands with these 64 players under contract, the team has just over $8 million of cap space.
There are some things to consider moving forward. 
First, some of the middle to back-end of the roster will likely be traded to accumulate future draft picks. The team automatically is given the No. 2 overall pick in the next draft, so using early picks and gaining more is definitely a priority. 
Additionally, a 16-man practice squad means there are still 5 spots that would need to be filled. That means the waiver wire will be watched closely and unsigned UDFAs will be signed to compete in camp and eventually fill out the practice squad.
Of the current roster, only 37 players are under contract for 2022. The 2022 Salary Cap ceiling has been set at $208.2 million, which leaves the team with more than $56.7 million in cap space going into the 2022 offseason. 
With a rookie salary pool that will cost approximately $16 million for 10 draftees, that leaves about $40 million to re-sign some key free agents, make a splash on one big UFA, and then fill out the back end of the roster. The team will definitely become much younger beginning in 2022.
If this was your team, how happy would you be with it? How well do you think they'll do?
Tweet us at @sportsinfo_SIS and @ncoopdraft  and let us know