by COREY MARCH
The Bills prevailed in last week's heavyweight matchup against the Chiefs by exposing their soft defense. As a result, Buffalo (+250) jumped ahead of Kansas City (+350) as the favorites to win the AFC per DK Sportsbook.
According to this week's Weekly Total Points StatPack, the Chiefs are the league's worst defense. Arizona defended their unblemished record but it wasn't enough to hold off Tampa Bay from swooping in to claim the title as "#1 Team in Total Points".
Total Points Power Rankings (Top-5):
Tampa Bay Buccaneers
Arizona Cardinals
Buffalo Bills
Los Angeles Rams
Denver Broncos
> If you like the SIS Football Newsletter, subscribe to have it emailed to you each week.
---
FEATURED GAME – CHARGERS at RAVENS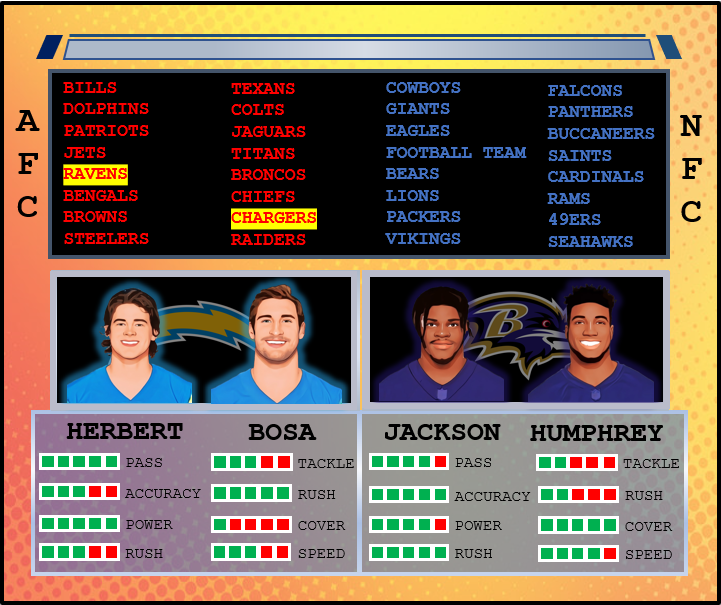 Justin Herbert and Lamar Jackson are each coming off spectacular Week 5 performances, complete with late game heroics. The Chargers and Ravens each sit at 4-1 and are favorites to win two of the most hotly-contested divisions. Both teams have had to overcome fourth quarter deficits in four-of-five games, so depending on who you ask, their impressive records are either lucky or that much more impressive.
The Ravens had their record-tying streak of 43 straight 100-yard rushing games snapped last week. This is an opportunity to get their running game back on track against a Chargers run defense that ranks last in several key categories including 158 yards per game and 3.4 average yards before contact. There are a few betting indicators to follow here, too. The public is all over LAC with 80% of tickets coming in on the underdog (per Action Network). This game also falls into an age-old betting trap: a 1:00pm start for a west coast team.
THE PICK:  RAVENS -2.5
---


Ben Roethlisberger and Tom Brady: A Tale of Two Aging QBs
Rewind to Week 13 last season. The Steelers entered with a perfect record and some expectation they would finish the regular season that way. The Buccaneers limped into their bye at 7-5, losers of three of their last four, and fresh off a defeat against the Chiefs where they surrendered 269 receiving yards to Tyreek Hill.
My how things have changed.
After their undefeated 11-0 start, the Steelers have gone 3-8 in their last 11 games leading up to today.
Meanwhile, the Buccaneers are 13-1 over that span, which included seven consecutive wins out of their bye that culminated in a Super Bowl title.
The driving force between these two diverging teams has been their quarterback play.
44-year-old Tom Brady has led the league by a wide margin with 146 Passing Points Earned, while the opposite is true for 39-year-old Ben Roethlisberger, who has distanced himself in last at minus-21.

Roethlisberger and Brady had produced similar results through the first 12 weeks last season, but it's been a much different story from that point forward.
Weeks 1-12 (2020)
Ben:   49% Positive Play Rate  |  23% Boom Rate  |  14% Bust Rate
Tom:  49% Positive Play Rate  |  25% Boom Rate  |  13% Bust Rate
Weeks 13-Playoffs (2020), Weeks 1-5 (2021)
Ben:   44% Positive Play Rate  |  17% Boom Rate  |  17% Bust Rate
Tom:  53% Positive Play Rate  |  28% Boom Rate  |  13% Bust Rate
Their willingness to throw downfield has also set them apart. Dating back to last season, Brady has thrown past the sticks on a robust 49% of his throws, while Roethlisberger checks in at just 39% (NFL avg = 41%).
Despite being five years his elder, it appears Brady has a lot more left in the tank than Big Ben.
---


PPR Points Allowed by Position
In today's competitive fantasy football space, it's no longer enough to broadly categorize an opposing defense as "good" or "bad" based on the total numbers of yards or points allowed.
We have the capability to slice and dice data to generate splits that give us all kinds of deeper insight.
Here we will look at total PPR fantasy points allowed through the air, broken down by four position groups: Slot Receivers, Wide Receivers, Tight Ends, and Running Backs in that order: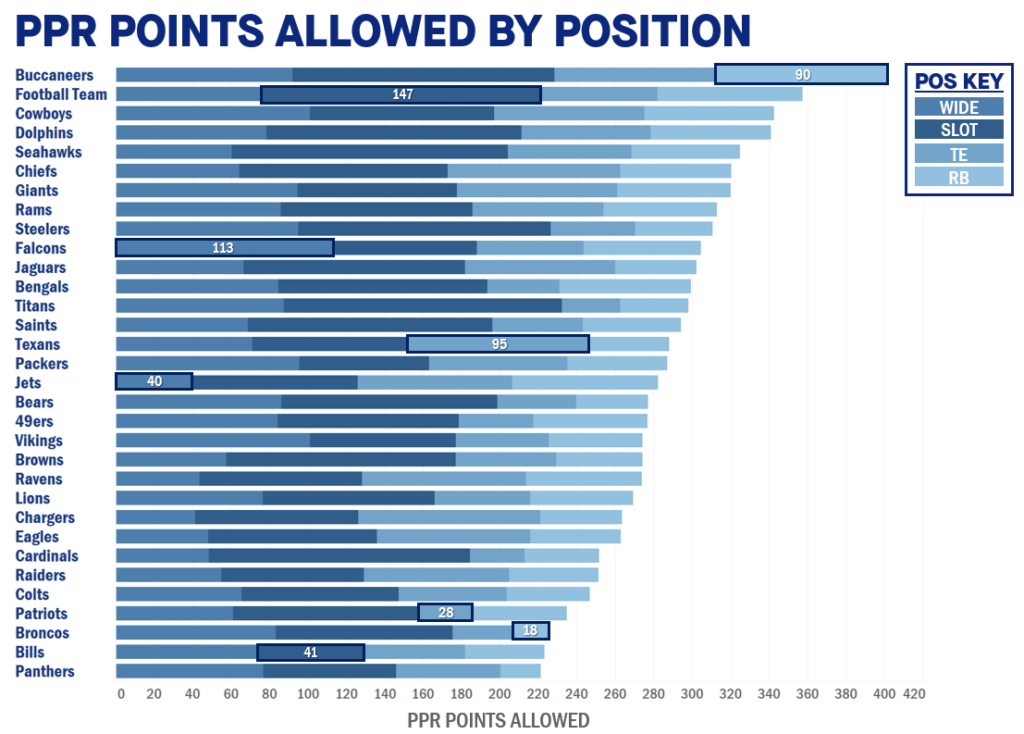 Highlighted are the teams that have allowed the most and fewest points by position group. For example, WFT has allowed the most points to Slot Receivers, while Buffalo has allowed the fewest.
An interesting takeaway from looking at the numbers is the percentage of PPR points scored by each position group:
Slot: 35%
Wide: 26%
TE: 21%
RB: 18%
More from the SIS community
Sharp Football: Back at it with three more QB prop bets to target this week, plus a bonus pick you won't want to miss for Monday Night Football.
Most Valuable CB: Trevon Diggs is catching a lot of attention (and footballs), but he isn't the most valuable cornerback in the league – learn who is and why.
Off The Charts: Tune in to this week's podcast to hear us unpack Week 5 and look ahead to what's to come in Week 6.