We've reached the halfway point of the season and things have started to go off the rails. Key injuries, illnesses, and tragedies have been grabbing headlines all week.
The results on the field last week were just as polarizing. Four backup quarterbacks pulled off victories, highlighted by Mike White and the Jets toppling the AFC-leading Bengals, and Trevor Siemien coming on in relief to beat the defending champs.
The Cardinals suffered a dramatic defeat to finally add a blemish to their record, but they held on as the Total Points Leaders.
Power Rankings: Total Points per Game (with Super Bowl odds):
Arizona Cardinals (+1000)
Los Angeles Rams (+650)
Tampa Bay Buccaneers (+650)
Buffalo Bills  (+500)
Dallas Cowboys  (+1000)
FEATURED GAME – BRONCOS at COWBOYS
Denver managed to stop a four-game skid but traded Von Miller at the deadline, leading to uncertainty about which direction their season is headed. Meanwhile, backup QB Cooper Rush pulled off an improbable win to send the Cowboys to 6-1, their best start since 2016.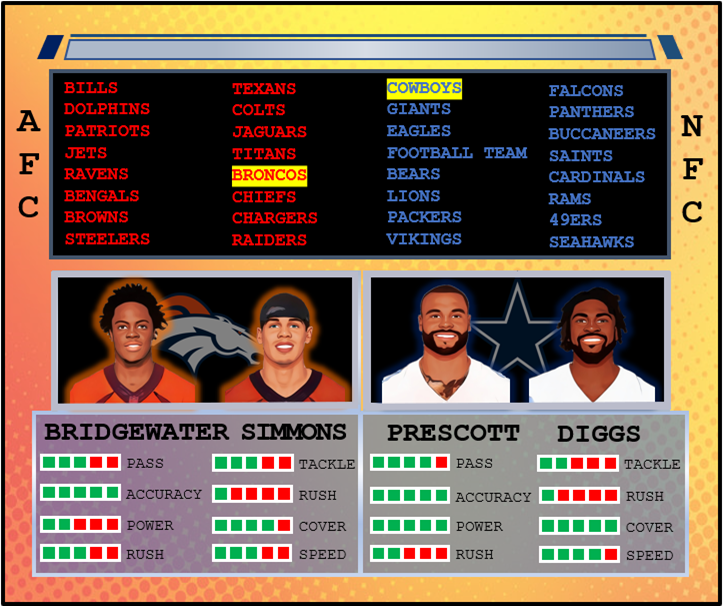 There is a significant contrast in the public perception of these two teams, and rightfully so based on the notes we highlighted in the intro. However, Denver (8th) ranks closer to Dallas (5th) in terms of Team Total Points than most would think.
Dallas has a potent offense that's eclipsed 20 points in all seven of its games, but Denver has allowed their opponents to reach that mark just twice.
Denver's already poor pass rush took a hit when they dealt Von Miller, so they'll need to make up for it by limiting the Dallas rushing attack, something they've done well as the seventh-ranked run defense.
The spread is set quite high at Dallas -10, and not very reflective of the advanced metrics. The public is heavily backing Dallas nonetheless; we'll fade the public and side with Denver to cover.
THE PICK:  BRONCOS +10


Patrick Price Check: Where is Mahomes struggling this season?
Is it time to press the panic button in Kansas City? Everyone was looking for the Chiefs to assert their dominance on Monday night, but the performance was hardly a confidence builder despite the winning result. With half the season left to play, FiveThirtyEight gives the two-time defending AFC champs a 51% chance to make the playoffs, and just a 2% chance to reclaim the Super Bowl title. This time last year those numbers were probably closer to 100% and 20%.
It's easy to place the blame on a defense that ranks 24th in Total Points, but we haven't seen the same Patrick Mahomes that we're used to seeing fill up the highlight reel. Instead we've seen him already match his career-high in turnovers (12).
Mahomes ranks 7th in Passing Points Earned, just ahead of Josh Allen, Lamar Jackson, and Dak Prescott. That's a solid ranking and even more solid company, but it's not up the level of expectation he set after finishing 1st, 3rd, and 1st in his three seasons.

The game-by-game Passing Points Earned totals begin to look more troubling.
Mahomes has logged 52 career regular season games with 15+ pass attempts. His last four games have all ranked among the 10 worst in his career and none of his 2021 performances have cracked his top-10.
Focusing in on Mahomes' performance by throw depth gives us more insight into where he's struggling.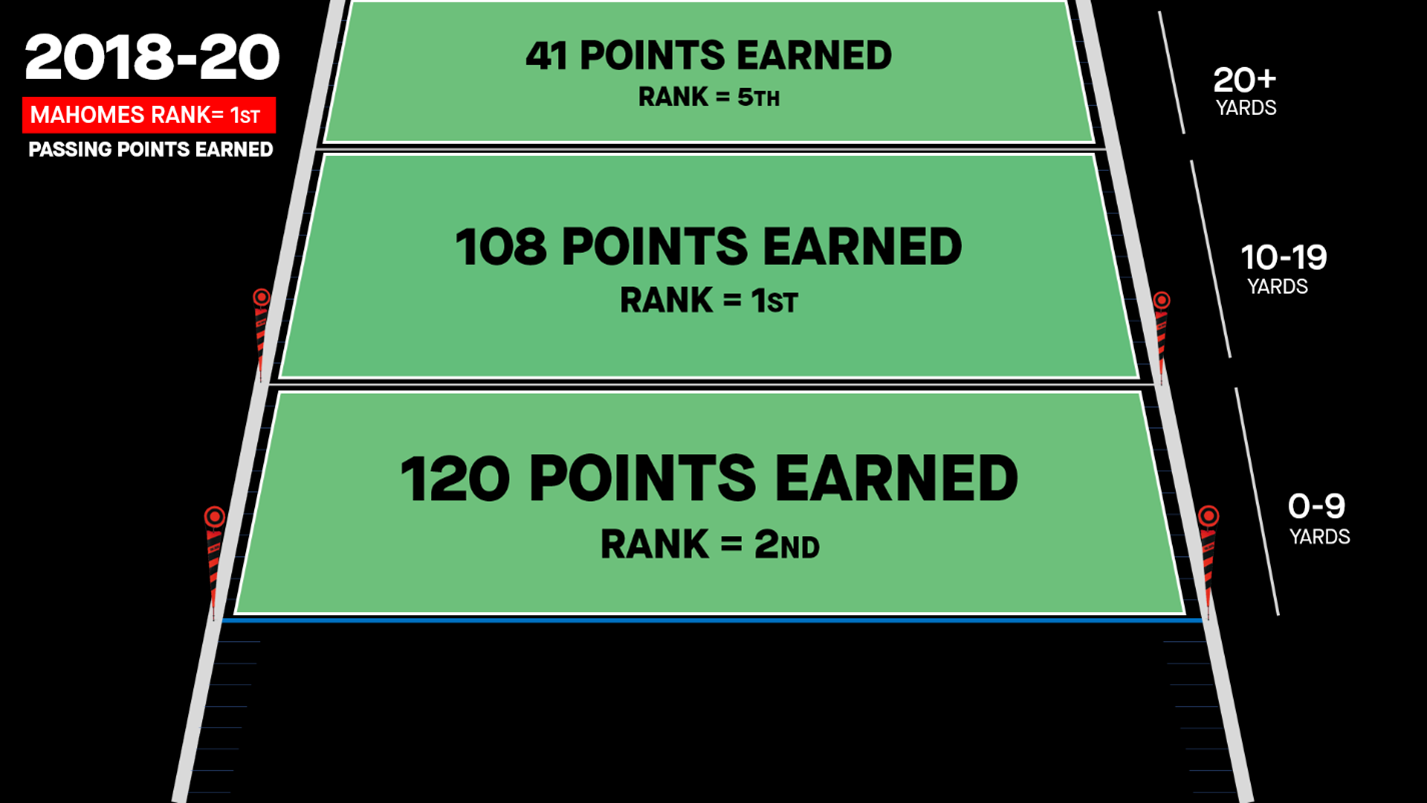 In his first three seasons, Mahomes ranked as the top overall QB in terms of Passing Points Earned and was excelling at all levels of the field.
His status has regressed at all three levels this season, but most notably, his intermediate passing rank has slipped from 1st all the way to 20th.
Mahomes had registered a 71% On-Target Throw Rate on intermediate passes from 2018-20 but has seen that rate come in at just 63% through his first eight games (24th-best), while delivering 0 TDs and 2 INTs.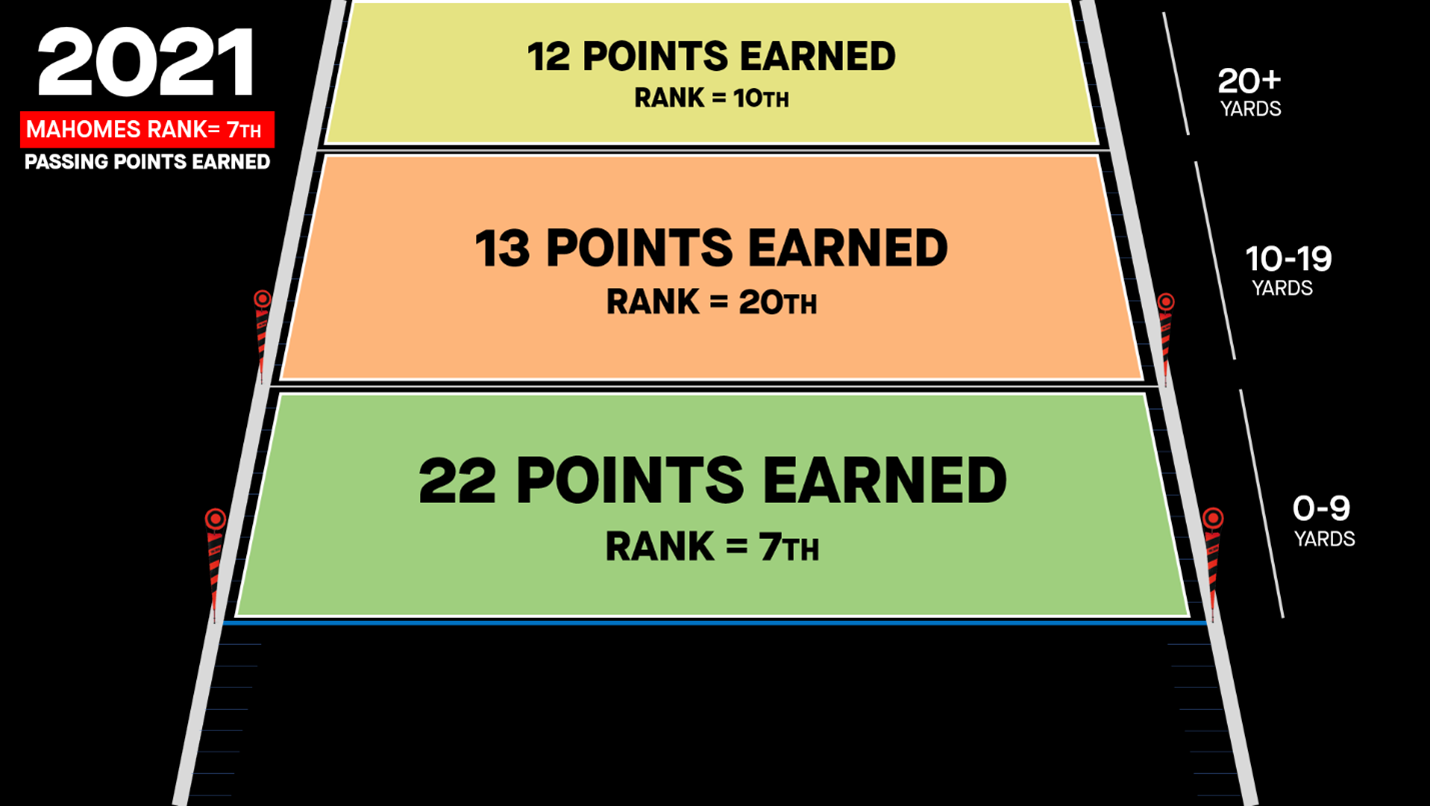 Mahomes has also been much less effective under duress this season despite experiencing the lowest pressure rate of his career.
His 44% Positive Play Rate under pressure from 2018-20 ranked second, only narrowly behind Deshaun Watson. That rate has dipped to 35% this season, representing another category where Mahomes has regressed from elite to league average.
Here are Mahomes' rate stats under pressure during each year of his career (pulled from the SIS DataHub Pro).
The Chiefs were handed a break with the news that Aaron Rodgers will miss Sunday's game, but Mahomes will have his hands full with the Packers defense that ranks top-10 in both Pass Rush and Pass Coverage Points Saved.


Boom Goes the Dynamite: Spotlight on big play receivers
When discussing the top fantasy receivers, there's obviously no more important figure than Fantasy Points.
It's useful (and fun) to understand how Fantasy Points were scored to see who's primed for continued success and who may flame out.
We're going to look at the top four receivers who have been piling up big play opportunities, and how well they've been converting them.
The three metrics we'll focus on are:
(1) Boom Rate: The percentage of targets that result in 1+ EPA (expected points added)
(2) End Zone Team Share: The percentage of the team's passes into the end zone that have been thrown to this player.
(3) Deep Ball Team Share: The percentage of the team's deep passes (15+ air yards) that have been thrown to this player.
Chase was the runaway top choice; he ranks 2nd in deep ball team share, and 3rd in both Boom Rate and end zone team share.
The Bengals have several talented receivers, but it's clear that the rookie is Joe Burrow's favorite option. Chase has 12 deep ball receptions, which is more than all of his teammates combined.
No receiver has had more total big play chances than Hollywood Brown. Brown ranks 1st in end zone team share and 7th in deep ball team share.
However, Brown hasn't been as effective hauling in these opportunities. Brown has dropped four deep balls, one of which was in the end zone. This has contributed to his pedestrian Boom Rate that ranks just 25th/100.
Brown has zero drops otherwise, so there's plenty of hope for future upside here.
Everyone seems to forget about Thielen on fantasy draft day and when constructing DFS lineups, but no receiver has racked up more end zone targets than his 25 over the last two seasons.
Justin Jefferson was also a candidate for this list, evidence that the Vikings offense is funneled through their two top receivers. Thielen has the slight edge in both end zone targets (5 to 4) and deep ball targets (17 to 16).
Aside from these two superstars, the rest of the Vikings team has combined for just two end zone targets and 10 deep ball targets.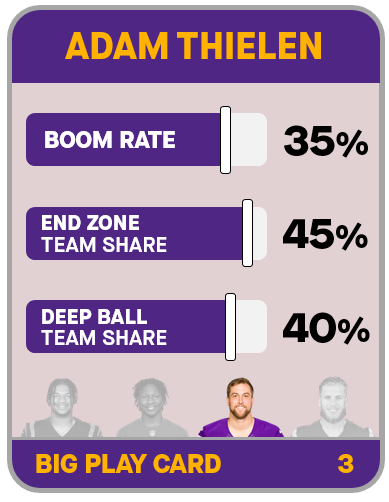 Based on Kupp's fantasy point production, it's almost surprising he's not higher on this list. Kupp has 37 more PPR points than the second-best fantasy receiver, Tyreek Hill, and that margin represents the gap between Hill and the 8th-ranked receiver.
Kupp's 27 PPR points per game is the highest average ever by a receiver through the first eight weeks.
If there's one area holding Kupp back, it's been that he's sharing a big chunk of the Rams end zone targets with his teammates. Kupp and Robert Woods each have six, while Van Jefferson and Tyler Higbee have four apiece.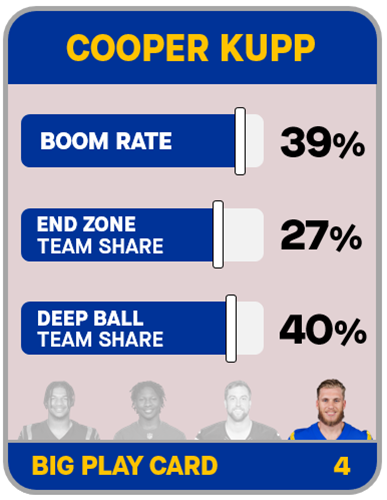 More from the SIS community
Weekly Total Points Statpack: Sign up to receive updated Total Points metrics delivered to your inbox weekly. Get a free, in-depth look at team strengths and weaknesses, and the top players at each position.
SIS Weekly Football Projections: SIS has launched weekly NFL and College Football projections on our website. You can get projections broken down by category for all fantasy-relevant players, and they're also a great resource for prop betting.
Off The Charts: Tune in to this week's podcast to hear us unpack Week 8 and look ahead to what's to come in Week 9.
Sharp Football: Check out our three prop bet recommendations for this Sunday's games!