Dunn Muramaru is a high school baseball coach (and former math teacher) at Mid-Pacific Institute in Hawaii, where he's coached since 1987. Muramaru, who is of Japanese heritage, has more than 40 years experience coaching baseball and has had a long run of success in producing Division I and MLB-level talent.
He's considered one of the legendary high school baseball coaches in the state. One of his star alumni is Yankees Gold Glove-winning shortstop Isiah Kiner-Falefa.
Since one of our company's pillars is in promoting defensive excellence and to honor Asian-American/Pacific Islander Heritage Month, we talked to Muramaru to learn how he teaches defense.
The interview below has been edited for clarity and length.
Mark: How do you define defensive excellence?
Coach Muramaru: Making the plays. You're supposed to make the routine plays. Sometimes you make a great play, but it's mostly just making the plays you're supposed to make so that you have a baseline to work with. That's basically what it is.
Mark: And when you're teaching it to 15 to 18 year old kids, what are the keys that you're teaching to work towards defensive excellence?
Coach Muramaru: One is throwing, throwing actively all the time. It's gotta become a habit. Even when we warm up before practice, we have our pitching coach go out there and he just stands there and watches. So there's someone watching them all the time.
And it's just about getting good habits.
When I play catch with them, I (throw) to the little space just below their neck, and I say this a habit, I do it all the time and they notice.
I don't have a bad throw in my mind. If it's not in your brain [to throw well], then you won't make it right. As Napoleon Hill said: 'What the mind of man can conceive and believe he shall achieve.'
So whatever is in your head, it comes out. So in that way, we try to create habits. I try to dispel the errors. I tell them when I make an out,  I run past first base, I'm coming back to the dugout and it is already gone.
We practice the routine, like, okay, you acknowledge the error, you turn around, you get rid of it. And then you see yourself making a good play. It's connecting the mental part with the physical part.
I liken it to guys shooting free throws. They dribble twice. They come set by the waist and then they put it in. Watch Stephen Curry shoot free throws. He does the same thing over and over and over again. And the guys that are shooting poorly, they do things a little bit different every time.
Mark: What is your origin story for coaching and understanding things like that?
Coach Muramaru: I never played college baseball. I played high school. I always played semi-pro and I had some really good mentors. There was Pop Eldredge. He's a legend. He was a grandfather type. I learned to love the game because of him. I got to play for legends in Hawaii like Dick Kitamura and Masa Yonamine. This one guy Carlton Hanta: He's in the Hall of Fame at the University of Houston. He came back and coached us. He taught me to do a lot of stuff, like hitting a fungo properly.
And then, I just put my own spin on stuff.
Mark: Isaiah Kiner-Falefa said that you taught him discipline, technique, and character. I'm curious what you would say about teaching that.
Coach Muramaru: Discipline is that you've got to do the same things every day that you're supposed to do.
I used to watch Bobby Knight. One of his teams practiced here (during a tournament in Hawaii). It was very enlightening. He has a bad reputation but he's a teacher. So I took stuff from watching that. It's about how much you want what you teach to sink in.
There's a level of peaking, right?
You have A level, B level, C level. Sometimes they are not capable of getting the A's. So you got to settle for the B plus or the C, but maybe you can raise them up the ladder higher.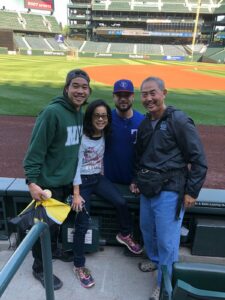 Mark: What skills and traits does Isiah have that have allowed him to be so good?
Coach Muramaru: He's very quiet. He plays very quiet. You don't even notice him there. He's not flashy. He does the job. If the ground ball goes there, he's going to get the out. Though in our state championship game, he made a play, dove up the middle and flipped it to second [for the force]. That saved us.
Mark: When you're teaching middle infielders at high school age, is there anything beyond the repetition that you really focus on?
Coach Muramaru: We teach them to read hops.
I took some ground balls the other day and I was trying to see what I see when the ball comes off the bat.
What I came up with was this thing called Elastic Man.
I tell the kids: Get your hands out. Some of you just get your hands out and have no reason. So I told them to make believe they were Elastic Man and that their arms could go as far as you like.
I said to them 'Where would your hands be?' (when the ball is hit) and they say 'Over here' [out wide]
And I said no. Your hands would be out right where the ball is hit – the contact point. But since your hands can't be there, you have to use your eyes as your hands and you have to follow the ball all the way, using your eyes.
Your hands would be out right where the ball is hit – the contact point. But since your hands can't be there, you have to use your eyes as your hands and you have to follow the ball all the way, using your eyes.
So then we hit some ground balls and a kid said 'Coach, the ball looks slower now.'
The other thing we tell them is 'Field the whole line.'
If I hit a ground ball, there's a line that comes to you. You field the whole line. Sometimes a kid fields a ground ball and just fields it at the spot where they catch the ball. We tell them field the entire line of the ball. Follow the ball as if it's a line at you. Field the whole line. Keep the glove down a little longer, pick it, and go.
We also do stuff with hops. Guys would spot hops using a yellow ball. And then we can ask them, what kind of hop would you have gotten if you came up on the ball? Then, we counted hops. Anything to see the ball a little farther out in front.
Mark: You've taken teams to Japan and had Japanese teams come visit yours. What was that like?
Coach Muramaru: I was in Japan in 1993 and I wanted to see a real practice. So we drove up a mountain and I'm wondering where the heck is the field. And then we walked down what was like a volcanic crater. And there's 100 kids. I'm walking down and the practice stops. They all bow to me.
And I'm watching their practice. Talk about discipline. They had two coaches for 100 kids. It's like it was all self-run. In, out, in, out. I asked the translator: 'Where's the golf cart to fix the infield?' He points to 60 rakes [(the kids raked the field)].
In 2020, a team came to visit us. They lined up their bags. I don't know that the Marines could line them up any nicer. Their shoes are put on so nicely. I thought we had a pretty good team, but they beat us 7-2. They were good. They could have beaten us 20-2.
Mark: Do you have any other players coming up that we should be aware of?
Coach Muramaru. We've got shortstops.
We've got one right now with the Mets in Triple-A.  Wyatt Young. That guy has earned everything he's ever gotten. If he makes it to the major leagues, he'd be one of the greatest stories.  He's 5-foot-6. Junior year of high school he hit something like .212. Before they put in rules about this, he'd go and work out in our weight room with his dad at 4 AM while I was walking my dog. And he'd hit, and hit, and hit, and hit.
He got to Pepperdine and got invited to the Cape Cod League as a temporary guy to fill in for guys playing in the College World Series. He ends up making the All-Star team. He hit .339.
He came home and told me something funny. He went to the All-Star Game and the guys from Georgia, LSU, South Carolina are all asking him about his approach.
And he's thinking, shouldn't I be asking them?
To learn more about Dunn Muramaru, read this tribute to him at the Mid-Pacific Institute website.