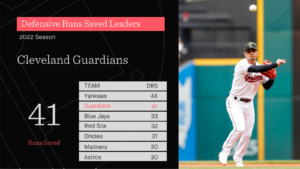 BY MARK SIMON
The Guardians are on a hot streak, with wins in 17 of 21 games entering Thursday's matchup with the Twins.
The Guardians were not expected to be a contender in the AL Central this season, but have proven themselves as a formidable team in the first half of the season. And one of the biggest reasons for that is their defense.
Cleveland enters Thursday No. 2 in the majors in Defensive Runs Saved, just behind the Yankees. They are MLB's strongest defensive team up the middle by a good margin. The Guardians have saved 24 runs with their defense at catcher, second base, shortstop and center field. The next-closest team is the Cardinals (16 Runs Saved).
Their best infield defender this season has been Andrés Giménez, who has excelled at second base and also played a little shortstop this season. Giménez's 9 Runs Saved are the most on the Guardians.
Giménez and Amed Rosario were obtained from the Mets in the Francisco Lindor trade prior to last season. Rosario has stepped up his defensive game in a big way, saving 5 Runs at shortstop in 2022. Rosario had cost his teams 29 runs with his shortstop defense in the previous five seasons.
Rosario has largely eliminated mistakes from his game. Last season, he had 34 Defensive Misplays & Errors as charted by our Video Scouts. This season, he has 8. He also has more Good Fielding Plays (7) in 52 games than he had last season (6) in 121 games.
In the outfield, Myles Straw leads all center fielders with 8 Runs Saved. Half of those come from his outfield arm, where he's thrown out 5 runners attempting to advance without using a cutoff man (he had only 2 such assists last season). The Guardians lead all MLB teams with 8 Outfield Arm Runs Saved this season.
And at catcher Austin Hedges and Luke Maile have combined for 5 Runs Saved. Hedges has been his usual stellar self, with 4 Runs Saved and value added in pitch framing, pitch blocking, and defensing bunts. Hedges leads all catchers in Defensive Runs Saved over the last 6 seasons.
Though up-the-middle play is largely responsible for the Guardians' defensive success, players at other positions have also factored in. The most notable of those is left fielder Steven Kwan, who ranks second at the position with 7 Runs Saved.
That the Guardians have been this good defensively this season is something of a surprise, considering that the team finished 19th in Runs Saved in 2021.
It's also worth noting that there's room for growth here. Third baseman José Ramírez, who had 10 Runs Saved last season, ranks last on the team, having cost them 4 runs with his defense.
Ramírez has more than made up for that with his bat, as he entered Thursday ranked fourth in the majors with 56 Runs Created. He's carried his teammates on the offensive end and they've picked him up with their defensive play.