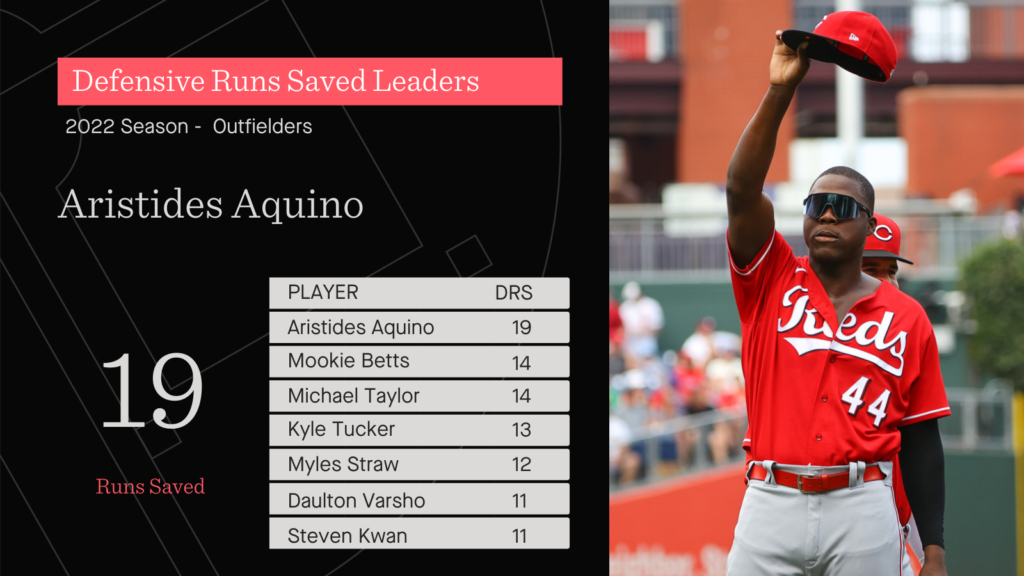 This is not a misprint. Reds outfielder Aristides Aquino has 19 Defensive Runs Saved in 389 innings this season.
Aquino tied for the MLB lead with 9 Runs Saved in August and won our voting for MLB Defensive Player of the Month for August.
What differentiates Aquino, and helps him record so many Runs Saved in such a short period of time, is his throwing arm. People keep testing it. He has 10 outfield assists this season, all without the help of a cutoff man. Five of them have been on plays at the plate, including one against the Giants on May 28 that ended a one-run win.
Aquino had 5 assists in August, including this one, which prompted an "oh wow!" from Phillies broadcaster John Kruk. Kruk had good reason for his exclamation. Statcast clocked the throw at 99 MPH.
Aquino's 8 Outfield Arm Runs Saved (a stat that considers both throw-outs and baserunners held) are the most in MLB this season.
Aquino didn't have any particularly dazzling catches this month, but the value of those he did make adds up. Among his better ones were this one against the Brewers and this one against the Phillies, which of course had an assist tacked on to it.
Aquino's 19 Runs Saved are tied for the most of any player at any position this season. He's tied with Taylor Walls of the Rays, who has played more than 900 innings this season, and Tommy Edman of the Cardinals, who has played more than 1,000.
Among those Aquino beat out for Player of the Month were shortstops Walls and Isiah Kiner-Falefa of the Yankees, and catchers Adley Rutschman of the Orioles and Cal Raleigh of the Mariners.
Walls led all shortstops with 9 Defensive Runs Saved (we wrote about him in another recent article). Kiner-Falefa totaled 7 Runs Saved in his best month of the season (albeit one that ended with an error that drew the ire of Yankees fans on Wednesday night).
Rutschman led catchers with 7 Runs Saved in August. He's tied for third in our pitch-framing metric (Strike Zone Runs Saved), fourth in catcher block rate (preventing wild pitches and passed balls) and his 12 Runs Saved this season trail only Jose Trevino's 15 among catchers. This is made all the more impressive given that Rutschman didn't make his MLB debut until May 21.
Raleigh, in his second year, had 6 Runs Saved in August and has matched Rutschman's 12 Runs Saved this season. He's second in Strike Zone Runs Saved and tied for third in Stolen Bases Runs Saved.