For our series on dominance in NPB this season, we've taken a deep dive into some of the best pitching performances in the league.
Now, we turn our attention to the batter's box and the NPB's best hitter. Munetaka Murakami, the 22 year-old third baseman for the Yakult Swallows, must be considered one of the best power hitters in all of baseball with his stellar 2022 campaign. 
Murakami won a Central League MVP in 2021 and he's backing that up in 2022 with video game numbers during a historic season. With a .341/.477/ .760 slash line and a 1.237 OPS entering the week, he leads the entire league in the traditional Triple Crown with 51 HRs, 125 RBIs, He's also going for the slash line Triple Crown, which he currently leads as well.
Murakami debuted in 2018, but his first full season came in 2019 when he slugged 36 homers and slashed a respectable .231/.332/.481 with an .814 OPS. That season, his major flaw was 184 strikeouts, the most strikeouts in an NPB season by a Japanese-born player.
Sporting a K% of 31.0% and a 12.5 BB% in 2019, Murakami caused damage but swung and missed a lot.  He'd get a lot better when it came to avoiding the latter.
| | | |
| --- | --- | --- |
| Season | K% | BB% |
| 2020 | 22.3% | 16.9% |
| 2021 | 21.6% | 17.2% |
| 2022 | 19.4% | 19.6% |
Since that first full season he's cut down on his chases and done more damage on pitches in the strike zone.
 His 47% hard-hit rate is the best in NPB. Only one other player is closer than 10 percentage points (Hotaka Yamakawa, who has 37 home runs, is at 44%)
Some players just make hitting a baseball look so easy. This is one of those players.

For those who are not familiar, let me introduce you to 22 year old record breaking NPB superstar:

Munetaka Murakami.pic.twitter.com/Du45UxJKco

— Shawn (@Shawn_Spradling) August 28, 2022
| | | |
| --- | --- | --- |
| MONTH | Hard-Hit Rate | Avg Launch Angle |
| APRIL | 42% | 11.4 |
| MAY | 41% | 12.7 |
| JUNE | 56% | 8.8 |
| JULY | 51% | 21.6 |
| AUGUST | 46% | 15.6 |
| SEPTEMBER | 44% | 3.9 (9 Balls in Play) |
Munetaka Murakami stats by month

March/April: 27 G, .297/.434/.549/.983, 6 HR, 20 RBI
May: 24 G, .244/.387/.593/.980, 9 HR, 23 RBI
June: 23 G, .410/.515/.940/1.455, 14 HR, 35 RBI
July: 20 G, .318/.471/.742/1.213, 8 HR, 17 RBI
August: 20 G, .439/.570/.985/1.555, 11 HR, 24 RBI

— Yakyu Cosmopolitan (@baseballcosmo) August 28, 2022

Murakami has been hitting the ball hard all season, especially since the start of June. That month he had a 56% hard-hit rate and an astronomical .559 BABIP.
 In July he was still very productive but, as noted in the table above, his launch angles were off.
Here's an at-bat from July where the pitcher starts Murakami with a slow curve that he takes on the outer edge. Pitchers will usually start him with a slow curve or splitter to mess with his timing, then attack inside with fastballs, and righty pitchers will use cutters trying to get the ball up under his hands.
This particular at-bat ended in a flyout to right field. The frustration on Murakami's face was visible, as that cutter got in on him towards the handle of the bat, limiting his ability to extend his hands. 
This is where hitters have to succeed with not only high exit velocities but also optimal launch angles. Murakami produces the most damage on down-and-in pitches and creates loft from that part of the zone. Understanding this and coaxing flyouts on pitches up in the zone against him is key.
While he does face high velocity in the upper part of the zone regularly. He takes these pitches with ease, rocking back on his heels and maintaining great balance. He doesn't bail or turn away and stays in against these hard pitches. 
Teams have decided the only spot they can really attack is up near his hands. Murakami has adjusted to the league and is more selective in this area of the zone. You have to get the ball up though because he punishes mistakes that are down.
There are home runs, and there are Home Runs. Munetaka Murakami's 45th of the year is definitely the latter.

Plus it gave the Swallows the lead in a fairly important game. pic.twitter.com/lo7VuE7fJn

— Jason Coskrey (@JCoskrey) August 23, 2022
Murakami picked up steam again in July, hitting home runs in 5 consecutive plate appearances, an NPB record.
Murakami's batting stance and swing remind me of Matt Olson. With slightly more bent knees to start, his bat position and stance are almost identical to Olson's.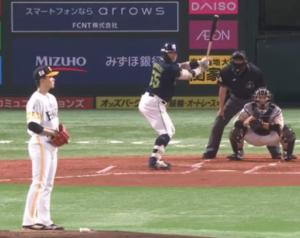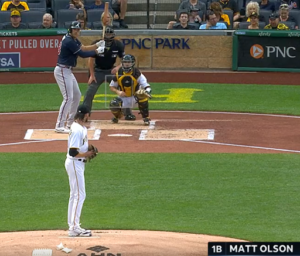 Olson and Murakami both use their hands out in front of their bodies as a timing mechanism, but also as a way to create tension and energy in the body.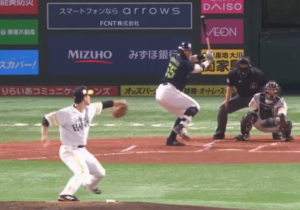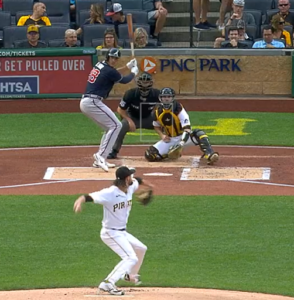 Murakami relies on a medium-high leg kick to get energy stored into his back leg and hip. Olson's load is a toe-tap, but both of them load into the back hip and create a solid back side and foundation for stored energy. The bat is in nearly the same spot and angle in the middle of the load.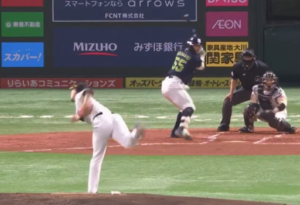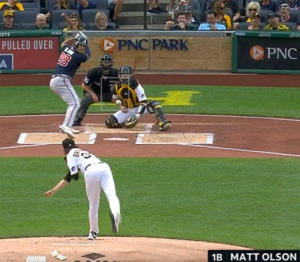 The biggest difference is when both batters load. For Olson, his hands end up a bit higher and farther back because of a slight turn in the front shoulder. Olson has great bat speed, which he uses to great success.
The short and compact swing by Murakami allows him to let the ball travel deeper into the zone. Murakami stays inside the ball better and pulls the ball less than Olson.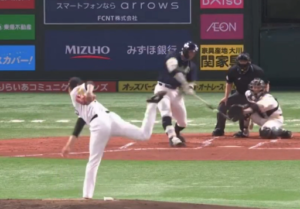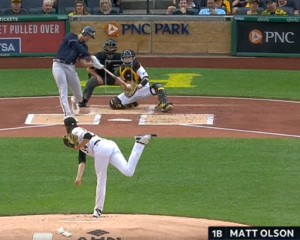 At the point of contact, both rotate around their front half as they uncoil their stored energy through the zone. The leverage created from their attack angle downward to the ball is what helps them both hit towering home runs. Both have exceptional bat speed but also smoothness and looseness that is created by excellent rhythm at the beginning of their swings. 
A SKYSCRAPER OF A HOMERUN FOR MURAKAMI'S 47TH!

His second of the night makes it 6-3 Swallows! https://t.co/HiTiT5m7Lx

— Tom Mussa v2 (@tom_mussa_v2) August 26, 2022
Going, going, GONE!

Matt Olson's grand slam landed in the Allegheny River 😳 pic.twitter.com/teNJA46SN7

— SportsCenter (@SportsCenter) August 24, 2022
Here's a side view of Murakami's swing. The flow of his swing mechanics is beautiful to watch as his head also stays still through the entire process.
Timing can be an issue, with a slight susceptibility to the splitter. Murakami will swing and miss when out on his front side, whiffing over the top of these types of offspeed pitches.
He also flicks off-speed pitches into the gap by delaying rotation and placing the barrel on the ball. Even though he is out of sync and into his front side on this pitch, Murakami uses the strength in his arms and hands to lift the baseball into the outfield.
Another example of his power is this mishit on this decent fastball down and in. The power to bully this ball over the wall opposite-field is impressive. The reaction of the pitcher Kodai Senga says it all. 
Murakami is an elite hitter. What separates him from most is how often he hits the ball hard, and his knack for being able to hit well even when his timing is off. Couple this with bat speed and strength and he's a dominating power hitter.
The scary part is he's only 22 years old and there are no signs of him slowing down. The confidence, patience, and talent Murakami exhibits are all culminating in one of the best seasons ever.