As a hitter, Hall of Fame inductee Scott Rolen's numbers are outstanding, but perhaps not distinct, comparable as they are to those posted by very good third basemen like Ken Boyer, Ron Cey, and David Wright. None of them is in or appears on his way to the Hall.
What Rolen had that the others didn't was defensive excellence, represented by eight Gold Glove Awards. Had Defensive Runs Saved been tracked for the first seven seasons of his career (DRS debuted in 2003, meaning Rolen played only 10 seasons with the metric in place), he'd likely be neck-and-neck for category leadership with Adrián Beltré (whose defense was DRS-measured across 16 of 21 active seasons).
Both Runs Saved and its predecessor on Baseball-Reference, Total Zone Runs, elevate Rolen's credentials. Rolen ranks tied for 17th in the offensive component of Wins Above Replacement for third basemen; his Defensive WAR ranks 6th. And it's his defense in tandem with his offense (and his highly-praised baserunning) that made him a Hall of Famer.
To better understand how Rolen played defense—dating all the way back to its beginnings—I reached out to those who experienced it first-hand and from close range to ask one overarching question:
What was it like to watch Rolen save runs?
(Teammate seasons with Rolen are listed in parentheses).
Rolen's defensive origin story began in Jasper, Indiana, a town of about 10,000 people. It's where Rolen grew up and where he and his friends played baseball (and variations thereof) every day. Rolen and one friend kept track of the games in a notebook. He was the Dodgers of Steve Garvey and Pedro Guerrero. His friend Cory was the Cardinals of Jack Clark and Ozzie Smith.
Cory Luebbehusen (Little League and Jasper High teammate, 1985-1992): "We always took a tennis racket and hit tennis balls over electric wires. We would hit pop flies to each other, whoever caught the most won. If I was down one or he was down one, we made it pretty darn hard for [the other person] to catch it. He was good at that game. Everything he touched, he was pretty good at."
 At age 10, Rolen was playing with the 11- and 12-year olds. He pitched and Luebbehusen caught, and then they'd switch and Rolen would also play shortstop, which honed his arm.
Andy Noblitt (Jasper High, 1991-1993): "We had a track meet where we had to throw a softball and he had the ability to throw it from our high school softball field all the way to the Little League field, which is probably 150, 160 yards, as a seventh-grader."
A growth spurt was a few years away. High school teammate Noblitt watched Scott rise from 5-9, 155 pounds as a sophomore to 6-3, 190 as a junior and transition from shortstop to third base.
Noblitt: "I remember him making diving plays in the 5/6 hole that no one else would make. A lot of the guys would call him 'Web' because it felt like he had a Spider-Man web on him that could catch anything."
Luebbehusen: "You had coaches that would hit ground balls on a high school gym floor as hard as you could. That ball got on you quick. So if you weren't ready to play defense, you were gonna take one in the chops."
Noblitt: "We were 32-2 and a majority of our team played a college sport, but he was just so much more skilled than our college-bound players."
Rolen was drafted in the second round by the Phillies, 46th overall in 1993. His first minor league roommate was another third baseman, Bryan Wiegandt, an undrafted infielder out of Bellarmine University (Kentucky) who was four years older than Rolen. Wiegandt says he was Rolen's Crash Davis, the grizzled veteran who taught the kid how to pay rent and do laundry. They roomed together in the low minors and Rolen then roomed with Bryan's older brother (another Scott) when he reached Triple-A.
Bryan Wiegandt (Minor League IF, 1993-1994): "There were times we didn't even need a shortstop. He was like a gazelle. One-hundred percent. Just smooth every step of the way. He ran first to third or second to home as quick as anybody. That carried over to his defense. If the batter hits one down the line, I'm thinking double off the bat and the next thing I know, the ball's in my chest and I'm turning a double play. Or if the ball's to his left, all of a sudden he's playing shortstop and he's flipping the ball to me within 1.2 seconds off the bat. He's playing third and he's on top of me, like, 'Here's the ball, are you going to throw it to first?'"
Bronson Heflin and Scott Rolen got called up to the major leagues together and then both debuted on the same day, August 1, 1996. Rolen's career spanned 17 seasons and more than 2,000 games, with his performance in his first full season earning him 1997 National League Rookie of the Year honors. Heflin allowed seven runs in three games in a seven-day period and was sent back to the minors; he pitched four more years in the minors but never another major league game.
Bronson Heflin (Phillies org. P, 1994-1996): "The biggest play he ever made when I was pitching that I can remember was against the Braves' Triple-A team. There was a swinging bunt, and I was crossed up. I was trying to get untangled to get back to pick the ball up and all I remember was this monster coming out of nowhere, throwing it while still running towards the catcher and throwing the guy out at first base.
"It was just one of those plays where I was just like, 'Wow, did that really happen?'"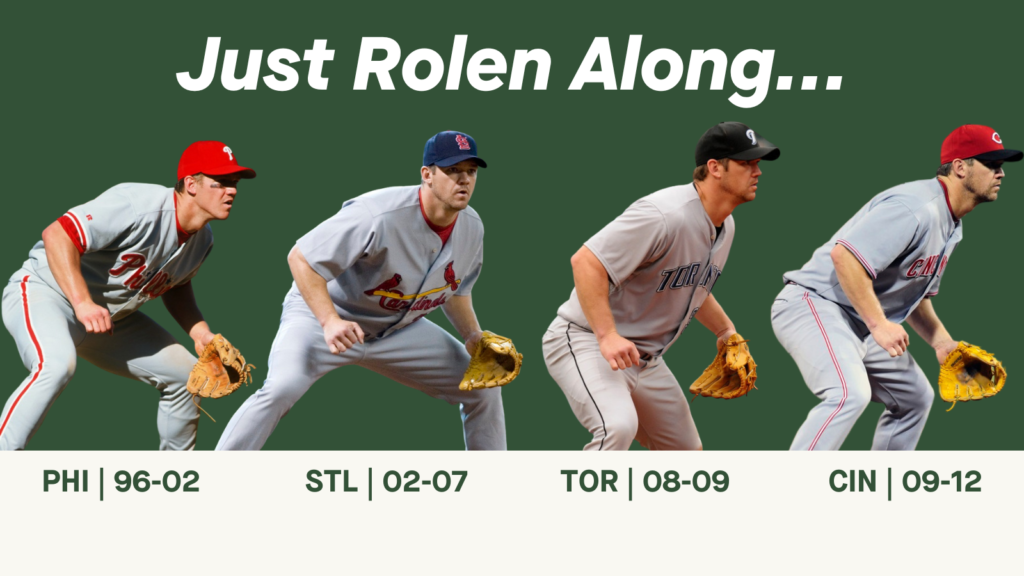 Todd Zeile was Scott Rolen's first major league first baseman and an experienced third baseman in his own right. The 1996 Phillies were the third of Zeile's 11 MLB teams. He had a lot of teammates, but few compared to Rolen defensively.
Todd Zeile (Phillies 1B, 1996): "There's a timing mechanism that good third basemen have [so] that they know how much time they have to deliver the ball to get the runner by a step. Scott, for as athletic as he was at third base, had that built-in clock. I had really struggled with that and made a lot of unforced errors. He would dive and sprawl and roll and come up and throw it from weird angles but he always seemed to have that clock that would give him just enough time to get his balance, make accurate throws, and not make unforced errors."
Mike Lieberthal (Phillies C, 1996-2002): "He was also amazing on the fly ball hit over his head, going down the left field line. He was very light on his feet for his size."
Desi Relaford (Phillies SS, 1996-2000): "He did this slide thing where he could slide on his knee or ass, a slide-scoop, know what I'm saying? Backhand. And he would either throw it from his knees or he'd pop up if he had time and show off the cannon. I saw that one a lot."
Zeile: "He was very good at throwing on the run, especially moving away from first base. He had arm strength when he needed it."
The impressions Rolen made early were echoed by impressions he'd continue to make as his career unfolded.
David Eckstein (Cardinals SS, 2006-2007, Blue Jays, 2008): "The first movement to the ball was catlike. You know how you see a cat that's sitting there, they see something and they explode to it?"
Nelson Figueroa (Phillies P, 2001): "The thing about Rolen is he was so big but so agile. His reads were instantaneous, and he could cover so much ground. He had the range of a shortstop with the stopping power of a brick wall."
Paul Janish (Reds SS, 2009-2011): "You're talking about a 6-4 or 6-5 guy that was probably pushing 240, like a really big individual, and he just made it look easy."
Jim Edmonds (Cardinals CF, 2002-2007): "Scott was like this solid wall of defense."
Lieberthal, twice a National League All-Star as a Phillie, said one of the first things he noticed about Rolen was that Rolen's legs looked like they were three times the size of his average-sized legs. He was impressed by Rolen's ability to get to balls so easily despite that size. So Lieberthal let Rolen know about one type of play that Scott could have to himself.
Lieberthal: "I hated popups. So I would tell him, especially in [windy] San Francisco, and any place that had a large area behind home plate, 'Scotty, you can have all the popups. I'm not dealing with it.'"
Relaford: "When you have someone on your team who was as good as he was and being able to watch him every day, not only does he make your team better, but you can learn from that, and implement. Whether it's the tenacity or getting good jumps. You can't teach me 6-5, 230 pounds, but just being able to take it all in and see what he brings to the park from a mindset standpoint."
"He played the game like it was supposed to be played. He played hard. He ran hard. He threw hard."
Rolen moved to St. Louis when he was traded to the perennial contender Cardinals in 2002. It proved to be the definitive step in his career. In 2004 he had an MVP-caliber season, totaling 34 home runs, a 1.007 OPS, and 30 Defensive Runs Saved, the latter the most by a third baseman in the 20-year history of the stat, all en route to hitting the deciding home run against Astros pitcher Roger Clemens in Game 7 of the NLCS.
Jeff Suppan was the winning pitcher in that Game 7. Suppan didn't throw hard and relied on trickery and outsmarting hitters. Like Figueroa in Philadelphia, he relied on his third baseman.
Jeff Suppan (Cardinals P, 2004-2006): "When I throw a changeup to a right-handed hitter, I'm trying to get him to hook it. But if he keeps it fair, it's going to be a rocket. Or if I pitch inside to open up pitches away, if they make contact, they're rockets to third base. So any time I pitched inside, I let him know. His backhand ability was off the charts. And I can't remember, unless a ball was right down the line or way in the hole, a ball ever getting by him."
Figueroa: "When I was in hitters' counts I used offspeed pitches a lot to take advantage of their aggressiveness. And if it was hit to my right on the ground, I knew it was an out. As sure as the hands were, his arm was just as reliable. He made the ordinary plays look ordinary, but the extraordinary plays look routine."
Suppan's earned run average with the Cardinals was 3.95, markedly better than his 4.70 career ERA. Rolen and the Cardinals infield was integral to that.
Still, even an eight-time Gold Glover isn't impervious to imperfection. In Game 7 of the 2006 NLCS, a Rolen throwing error set up an inning in which the Mets loaded the bases with one out in a tie game. Suppan escaped and the Cardinals won the pennant on Yadier Molina's home run in the 9th inning.
Suppan: "He thanked me after the game. He didn't have to thank me. He had picked me up so many times."
Another player Rolen often picked up was shortstop David Eckstein, MVP of the 2006 World Series, in which Rolen batted .421 and claimed his only world championship.
Eckstein: "When I signed with the Cardinals in 2006, Tony La Russa said to me that we don't need you to play phenomenal defense. You just have to be able to get the ball hit to you, because you have a guy that's going to be playing to your right that will make every play, and he'll make you look like a better shortstop because of his range to his left. As everyone knows, my range on the backhand was subpar at best, but that's what Scotty did. It took the pressure off of worrying about the balls that were difficult for me."
Janish: "He was a very talented individual, but he was just really good at doing the same thing over and over again."
Eckstein: "I always say he 'ate' the ball. And all of a sudden the ball was in his massive hands and he worked the ball through to first base. He had that first step where he was in front of you before you even knew it."
Abraham Núñez (Cardinals 2B/SS/3B, 2005): "It was amazing to see his preparation, his dedication. He showed up early to the field and every ground ball mattered. Every day, he took a round of live batting practice at third base, reading balls off the bat. He was gifted by his preparation in every aspect. It was something I never saw before from a superstar like that."
Edmonds: "He was just so far above as far as positioning and being ready and thinking everything through… knowing that so-and-so is going to throw a forkball in a situation or a slider, and that he needs to adjust his feet or move into a different spot. There were very few people you would hear talk about that stuff. He was one of them."
Edmonds won eight Gold Gloves, the same number Rolen did. So he knows defensive excellence quite well.
Edmonds: "If you watched him take ground balls at 3 o'clock in the afternoon, he'd take ground balls in the same rhythm. He would get it into his glove, he would take a little jog step and then he would throw it. His rhythm was so perfect."
When Rolen was with the Cardinals, sometimes first baseman Eduardo Perez was warned of something Rolen liked to do to maintain the rhythm Edmonds cites.
Eduardo Perez (Cardinals 1B/OF, 2002-2003): "I remember Tino Martinez telling me, 'On a ground ball to third, don't take your eye off the ball.' I said, 'What do you mean?' Tino played far from first base. So did I. Rolen would sometimes throw the ball to first base without the first baseman being anywhere near there. So every time there was a ground ball to third, it was a sprint to get to first. I'm like, 'Are you kidding me?' And [Rolen] is cracking up."
Eckstein: "That was Scotty. He's like, 'I'm not changing who I am. I'm gonna field the ball and throw it straight to the base.' The accuracy of the arm was very impressive."
Perez: "His throws looked like a true four-seamer from third to first. It continued to have carry and gravity wouldn't defy his throws."
Edmonds, now a Cardinals broadcaster, said what separated Rolen from other third basemen was how relaxed he was and how in tune he was with his pitchers.
Edmonds: "It's weird when you watch the really good player, how uncanny it was to watch their calmness. That was the best thing about Scott. He never looked like there were any nerves."
If Rolen was instrumental in bringing down his own pitcher's ERA, it would figure his defense would take a toll on more than a few opponents' offensive stats.
Moises Alou, whose career spanned 1990 to 2008, recorded more than 2,100 hits and a .303 career batting average. But he hit more balls that Rolen turned into outs than any other hitter (50, per the Elias Sports Bureau).
Moises Alou: "He got me out on a lot of hard shots. I could've hit .305 instead of .303 [Alou laughs]. I was a dead pull hitter. Some balls that I hit could have been hits if it was another third baseman."
An elite hitter might find himself frustrated by Rolen, but if you were on the field in another role, such as umpire, you couldn't help but be impressed.
Dale Scott (MLB Umpire, 1986-2017) "If I was working second and didn't have a decision to make, you could just watch the talent and the athleticism and sometimes the amazement of how he was able to get to the baseball and also get off a throw that was true, right to where he wanted it to go."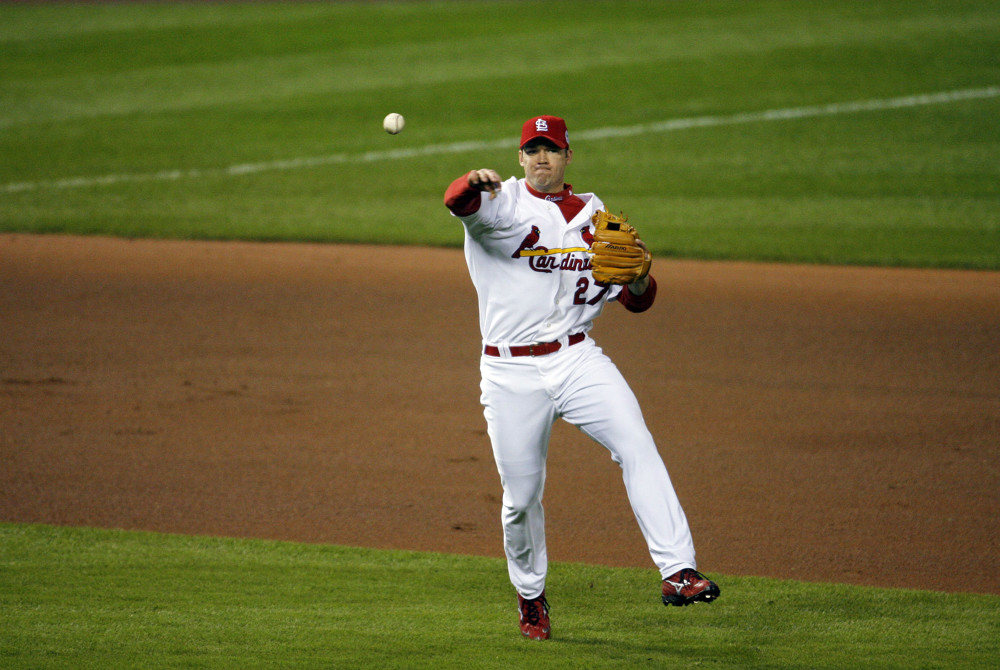 In January of 2008, Rolen, who'd missed significant time due to injuries two of his three previous seasons in St. Louis, was traded to Toronto, for whom he played a year-and-a-half. Travis Snider was a 20- and 21-year-old rookie on those Blue Jays teams, playing the corner outfield spots. Before Snider made his MLB debut, Rolen, who was hitting one spot in front of him, told him, "You only get one debut. So no matter whether you go 3-for-3 or strike out three times, enjoy every minute of it because you only get one." Snider appreciated all the advice he got.
Travis Snider (Blue Jays OF, 2008-2009): "I remember I made an error in left field one time. I was being pretty aggressive because we preached taking aggressive angles to make plays. Scott came over and said, 'Hey, as long as you make mistakes aggressively, you'll never have a problem with me.' From hearing that, I was able to play with a little more freedom. It was great to hear it from a guy like Scott Rolen."
Snider surely enjoyed the clear view he had of third base from left field.
Snider: "One of the unsung beauties of playing the outfield is getting to watch really good infielders make plays in front of you. Scott's body had hit the ground probably thousands of times before I got a chance to play with him and you would never know it by the way he played, getting in the dirt, getting after it."
The Reds traded for Rolen in the middle of the 2009 season and he played the next three-and-a-half years for them before retiring. When Rolen was healthy, his defensive stats continued to reflect his reputation within the game. Janish, who regularly stood to Rolen's left from 2009 to 2011, doesn't want to use the term vanilla, but…
Janish: "It was very much like [being] in a good position to field, like it wasn't flashy. Could he make the barehanded play? Sure. But did he do it when he didn't have to? No. He didn't dress up a whole lot of it, He made as many plays easy as you could, if that makes sense. He didn't make plays harder than they had to be.
"He was more concerned with getting the guy out, which, that's kind of who he is, right? It's about the result, not about what it looks like."
To completely appreciate what Rolen brought to third base, you have to talk about the position with somebody who not only played it, but was compelled by circumstances to do so as Rolen's teammate and replacement.
Entering 2005, new Cardinals utility infielder Abraham Núñez had played 445 games in the field; only eight of them were at the hot corner. Núñez expected to fill in at the other infield spots, because after all, Rolen played every day. But then Rolen injured his shoulder in a collision in May, and Núñez filled in for five weeks. Rolen came back and played third base for a month, only to opt for season-ending shoulder surgery in July.
The position became Núñez's for the rest of the season. Fortunately for the career backup, he had once asked Rolen for some tips on playing third base… just in case he was ever needed there.
Núñez: "At shortstop, it took me a little longer to get set up on defense because I had more time. So I asked him how you set up at third base. He says to me, 'You don't have time to make a big move. You've gotta be short and compact with a quick first step. I don't want to be flatfooted. I want to be more on the balls of my feet when the ball is crossing the plate. I'm in sync with the pitcher so I can be on time for every ball.'
"It made sense. It was hard for me. But it was easy for him."
Flash forward a couple of months to Núñez playing every day and holding the position down reasonably well and Rolen doing his rehab exercises to try to get back to health.
Núñez: "I remember this like it happened today. He said, 'Dude, you're doing an outstanding job. I wanted to tell you face-to-face how good of a job you're doing.' That meant a lot coming from him. That's a big memory."
Núñez has since worked in the Royals minor league system. He has used video of Rolen's pre-pitch setup for instructional purposes, an indicator—along with the comments from his teammates—that Rolen's Hall of Fame defensive legacy will be long-lasting.