Masahiro Tanaka is arguably one of the greatest NPB pitchers in league history and is credited with one of the most successful pitching seasons in NPB.
He finished his 2013 season with a perfect 24-0 record in 28 appearances and 27 starts amassing a 1.27 ERA in 212 innings with 183 strikeouts and just 32 walks. The man was a machine who mowed through NPB lineups. 
Now in his return as an older player after his MLB career with the Yankees, Tanaka has had mild success with extreme highs and lows. He has been so disappointed in his performance that he took a pay cut last off-season.
#Baseball: Former Yankee Masahiro Tanaka takes huge pay cut#NPB #KyodoNewsPlushttps://t.co/gd8HFNPv4f

— Kyodo News | Japan (@kyodo_english) January 7, 2023
His whiff rate was down to 10% on his fastball the last two seasons and a lowly 9% this season. In comparison, his fastball had a whiff rate of 17% in 2019 for the Yankees. 
This is obviously context-dependent too as NPB hitters are less prone to striking out than MLB hitters as they fight off fastballs. The drop in whiff rate for his fastball isn't surprising but 8.8% is a concerning number.
His fastball has lost a touch of velocity averaging 91.3 mph last season and 90 mph this season. Tanaka does "gas pedal" his fastball at times, throwing at different speeds throughout the game, although last time out he was using more two-seams than four-seams to get some slight movement on the pitch.
NPB average fastball velocity changes since 2005

2005
CL Starters: 87.3 mph
PL Starters: 86.9 mph
CL Relievers: 88.4 mph
PL Relievers: 87.3 mph

2023
CL Starters: 90.2 mph
PL Starters: 90.8 mph
CL Relievers: 91.5 mph
PL Relievers: 91.5 mph

— Yakyu Cosmopolitan (@yakyucosmo) May 30, 2023
His below-average velocity right now on his fastball means he has to have spot-on command of the pitch, and right now that fluctuates. At his very best it's a pitch he can still dot on both sides of the plate.
The pitch has always played up due to Tanaka's stride length and lower release point. He gets 6'10" in stride length according to a Sports Science breakdown of Tanaka from almost nine years ago. 
The mechanics of Tanaka are almost the same throughout his career. Everything is still smooth and the stride length and extension are still there.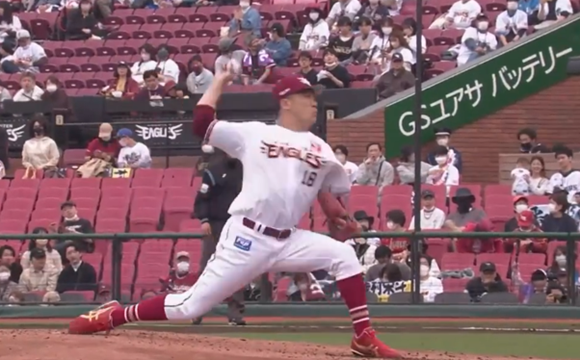 Tanaka uses his fastball 41% of the time the past two seasons, 43% of the time on the first pitch. With the dip in velocity and shape, Tanaka should continue to use his two-seamer more and lessen the usage of his four-seamer.
Tanaka also looks to have ditched his cutter so far this season after throwing the pitch 7% of the time in 2022 he has scrapped it. Isolated, the cutter is not a good pitch but, when he threw it, he used it to start at-bats 35% of the time with a 71% strike rate in 2022. He also used it a lot to RHBs down and away in 2019, targeting that part of the zone on 41 of 44 cutters in 2019 and it was much of the same in 2022.
The pitch had an OPS against of 0.865 in 2022, almost identical to his changeup at 0.864. Those were by far his two worst-performing pitches.
The Cutter
CUT Grip 2022 – 7%   2023 – 0 pitches so far.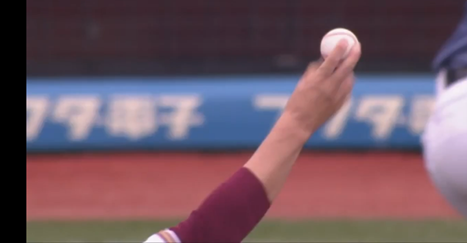 He's used the cutter in a more traditional sense against LHBs, up and in on the hands. I think the use of the pitch to both RHBs and LHBs could still be effective. Though the pitch has been inconsistent in movement, even just giving hitters something else to think about could help his fastball out. However, it's no longer a necessity in his arsenal and the 0.865 OPS on the pitch underscores why he might have dropped it altogether.
The non-fastballs with grips.
SL Grip   2022 – 24%    2023 – 34%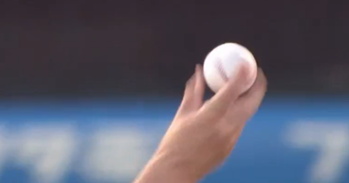 Splitter Grip  2022 – 20%    2023 -20%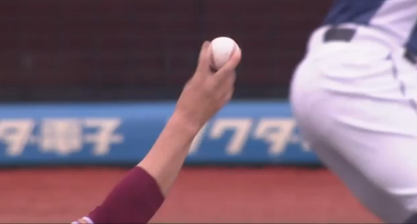 CH Grip   2022 – 4%   2023 – 3%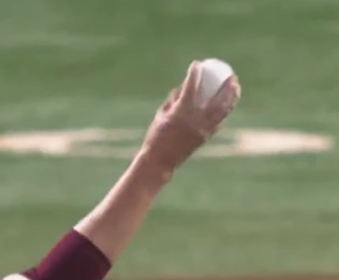 CB Grip 2022 – 3%   2023 – 3%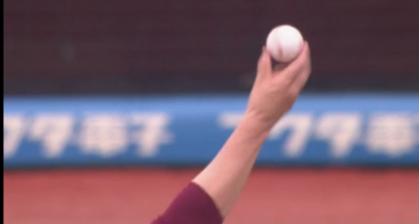 The slider is Tanaka's go-to pitch generating a 41% whiff rate over the span of the last two seasons though it is his second favorite two-strike pitch behind his fastball. His fastball velocity and life are down but he continues to throw the pitch the most in two-strike counts.
There's some factoring in comfort and batter but maybe going away from leaning on the fastball will help him. I'm a big advocate for throwing your best pitches in the most high-leverage situations and generating swings and misses. 
If Tanaka started to lessen the number of fastballs in two-strike counts and rely more on his two different slider shapes and his splitter, he could see more strikeouts as a result. A 6 K/9 this season is the lowest total of his career and a full strikeout less than 2022. 
He lands all his pitches for above a 60 percent strike rate which is the threshold for having decent control of a pitch. His slider and splitter actually are higher at 69 and 70%. His fastball is at a second-worst rate of 63%. He doesn't need to throw the fastball to get a strike. 
The NPB is still geared toward establishing the fastball which serves a purpose but leaning heavily on it in two-strike counts seems detrimental at times for him. 
Although fastball command is more important than anything with his diminished velocity, more sliders and splitters could give him an edge and he can still throw his fastball if he mixes better early in counts. He also has to pitch from ahead so he needs to land strike one no matter what pitch he is throwing.
Tanaka has to command his pitches better though. There are numerous examples of his fastball and the rest of his arsenal being left in the middle of the plate. When he's on, he has the ability to locate all his pitches well to any quadrant. His lone run allowed the last time out was a slider hung over the middle of the plate that got crushed for a homer.
Tanaka loves to pound hitters inside with his two-seamer to both LHBs and RHBs but he started to throw the pitch more glove side his last start.
There are countless examples of Tanaka using his two-seam to lock up batters, especially on glove side to LHBs. His conviction in throwing this pitch is key for him because, with a low whiff rate, he can still generate called strikeouts on hitters.
The Defense
Tanaka's defense has let him down at times this season, especially as a ground ball pitcher whose strikeouts are declining, he needs the help of solid defense behind him.
Rakuten DRS ranks by position among the six Pacific League teams (through Sunday's games):  
1B – 5th  
2B – 5th  
SS – T-4th  
3B – T-5th
Conclusion
Going back to one of my points, pitching backward could also help by landing more curves and sliders early in counts to keep hitters off of his fastball. There are ways around his inconsistent fastball production and diminished velocity. He still flashes brilliance with his propensity to keep the ball on the ground but hard-hit balls still lead to varied results.
With good control, an argument could be made that he's throwing too many strikes rather than creating more whiffs with his slider and splitter.
Tanaka is one of my favorite pitchers to watch when he's at his best, aggressively attacking the zone with a deep pitch mix. He still has moments of great success but to find more consistent outings he will need to command his pitches better and rely less on his fastball to generate more swings and misses.