BY SPENCER HARRISON
Sean Manaea is the owner of MLB's only no-hitter this season. He is also the owner of the league's second-lowest ERA (1.03), trailing only Johnny Cueto (0.84). Manaea is far from a slouch, but his current statline places him in company that most would consider aces.
Sports Info Solutions charts every pitch and ball in play in a given game, and that data can be used to provide some insight into how Manaea has gotten off to such a hot start.
The short answer: Manaea has benefited from spectacular defense behind him. This season, the Oakland Athletics have converted ground balls and bunts into outs at a 74% rate. That ranks them 11th in MLB. When Manaea is pitching, that number jumps to 81%—eight percentage points above the league average.
They have also turned 12 of 17 line drives allowed by Manaea into outs. Among 191 pitchers with at least 10 line drives allowed, the A's out rate with Manaea pitching ranks first (71%).
Below is a chart of Manaea's balls in play this season. Worth noting is that the densest congregation is on the left side of the infield. This is not abnormal when compared with other pitchers, but it has been something that Manaea has leveraged this season.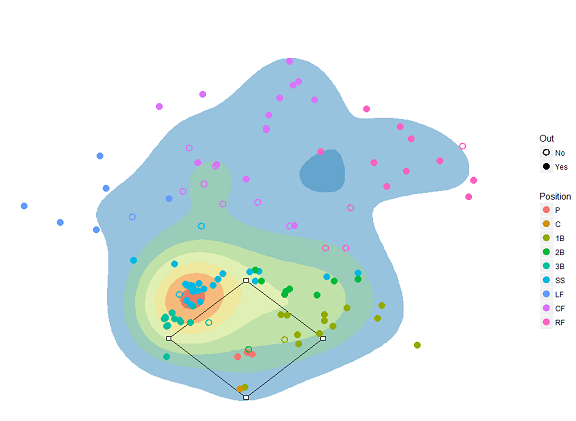 With Manaea on the mound this season, Oakland has converted 25-of-30 (83.3%) of ground balls on the left side of the infield into outs, which is about four plays above average.
Matt Chapman, Sports Info Solutions' Defensive Player of the Month, happens to play on the left side of this infield. On ground balls and bunts hit off Manaea to the sixth of the infield for which the third baseman is responsible, the A's have turned all eight ground balls into outs.
Chapman's diving snag of a Shin-Soo Choo ground ball on April 4 rates as one of the better plays made behind Manaea this season, along with a semi-sliding catch by Chad Pinder and Manaea's own race to the bag to get Corey Seager out on a grounder to first. There was also the play by Jed Lowrie on Yasiel Puig, who was nailed trying to turn a single into a double on a ground ball that initially went off Lowrie's glove.
This defensive showing has contributed to Manaea's league-low BABIP mark of .148. Manaea hasn't just been getting by on the defense behind him, though.
He also boasts a 98% strand rate, also an MLB-high. How has he accomplished that? With the bases empty, Manaea's strikeout rate is 19%. With runners on base: 39%.
Some of these numbers are sure to regress, but with the A's playing high-caliber defense behind him, this has a chance to to be the best season of Manaea's young career.