BY MARK SIMON
Bryce Harper is having a very Bryce Harper-like season in a couple of regards. He has an NL-leading 18 home runs and 47 walks, to go with 40 RBI.
So why is he hitting only .232?
Some of that has to do with his performance against defensive shifts.
Harper is seeing more shifts this season – both full shifts, meaning three defenders on the right side of the infield, and partial shifts, which entails two defenders significantly deviating from their normal positioning. And though he was able to beat shifts with regularity (and then some) last season, that isn't happening in 2018.
Bryce Harper BA on  Grounders/Liners vs Shifts
2017
2018
vs Full Shifts
 .296
(8/27)
.118
(4/34)
 vs Partial Shifts
 .400
(20/50)
 .308
(8/26)
What looks to be happening is that Harper is not hitting much to the opposite field against shifts. Here are his ground ball/short liner spray charts from last season and this season.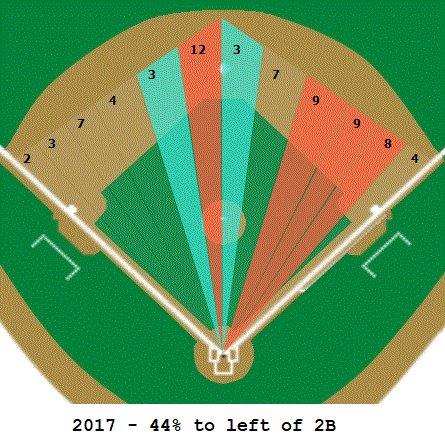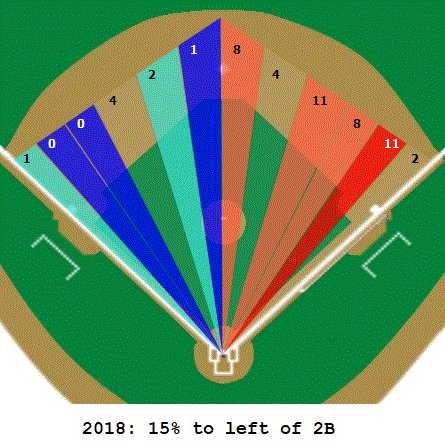 In fairness to Harper, there have been some pretty good plays against his ground balls to take away hits (Jose Pirela took away two in one game in San Diego). That said, those plays were even slightly possible because an opponent was shifting. If Harper went opposite field a few more times (not necessarily an easy ask), he'd probably net a few more hits. It wouldn't completely solve his batting average struggles, but it would make a notable difference.
Harper's not the only one to struggle against defensive shifts.
Athletics outfielder, Matt Joyce is the most extreme example of a shift struggler. He is 2-for-35 when hitting a grounder or short liner against a full shift, 2-for-42 on those balls against shifts overall (and as an aside, 1-for-42 when hitting a ground ball all season). Other notables can be found in the chart below.
Notable BA When Hitting Grounder/Liner vs Shift

| | | AB |
| --- | --- | --- |
|  Christian Yelich |  .095 |  21 |
|  Matt Carpenter |  .108 |  37 |
|  Carlos Santana (as LHB) |  .156 |  45 |
|  Chris Davis |  .161 |  56 |