By ANDREW KYNE
Four-man outfields have been in the news this week, with Bryce Harper facing them in Grapefruit League play and acknowledging afterwards that he hoped he wouldn't see them again.
We began tracking four-man outfields on balls in play at Baseball Info Solutions last season, with Lucas Duda (12), Matt Olson (6), Joey Gallo (6), and Justin Smoak (5) being the most impacted sluggers.
This could be a strategy that we see a lot more of in 2019. So who are some other top candidates to face a four-man outfield? August Fagerstrom went through a similar exercise for FanGraphs in 2016, and Devan Fink did so for Beyond the Box Score in 2017.
Using BIS charting data for 2018, let's find batters who hit few groundballs to the non-pull side of the infield (so you can leave that side of the infield vacated) and also hit a lot of balls in the air to the outfield (so your fourth infielder might be more useful out there). Those on both lists are bolded for emphasis.
Lowest percentage of batted balls that were grounders/short liners to the non-pull side (2018 batters, minimum of 200 batted balls)
1. Matt Carpenter (2.2%)
2. Jay Bruce (2.5%)
3. Joey Gallo (3.1%)
4. Curtis Granderson (3.8%)
5. Mike Zunino (4.0%)
6. Rhys Hoskins (4.1%)
7. Logan Morrison (4.2%)
8. Jose Bautista (4.9%)
9. Brian Dozier (4.9%)
10. Kyle Seager (4.9%)
Highest percentage of batted balls that were in the air and hit at least 250 feet (2018 batters, minimum of 200 batted balls)
1. Matt Carpenter (47.6%)
2. Brandon Belt (45.2%)
3. Daniel Descalso (43.9%)
4. Khris Davis (43.9%)
5. Joey Gallo (43.7%)
6. Mike Trout (43.6%)
7. Max Muncy (42.9%)
8. Teoscar Hernandez (42.7%)
9. Rhys Hoskins (42.2%)
10. Justin Turner (42.2%)
Obviously there's a correlation between those two variables. But which players are among the most extreme? Take a look at the hitters in the upper left of this graph.
Besides Gallo (who, as noted, faced a handful of four-man outfields last year and will likely see more in 2019), it appears that Matt Carpenter, Jay Bruce, and Rhys Hoskins are among the most extreme examples and could be candidates to see the strategy. Others near the top include Curtis Granderson (who saw one four-man outfield last season) and, interestingly, Daniel Descalso (who notably changed his swing and hit far fewer grounders in 2018).
Carpenter is perhaps a very obvious example. He had the lowest groundball percentage among qualified batters last season, and almost all of those grounders were pulled. Check out his spray chart: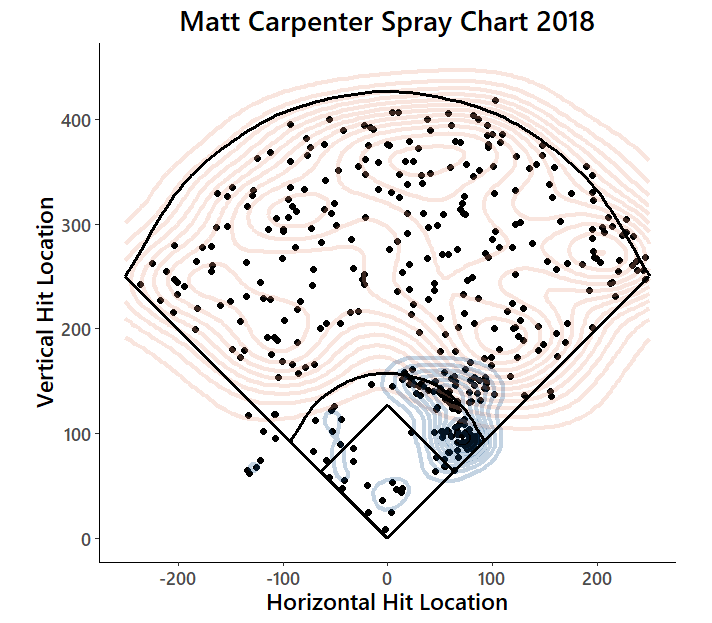 (The blue contour lines track the density of balls hit in the infield; the red lines track the density of balls hit to the outfield.)
Carpenter barely hits any grounders to the left side of the infield, while hitting a high volume of balls all over the outfield.
The Cubs tried a four-man outfield against Carpenter last year … and he responded with a bunt single. Yet taking away the possibility of an extra-base hit was a result the Cubs were likely okay with.
Hoskins understands that and may not be one to change his approach. When asked about the four-man outfields that Harper has been seeing, Hoskins told Matt Breen of The Inquirer: "It doesn't make you do anything different, because as soon as you try to do something different, they win. If I'm trying to hit a ground ball to the right side, then they've done their job and I'm not doing mine. You don't want me to bunt, I promise you."
Hoskins very much looks like a four-man outfield candidate himself. While Carpenter had the lowest groundball rate in baseball, Hoskins was right behind him and also pulled an extreme amount of those balls.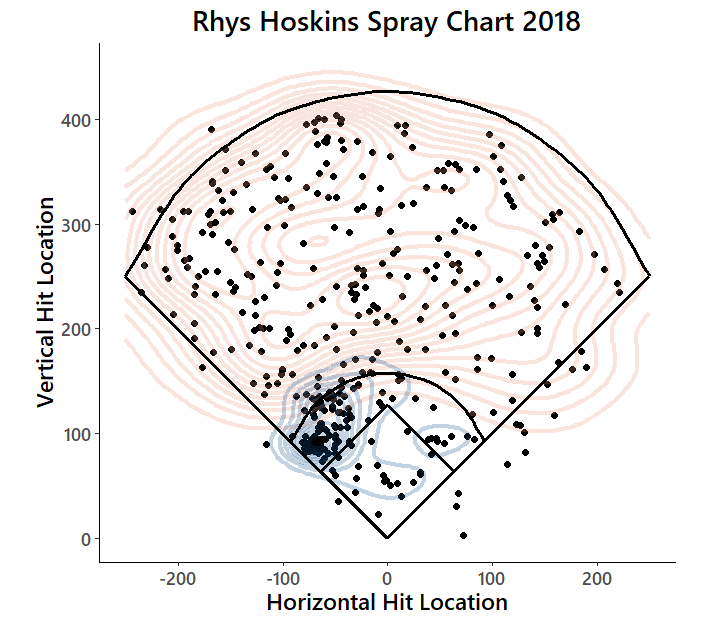 Of course, extreme infield shifting of right-handed hitters can be difficult. The first baseman can't venture too far away from the bag, or else a significant hole can be created on the right side. Yet Hoskins almost never hits grounders over there, and he yanks a ton to where the third baseman and shortstop typically play. Given his high volume of balls to the outfield, it could be something that his opponents consider.
As for Harper, if you were to find him on the scatter plot above, he'd be in the mix of players between 5-10 percent for non-pull grounder and liner rate and 35-40 percent for outfield air ball rate. He's among the players who fit the mold, though not necessarily an extreme by this rudimentary methodology.