by ANDREW KYNE
Evaluation of San Diego Padres first baseman Eric Hosmer's defense has long differed between the eye test and metrics such as our Defensive Runs Saved (DRS). Scouts and coaches have considered the Padres' new first baseman to be among the league's best at the position, while the numbers have typically rated him as a negative from a run-saving perspective.
MLB.com's Jeffrey Flanagan discussed the varying perceptions last August, with Hosmer's former manager, Ned Yost, praising the first baseman's "footwork around the bag, the ability to make great picks, handling pickoff throws" and other defensive detail. Our numbers at Sports Info Solutions generally agree, especially for picks – Hosmer leads all first basemen in runs saved via scoops over the last three seasons.
However, in a June 2016 profile for The Kansas City Star, Yost admitted that "(Hosmer) doesn't have exceptional range."
His range is, in fact, what defensive metrics have been skeptical of. According to our data, he cost the Royals a total of 11 runs in 2016 and seven runs in 2017 due to his range and positioning.
Given his history, it's noteworthy to find Hosmer's name currently atop the total DRS leaderboard at first base for 2018:
| | | |
| --- | --- | --- |
| Name | Range & Positioning | Total Runs Saved |
| Eric Hosmer | 4 | 6 |
| Brandon Belt | 4 | 5 |
| Matt Olson | 3 | 5 |
| Joey Votto | 5 | 4 |
| Paul Goldschmidt | 5 | 4 |
Four of Hosmer's runs saved have been credited to range and positioning, representing a significant improvement from his time as a Royal. He still rates slightly below average on plays to his glove side, but has been plus on balls hit straight at him and to his left.
The following animation illustrates the wider range of balls that Hosmer has converted into outs so far in 2018 compared to 2017: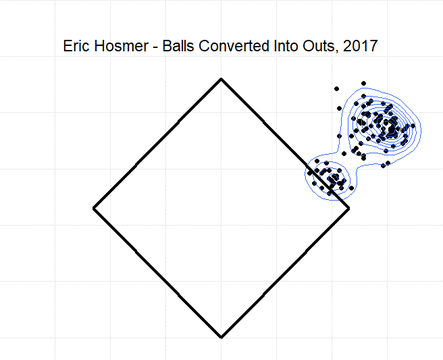 It is worth noting that Hosmer's average starting position (in terms of depth and angle) has not been significantly different this season, as seen through Statcast and Baseball Savant's Player Positioning application.
Of course, the sample size has been small and defensive metrics like DRS need time to stabilize, but Hosmer has our attention.