By SEAN ZERILLO
Welcome to the more aggressive Christian Yelich.
Yelich is in the midst of his best offensive season to date, with 63 extra base hits in 124 games and an OPS+ of 146 for the Brewers.
Since the MLB All-Star break, Yelich leads or co-leads the National League in batting average (.354), home runs (16), runs scored (36), runs batted in (42), and slugging percentage (.724). This past week, he checked off a bunch of big career accomplishments – first grand slam, first multi-homer game, six hits in one game, and a cycle. The press from these feats has likely turned Yelich into Milwaukee's leading candidate for National League MVP.
One key to his success is that he may have quietly doubled down on what has long been one of his secret strengths – jumping on first pitches.
Increased Aggressiveness, Continued Dominance
Yelich has swung at the first pitch 29 percent of the time in 2018, after swinging at just 18 percent of the first pitches he saw the previous two seasons. An 11-percentage point increase equates to nearly 70 more first-pitch swings over a 600-plate appearance season. The significant part of the jump came in the upper half of the strike zone, as you can see the red shading in the image below, which shows his swing rate by area.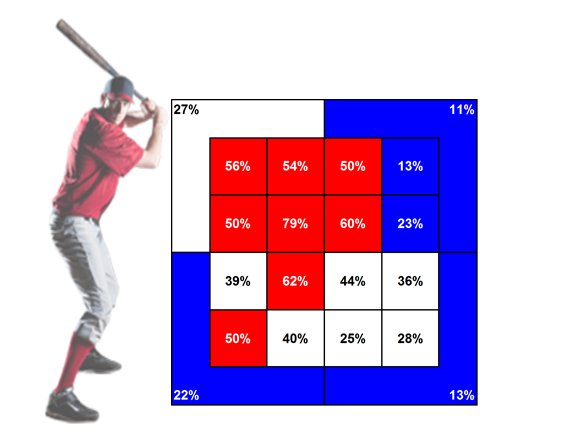 Perhaps as a result of swinging even more often, Yelich has been the best first-pitch hitter in baseball this season, with a .508 average and a 1.102 slugging percentage. He has more extra base hits and twice the number of home runs (8) than his previous two seasons combined.
Throughout his career, Yelich has consistently been an excellent hitter on the first pitch of his at-bats, with a .444 on-base percentage and a .715 slugging percentage, good for a 1.159 OPS. But he's never been this good.
| | | | |
| --- | --- | --- | --- |
| Year | MLB First Pitch OPS | Yelich's First Pitch OPS | Difference |
| 2014 | .867 | .962 | .095 |
| 2015 | .900 | 1.204 | .304 |
| 2016 | .935 | 1.140 | .205 |
| 2017 | .941 | .991 | .050 |
| 2018 | .925 | 1.618 | .693 |
More Opportunities To Drive the Ball
Yelich's first-pitch strike rate is 61 percent this season, five percentage points higher than his career average and a nine-point increase over the rate he saw in 2017. He is swinging more often at those pitches, missing only slightly more often, and driving many more in the air with authority. The extra aggressiveness has been worth it.