This month, two of baseball's promising young pitchers—Shohei Ohtani of the Angels and Michael Kopech of the White Sox—learned that they will likely need Tommy John surgery due to torn ulnar collateral ligaments in their throwing arms. While Ohtani remains in the Angels' lineup as a hitter, Kopech's debut season is over after fewer than 15 innings.
In the 2018 Bill James Handbook, Sports Info Solutions added Tommy John surgery information for every pitcher who appeared in MLB in 2017, including surgery dates. This information will be updated for every 2018 pitcher in the upcoming 2019 Bill James Handbook as well. Did you know that several pitchers have undergone multiple Tommy John surgeries? For example, Oakland A's reliever Shawn Kelley has had two surgeries—the first in 2003 and the second in 2010.
More than 25 percent of the league's pitchers in 2018 have undergone Tommy John surgery at some point in time. That's a surprisingly high figure, demonstrating how common the procedure is, as well as how pitchers have been successfully able to pitch in the majors after the surgery.
Over the past three years, just under 20 additional MLB pitchers per year have had the surgery. There are also typically about one to three Tommy John procedures for MLB position players each season, such as the Dodgers' Corey Seager and the Mets' Travis d'Arnaud in 2018.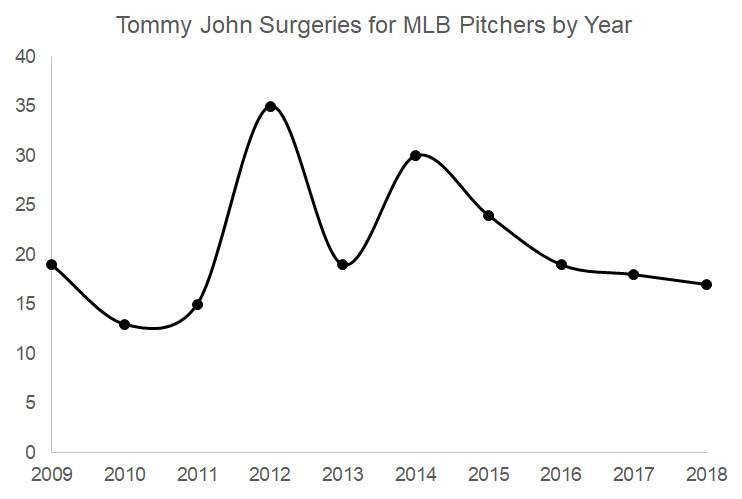 Among the pitchers who have returned to the Major League level after the surgery, the average return time is about 19 months, while the median is 16 months. Long recovery times skew these results; the most common returns are 12 and 13 months.
However, not every pitcher returns from the operation—for example, former relievers Joel Hanrahan and Joel Zumaya. More than 20 percent of MLB pitchers who had Tommy John in 2016 or earlier did not return to the majors after the surgery.
We also looked at how velocity changes after Tommy John surgery compared to before, considering fastballs thrown one year prior to the surgery date and one year following the return date for pitchers who returned to the same role (starter or reliever).
Of the 156 pitchers in our sample, 96 had a lower average fastball velocity in the year after their return. The median increase among velocity gainers was about 0.6 miles per hour, while the median decrease among decliners was about minus-1 mile per hour. The declines may not be entirely attributable to the surgery, of course; pitchers tend to lose velocity steadily with age.
That said, players who are younger at the time of surgery are more likely to gain velocity when they return. Of the 94 players who were 28 years old or younger, 43 saw their velocity increase (46 percent). Of the 62 players who were older than 28, 17 saw their velocity increase (27 percent).
Baseball researcher Jon Roegele's publicly-shared Tommy John Surgery List is an invaluable resource that aids Sports Info Solutions in the collection of Tommy John data.