By ANDREW ZENNER
Jon Gray's 2018 season has been something of a roller coaster ride.
Following a 2017 campaign in which he posted a 3.67 ERA and 3.18 FIP in 20 starts, along with a start in the NL Wild Card game, Gray earned the opening day nod for the Rockies in 2018. Things didn't quite go as planned out of the gate, however, and Gray earned a demotion to Albuquerque on June 30th, largely due to his underwhelming 5.77 ERA.
Gray's subsequent return on July 14th led to some promising early returns: his first four starts yielded a 1.52 ERA, 0.71 WHIP, and a 3.05 FIP. It looked as if he was back and better than ever after a refresh in the minor leagues.
But in the eight starts since, Gray has again been disappointing, with a 6.05 ERA and 6.63 FIP over that stretch.
So what's the deal with Gray?
It's complicated.
Let's start with the demotion to AAA. If we were simply to evaluate Gray's performance through June 30th by using his ERA, the move makes a great deal of sense. However, Gray's peripheral numbers over that stretch were as strong as ever: he posted a 3.13 FIP, 2.65 xFIP, and a 29 percent K rate – all top-15 marks in the majors and all better than even his sparkling 2017.
Though these strong peripherals may have signaled that some natural ERA regression was ahead, the Rockies clearly felt something needed to change for Gray to turn that success into run prevention. One issue Gray was having was with runners on base.
Prior to June 30, his 63 percent "strand rate" was tied with Jason Hammel for the worst in baseball among pitchers with at least 75 innings. Put more simply, when runners reached base with Gray on the mound, they were more likely to score than with any other pitcher.
In 12 starts since his recall, some of those issues have been alleviated. His strand rate has come back to a much healthier 76 percent and he has even induced eight double plays, compared to just two in his first 17 starts.
But his eight most recent starts have inarguably been worse than any stretch before his demotion. In addition to the inflated ERA and FIP, his K rate has dipped to 17 percent and his HR/Fly Ball rate has ballooned from 16 to 26 percent.
It's difficult to say what, exactly, the Rockies asked Gray to focus on in Albuquerque. Perhaps they sought a mental adjustment to allow him to pitch more confidently with runners on base. But one thing we can point to as a cause for his struggles since returning: the performance of his slider.
Since his return on July 14 Gray has increased his slider usage from 32 percent to 36 percent
One thing that has stood out about the slider since his return is how Gray has located it. Below, you'll find two images that show the locations of Gray's sliders: on the left, for everything before 2018, and on the right, what he's done this season.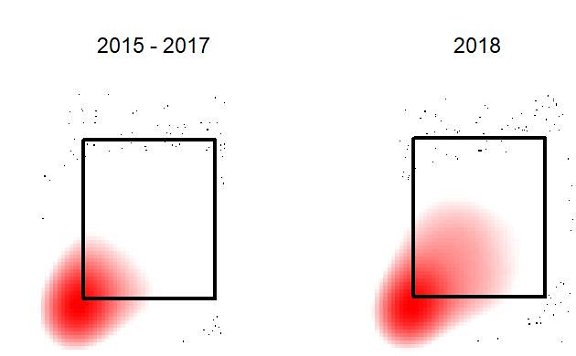 The difference is noticeable. His sliders have been near the center of the plate far too often this season, which has been to his detriment since his return to the majors. Before 2018, Gray had thrown 1,258 sliders and allowed only five home runs. Since June 30, he has thrown 390 sliders and allowed seven home runs.
This dramatic change in performance is possibly due to the fact that hitters have been able to lift his slider more easily: Since his return, 38 percent of the sliders that have been put into play have been fly balls, compared to just 25 percent before 2018. The heat maps possibly speak to why that would be the case.
Whatever the cause for this development is: whether it's something mechanical, mental, or just a loss of feel for the pitch; Gray's ability to rebound from this ugly stretch will depend on the adjustments he makes.
The slider has actually seen a roughly 2-mph velocity dip, along with a slight change in the movement profile since his recall. So maybe it will simply take time for him to figure out how to locate this slightly different pitch where he wants.
Some may still view the overall run prevention issues as most problematic going forward, but that can often be an inappropriate way to evaluate pitchers that call Coors Field home.
Regaining the ability to locate the slider near the edges of the plate would be a major step toward returning to the form that had the Rockies believing he would be their ace for years to come.