By John Shirley
During the Ted Thompson era in Green Bay, the Packers were notoriously inactive in free agency. That trend has changed under second year General Manager Brian Gutekunst. Will that help maximize Green Bay's contending window?
This off-season alone, Gutekunst has already handed out contracts worth a total of $182 million per Spotrac. For comparison, Thompson handed out only $77.5 million worth of contracts over his last 7 years as GM combined. Gutekunst's signings so far have been focused on defense, as he's signed safety Adrian Amos and edge rushers Preston Smith and Za'Darius Smith, while also signing offensive lineman Billy Turner.
The three defensive signings should immediately fill positions of need, and importance, for the Packers. That is always a good thing for a team with an aging quarterback. But is spending on large free agent contracts now better than their previous draft and develop strategy?
With four draft picks in the top 75 selections and a draft loaded with pass rushers, it might seem like the Packers overspent on the two Smith's in free agency. However, when analyzing how edge rushers at different points in their careers perform based on SIS's Total Points metric, Green Bay probably made the right move to maximize its contending window.
How Edge Rushers and Safeties of Different Tenures Perform in the NFL:
We analyzed how edge rushers performed over the past three seasons based on how many years they have been in the NFL. Only edge rushers (DE or LB who rushes at least 70 percent of his snaps) who had at least 100 pass play snaps in a given season from 2016-2018 were included. Their performance was broken up by two major milestones in a player's development and contract situation.
The first grouping only includes a player's rookie season since rookies generally have a learning curve to adjust to from college. The second group is second through fourth year players. The third group is fifth year through eighth year players. This group is made up of players who are mainly playing on their second contract.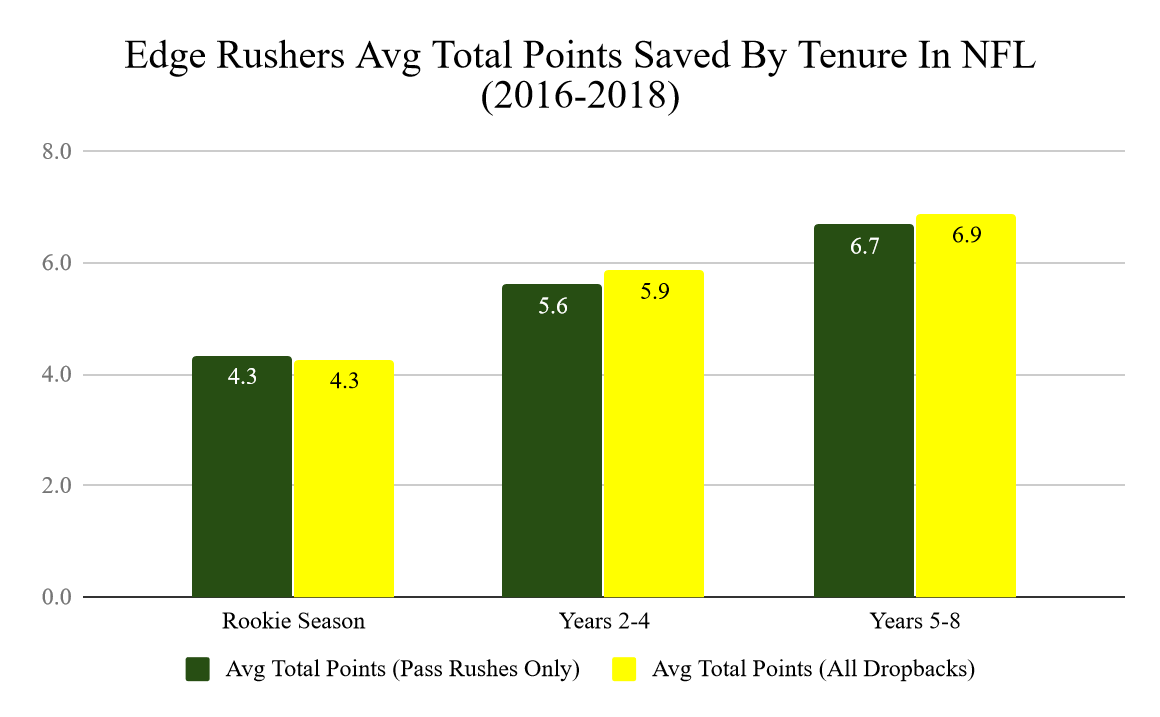 In looking at the average Total Points Saved that edge rushers create, there is an unsurprising positive jump after a player's rookie season. There is also a positive jump as they enter into their second contract.
This doesn't mean that free agency is a better way to build a team, especially once finances are included into the equation. It also doesn't mean that players linearly improve as they age—there are survivor biases to consider when comparing rookies to eighth-year players. It just means that teams can generally expect more immediate results from older players that have proven they can perform in the NFL. And if the Packers are looking to maximize Aaron Rodgers' prime seasons, that's a big factor.
The same analysis was applied to safeties, with only safeties who played at least 100 pass play snaps in a given season from 2016-2018 included. The results show the same trend of a positive jump after a player's rookie season and a second jump after a player's fourth season in average Total Points Saved.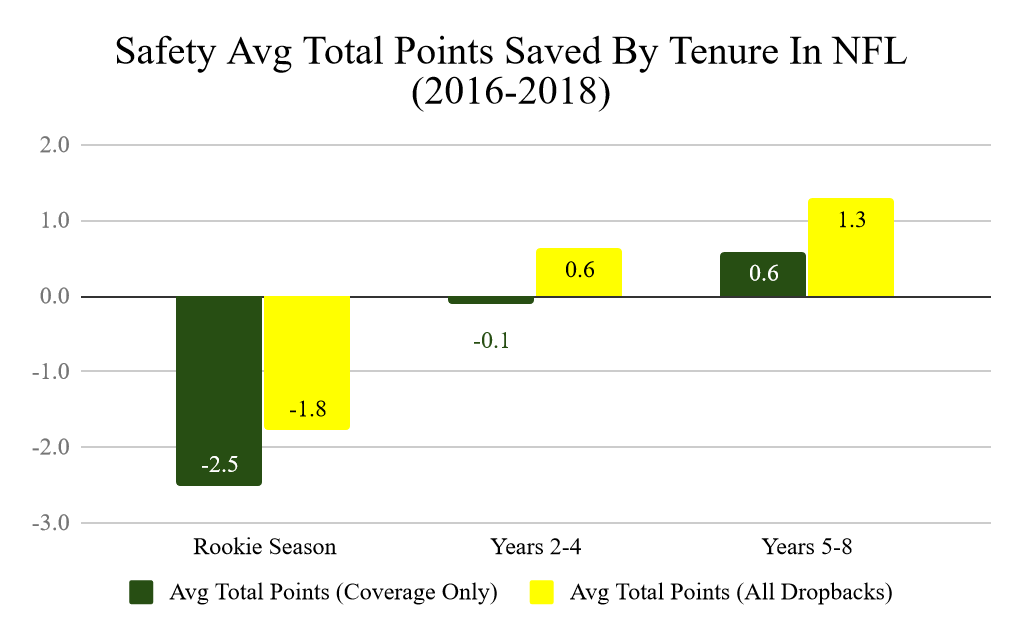 Both of these tables bode well for the Packers' need for immediate impact players on defense. They show that safeties, such as Amos, and edge rushers, such as the two Smith's, who make it too their second contract perform better on average than younger players and rookies.
How Adrian Amos, Preston Smith, and Za'Darius Smith will Help the Packers:
How their positions perform by tenure is not the only positive for the Packers when analyzing the signings of Amos and the two Smith's.

Last season the Packers ranked 26th in EPA allowed per designed pass play (pass plays plus scrambles and minus screens). This was primarily due to their inability to create pressure on opposing quarterbacks and their below-average safety play. That is a major problem for a team that played the 4th-most man coverage and blitzed the 7th most in 2018. Teams with those tendencies need to have good pass rushers and reliable safeties on the back end to clean up plays.
Packers players ranked 27th in Coverage Success Rate (41%) when lined up at safety. (Coverage Success Rate is the percent of targets that result in a negative EPA for the Offense )
The Packers defense ranked 24th in Pressure Percentage on non-blitz plays (25%)
Only one Packer defender with at least 100 pass rushes had a pressure percentage of at least 10%, and that was interior defensive lineman Mike Daniels.
Adrian Amos:
Ranked 2nd in Coverage Total Points Saved (27) among safeties in 2018
Ranked 3rd in Coverage Success Rate (67%) on targets from the safety position among defenders targeted at least 15 times.
Ranked 1st in Man Coverage Success Rate (85%) on targets from the safety position among defenders targeted in man coverage at least 7 times.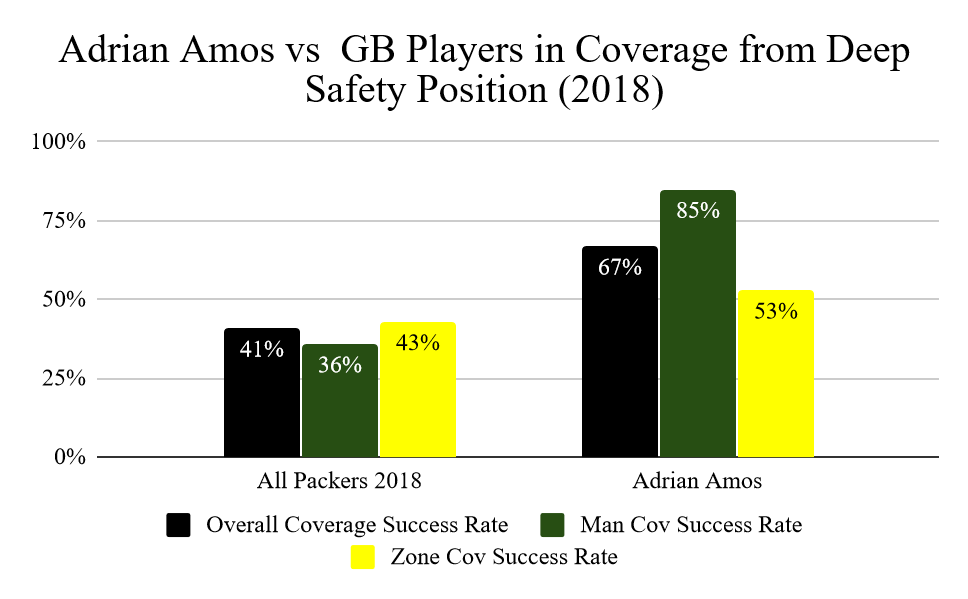 Preston Smith and Za'Darius Smith:
Both have had a Pressure Percentage of at least 10% each of the last two years.
Za'Darius Smith (11%) and Preston Smith (10%) would have ranked 1st and 2nd, respectively, in Pressure Percentage among Packers edge rushers last season.
Preston Smith ranked 3rd in Pass Rush Total Points Saved among LB in 2017 with 23. He had 15 Pass Rush Total Points Saved in 2018, which was more than double the most by a Packers edge rusher.
The Packers' need to maximize the window they currently have with Aaron Rodgers at quarterback. Going into free agency they targeted defensive players that could help them right away, while also still having some upside. They came away with Adrian Amos, Preston Smith, and Za'Darius Smith on that side of the ball.
Even though they come with large contracts, the statistics and Total Points by tenure analysis show that these signings have a good chance of working out. So although the draft and develop strategy is generally thought of as more efficient, signing free agents can be a good way to supplement a roster with immediate impact players.
For the Packers, it also doesn't hurt that they still have plenty of draft capital to continue a draft and develop strategy for the future.