By ANDREW KYNE
In 2018, the New York Mets strongly emphasized an inside-pitching philosophy, with pitching coach Dave Eiland wanting his staff to be more aggressive. Eventual Cy Young winner Jacob deGrom was among several Mets who increased his usage of inside fastballs from 2017 to 2018, as we wrote about last summer.
By Baseball Info Solutions' pitch charting, 40% percent of the Mets' fastballs in 2018 were over the inner-third of the plate or further inside. That was the highest percentage in Major League Baseball.
Interestingly, they have cut back on that approach in 2019. This season, 31% of the Mets' fastballs have been thrown inside, a mark that ranks 28th in MLB.
Pitching inside with the fastball has increased across the league this year. The Mets, however, are by far the most significant decliners in terms of percentage-point difference.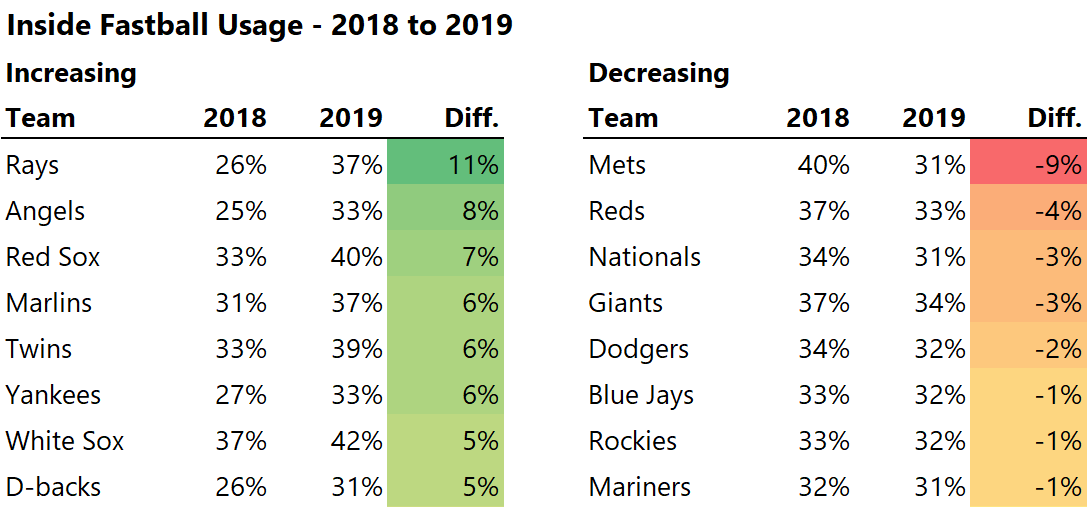 Which pitchers are driving this change in New York? Let's look at the 120 MLB pitchers who threw at least 750 fastballs last year and have thrown at least 200 so far this year.
There are seven Mets in this sample of pitchers. Six of them have contributed the most significant percentage-point declines in inside fastball usage.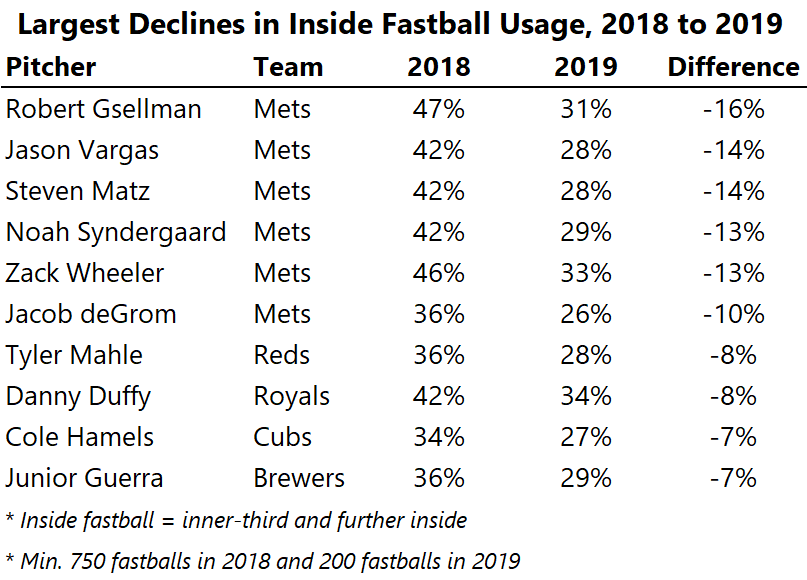 (The seventh, Seth Lugo, has declined from 41% to 39%.)
For deGrom, most of his decrease has come against left-handed batters. He's still working up in the zone a lot with his fastball, but the emphasis has been more on up-and-away than up-and-in.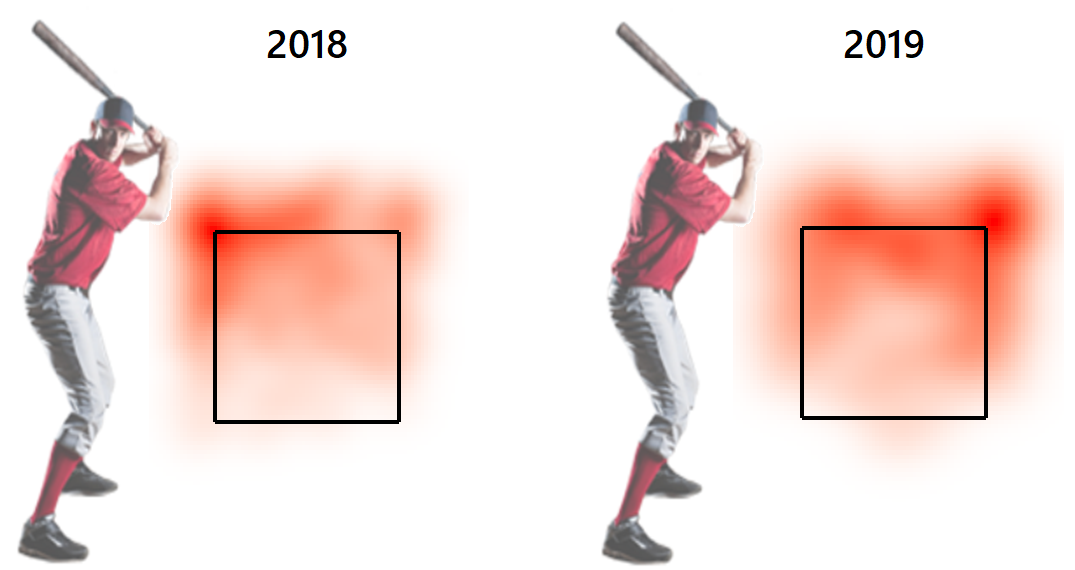 On the other hand, Noah Syndergaard's decrease has come mostly against right-handed batters. He worked both corners with the fastball against them in 2018, but is focusing much more outside in 2019.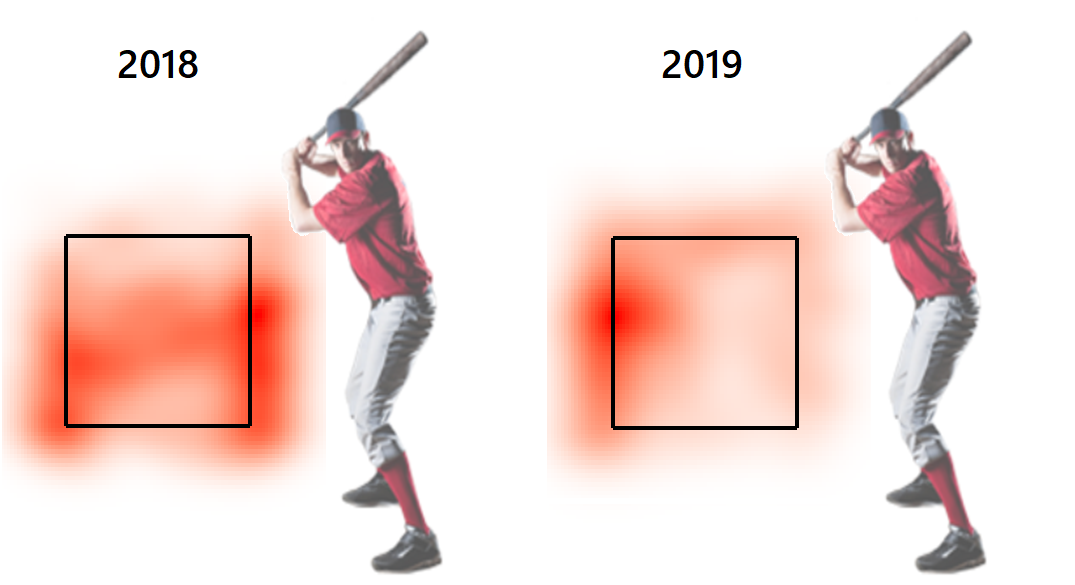 How does this alter effectiveness? Here's how the Mets' fastballs have performed in 2018 and 2019 based on location.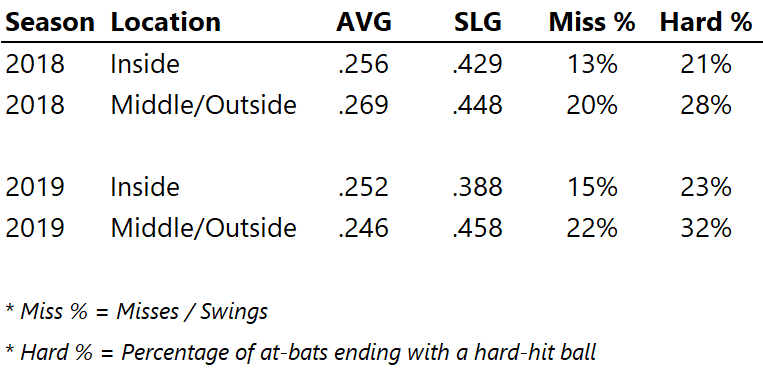 Inside fastballs haven't generated as many misses per swing for them as non-inside fastballs, but they have resulted in less hard contact and slugging.
We'll see if this trend continues for the Mets throughout the season. For now, it's a notable change in approach, given the organization's clear emphasis on it in 2018.