While the rest of the sports world has come to a screeching halt, the NFL offseason has been as chaotic as ever. SIS-WAR xWins can be a helpful tool to make some sense of what exactly has gone down at a high-level.
SIS's Wins Above Replacement (WAR) uses a similar framework as Total Points (explained in more detail here). It compares a player's Total Points per snap to that of a replacement-level player and scales it to win total. WAR xWins is the just sum of an entire team's WAR plus two, the number of games a team of replacement level players would be expected to win. 
A few small caveats before everyone gets mad about where their team ranks:
This is not a pure projection of the 2020 season. This does not make any assumptions about playing time or a player's role on his new team. This is just a high-level overview of what's gone down in free agency so far. 
This is only using a player's 2019 WAR, which means it's going to feel very strongly about players coming off career years, and not like guys who either were hurt or struggled in 2019.
This only includes players who have signed with or been traded to new teams. A player who is a free agent but has not yet signed will still be included with the team he played for in 2019. 
With all of that said, here is where things stand a little more than one week into the new league year.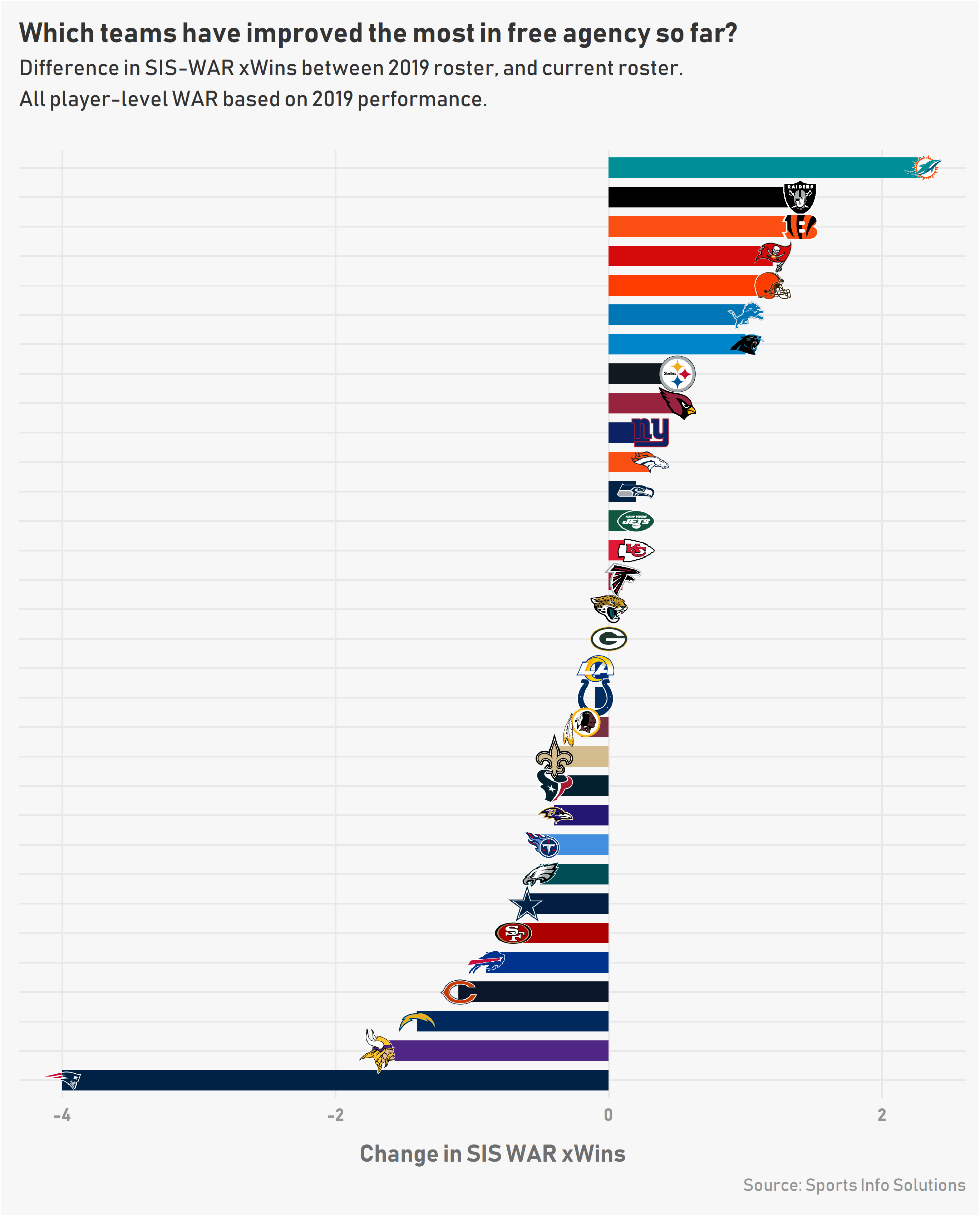 Biggest Winner: Miami Dolphins
2019 xWins: 0.7  | Current xWins: 3.0
A roster with the talent-level of the 2019 Dolphins would barely be expected to win one game on average, making them the only team to finish 2019 below replacement-level (though the Bengals did come very close). That was always the plan, though, and so far this offseason, they have added more than two wins' worth of talent to their roster. 
Leading the way are a couple strong signings within their front seven. Shaq Lawson is coming off a career year in Buffalo, where he posted a WAR of 0.6 with a career-high in both sacks (6.5) and pressures (40). It's hard to say whether Lawson can match that performance moving forward—he only accumulated 0.6 WAR in his three previous seasons combined—but he has a chance to be a very valuable signing for the Dolphins. The Dolphins also added Kyle Van Noy, who is coming off of a season where he tallied 0.5 WAR thanks to 6.5 sacks and 54 pressures. 
The biggest splash for the Dolphins was the addition of Byron Jones. Jones has been among the most consistent corners in the league since 2016, posting a WAR of 0.3 last season and 0.4 in each of the three seasons prior. Jones will play across from Xavien Howard and form one of the best cornerback tandems in the NFL. 
Honorable Mention: Oakland Raiders
2019 xWins: 7.5 | Current xWins: 8.9
The Raiders haven't made any headline-generating moves but have quietly had a solid offseason. The signings of Nick Kwiatowski, Carl Nassib, and Maliek Collins were worth 0.3 WAR each. The Raiders also parted ways with Tahir Whitehead, who managed a WAR of minus-0.7 in 2019, the worst among linebackers, and the fourth-worst among all players.
---
Biggest Loser: New England Patriots
2019 xWins: 11.4 | Current xWins: 7.4
The obvious place to start is the departure of Tom Brady. Even in a down year where Brady clearly saw the effects of both his age and the Patriots' lack of receiving talent, Brady was still worth a little more than two wins. Making the problem worse, the Patriots don't have a clear heir apparent. Jarrett Stidham, a 4th-round pick last year, appears to be the next in line if the Patriots don't make a run at one of the remaining free-agent quarterbacks.
The departure of Brady still only accounts for about half of the value lost by the Patriots this offseason, though. The Patriots also lost Jamie Collins (0.9 WAR), Kyle Van Noy (0.5 WAR), and Duron Harmon (0.2 WAR). Collins and Van Noy led the Patriots in sacks last season and combined for 84 pressures on one of the league's best defenses.
The Patriots have made a handful of small signings to try and recoup some value, but none of the players they have signed have been worth more than 0.1 WAR. Most of the offseason is still ahead for the Patriots, and betting against Bill Belichick has been a terrible idea historically. Still, as of now, the end of the Patriots dynasty is appearing more and more likely. 
Not-So-Honorable Mention: Minnesota Vikings
2019 xWins: 11.0 | Current xWins: 9.3
The most notable departure for the Vikings this offseason is top receiver Stefon Diggs. Diggs was worth half a win in 2019, and while the Vikings got a solid haul of draft picks in return, they didn't receive any proven help. The Vikings also lost Trae Waynes (0.6 WAR), Andrew Sendejo (0.4 WAR), and Laquon Treadwell (0.3 WAR). Minnesota did make a solid depth signing in Tajae Sharpe (0.2 WAR), but they still have a lot of work left to do this offseason to break even.