Before reading this article, it may help you to take a quick look at our Total Points primer, as well as our article that explained Predicted Completion Percentage +/- (pComp+/-), which is cited multiple times.
By BRYCE ROSSLER
The only athlete to ever be taken top ten in both the MLB and NFL Drafts, Kyler Murray completed an improbable saga when he shunned the bright lights of Double-A baseball to be a starting quarterback in the NFL. While we'll never know what he may have been in the Big Leagues, Murray's doing just fine in football. He added Offensive Rookie of the Year to his hardware collection and was one of the few bright spots for a 5-win Cardinals team in 2019. 
But, Arizona isn't rebuilding so much as they are rebranding. Team leadership made a conscious decision to blaze a trail when they hired Kliff Kingsbury, and again when they (wisely) shed 2018 first-rounder Josh Rosen to take Murray with the first overall pick. 
The NFL's first official Air Raid team experienced some growing pains in their first year, but that was to be expected when the two most important figures in the organization were copy-and-pasted from the wide open plains of the Big 12.
The good news is that Murray had one of the better rookie seasons in recent memory. In fact, it was probably the best since Dak Prescott's 2016 Rookie of the Year campaign.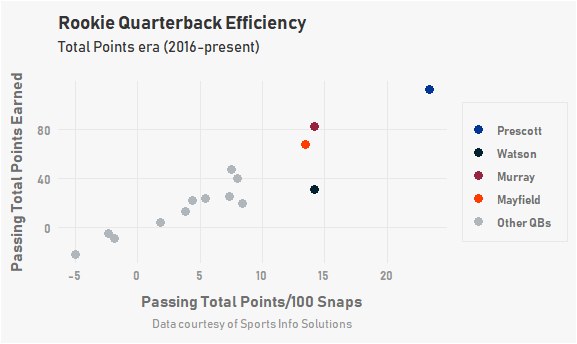 Although Murray is hoping to avoid the second year slump that fellow Sooner alum Baker Mayfield experienced, he flashed high-level quarterbacking at times as a rookie and gave Cardinals faithful a lot to be optimistic about.
Murray was one of the better quick-game quarterbacks last year thanks to his quick footwork, fast release, ability to access different arm slots, and exceptional arm talent.
While his ranks of eleventh and twelfth in success rate (57%) and EPA/Attempt (0.15) were respectable, his differential in Predicted Completion Percentage from his actual completion percentage (pComp+/-) of 6.1% on true quick-game drops (i.e. no RPOs, no screens) was elite, ranking fifth in the NFL among qualifying passers (minimum 50 attempts). He was effective in safeguarding the ball in these concepts, ranking eleventh in turnover-worthy throw rate (1.8%). 
The same traits that made him successful in the quick game helped him pilot the screen-happiest team in the NFL (8% of all plays in 2019) to the fourth-best success rate (52%) on screens.
The Cardinals would presumably like to do more than dink and dunk down the field in 2020, though. Murray ranked seventh in on-target rate on deep passes (58%) among 21 quarterbacks with at least 50 attempts thrown at least 20 yards down the field. 
However, in order for them to maximize Murray's deep ball prowess, the protection will need to hold up better than it did in 2019. Starting tackles D.J. Humphries (4.3%) and Justin Murray (5.2%) ranked 55th and 66th in blown block rate in pass protection out of 76 offensive tackles with at least 200 pass sets in 2019. And J.R. Sweezy (3.0%, 54 of 68) wasn't much better among guards.
For as good as Murray was as a rookie, the Cardinals didn't have a lot of touchdowns to show for it. In fact, they were dismal in the red zone last year. 
Regardless of whether you examined their efficiency with the traditional measuring stick (48% TD rate, 28th in NFL), through an Expected Points lens (-3.6 EPA/100 Plays, 18th in NFL), or by an eye test which revealed that they ran goal line fades at a disturbingly high rate (18%, 4th in NFL), it's clear that the red zone was a no-fly zone for the Cardinals in 2019. 
Air Raid offenses are often maligned for being ineffective inside the opponent's 20-yard line, and while that was certainly the case this past year, there is reason for optimism moving forward. 
Murray suffered the sixth-largest dip in average Passing Points Earned/100 Snaps from the rest of the field to the red zone, a dip of -18.6/100 Snaps. That alone should suggest that some positive regression is coming, as there is research that suggests that quarterback red zone performance is unstable. 
The Cardinals' diminutive signal caller is not without his flaws, however. One opportunity for growth is his touch on layered throws placed over a second level defender and under a safety. He ranked 22nd of 31 qualifying players (minimum 50 attempts) in pComp+/- on over-under balls (-3.9%) and 24th among that same group in on-target rate (66%). 
He would also benefit greatly from developing the ability to navigate the pocket upwards and outwards rather than defaulting the wrong way. His average sack depth (-6.4 yards) was about average (-6.6), but he took a loss of 10 yards or worse on 29% of his sacks, good for the third-worst rate among qualifying quarterbacks (min. 20 sacks) and far worse than the average of 17%. 
Pressure also turned into sacks at an abnormally high rate for him. 30% of all his pressures resulted in a sack, the fifth-worst rate among quarterbacks with at least 100 dropbacks and 1.5 times the league average of 20%.
As a rookie, Murray continued to grow as a dropback passer in a league with plenty of detractors who doubted his ability to succeed in structure. His physical gifts and point-and-shoot passing acumen were evident at Oklahoma. Now, he is honing his anticipation and showing the requisite mental processing to excel in quick-game at the NFL, two promising signs for his development. If this trend continues, Murray and the Cardinals will have the league on notice in no time.