Over the next 10 days leading up to the 2020 MLB Amateur Draft, Sports Info Solutions will be publishing a series of position-by-position scouting reports from two of our Video Scouts for the top-5 collegiate draft prospects and two honorable mentions. Each player is graded by the 20-80 scouting scale, given a comprehensive evaluation, and assigned a floor and a ceiling comparison, which indicate–if a player makes the Major Leagues–the range of the type of player into which he can develop.
Honorable Mentions:
Heston Kjerstad, OF
University of Arkansas (JR, 2020)
L/R 6-3, 180 lbs.
Date of Birth: 2/12/1999
Hit- 35 (50) Power- 40 (60) Run- 50 (45) Arm- 50 (50) Field- 40 (50)
Future Value: 55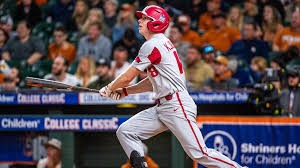 Written by Corey Leaden
Analysis
Heston Kjerstad has been a premier college bat ever since he arrived in Fayetteville after being drafted out of high school in 2017 being taken in the 36th round by the Mariners. He has garnered numerous awards in his time at Arkansas from SEC Freshman of the year, and two years on the Golden Spikes watch list. He has been the heart of the lineup, and never missed a CWS during his time at the collegiate level. During the summer of 2019 he led team USA in BA, SLG, OBP, and tied for the team lead in home runs. Over his 67 AB during the shortened 2020 season he was batting .448/ .513/ .791 while hitting 6 home runs and lowering his strikeout percentage to 12% in this small sample.
Kjerstad looks like a power hitter with good height, who could add more muscle as he matures. He has an upright stance with low hands and a complicated swing as he loads with a high leg kick as he brings the bat back and up. He finishes with a powerful swing as he brings his bat back through the zone to catch the ball out in front.
There are a lot of moving parts in his swing but it has produced major results among top-flight college competition. He has an aggressive approach and strikes out at an above average clip (19%). But the tradeoff is major power potential given his elite bat speed and strength going deep on average once every 16 AB over his college career. His lack of patience is a little worrisome but he still carries elite MLB power potential.
He is a below-average runner, with some acceleration that allows him to play average defense. He's a fit for either corner spot at the next level, his arm is strong enough to stay in right. Kjerstad's routes are not always the best but he makes most plays you would expect him to make. If he struggles in the outfield, he has an ideal body for 1B but will not be expected to be anything more than average in the field.
Summation
Kjerstad is an elite power bat who should stick in the heart of MLB order for many years. He played at ab elite program in Arkansas where he led them to CWS in both of his seasons. He's an average pure hitter who should play league-average defense while hitting 30+ home runs consistently.
Projection
Everyday outfield starter in the middle of MLB lineup with potent power bat, while producing near league average performance in all other areas.
Ceiling: Bryce Harper
Floor: Brandon Moss
Draft Expectation: Top 10 Pick
Reid Detmers, LHP
University of Louisville (JR, 2020)
L/L 6-2, 210 lbs.
Date of Birth: 7/8/1999
Fastball- 50 (50) Curveball- 60 (65) Slider- 45(50) Changeup- 45(50) Control- 55(60)
Future Value: 55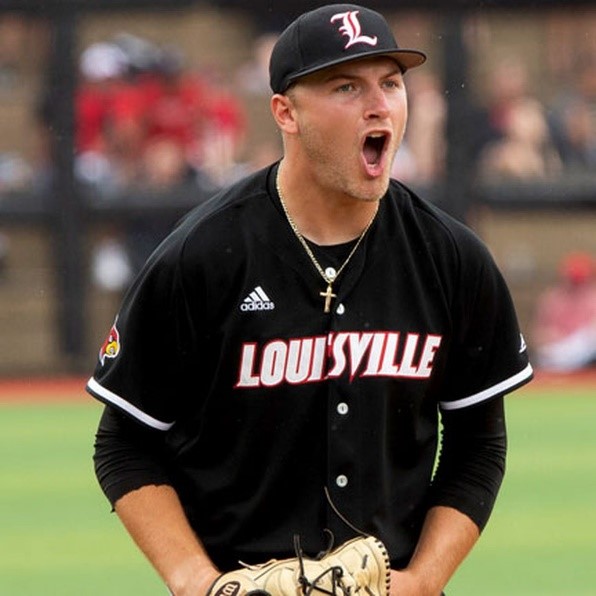 Written by Brandon Tew
Analysis
Reid Detmers at Louisville has been one of the most impressive pitchers at the college level the last two seasons. Posting a 2.78 ERA in 2019 and a 1.23 ERA in the beginning of 2020 Detmers has been a dominant force in the ACC. Pitching against some of the best competition in the country, Detmers has proven he can strike out entire lineups, tossing a career-high 16 strikeouts against Georgia Tech last March and backing up that performance with a 15-strikeout showing against Wake Forest this March. Last postseason Detmers took the ball in game 1 of the Super Regionals against East Carolina and tossed a brilliant seven innings of one-run ball.
Throwing out of a ¾ arm slot Detmers has a smooth, effortless and very repeatable delivery. With a lean medium-sized build, he isn't going to wow anyone with his athleticism but the balance and ease at which he functions on the mound should lead to continued success as he works on honing his secondary offerings.
Detmers' fastball is not going to blow a batter away at the MLB level. It sits around 89-92 mph with his fastball. His curveball is elite with a true 12-6 break the pitch comes in towards the plate in the low to mid 70s. He can drop it out of the sky at the top of the zone for a strike or snap it off into the dirt as a swing-and-miss pitch. His curveball will continue to be his go-to offering, especially as his changeup and slider progress. The ability to spin the baseball at a high level allows for considerable hope that he will be able to potentially possess an average slider that will keep batters honest.
Detmers' control and command will be key with a pretty low walk rate of 2.3 per 9 innings in the 2019 season and 2.5 before the 2020 season was cut short. Detmers has shown good control throughout his time at Louisville. Pair that with his strikeouts and you could have a great combination on the mound.
The next step for Detmers is to tunnel his high four-seam fastball with his killer curveball. Then the development of a decent slider to go along with his fastball that he spots at the bottom of the zone. Detmers could also scrap the slider altogether and opt for a cutter, which he started throwing more in 2020. The command of his fastball and especially his curveball is what stands out for Detmers who is unafraid to throw his fastball to either side of the plate, while also breaking off a wicked curveball in any count.
Summation
Detmers is considered a top arm in the 2020 draft and with good command and the best breaking pitch in the draft, he should go high on June 10. A higher floor but lower ceiling guy, Detmers might be one of the safest picks in the 2020 draft. You know what you are going to get with him and, as a guy who might be able to throw with more effort while not sacrificing control, you might be getting even more than you imagined.
Projection
Mid-rotation guy with plus control, and an elite hook.
Ceiling: Barry Zito
Floor: Rich Hill
Draft Expectation: Top 10 Pick