Over the 10 days leading up to the 2020 MLB Amateur Draft, Baseball Info Solutions will be publishing a series of position-by-position scouting reports from two of our Video Scouts for the top-5 collegiate draft prospects and two honorable mentions. Each player is graded by the 20-80 scouting scale, given a comprehensive evaluation, and assigned a floor and a ceiling comparison, which indicate–if a player makes the Major Leagues–the range of the type of player into which he can develop.
#4 Emerson Hancock, RHP
University of Georgia (JR, 2020)
R/R 6-4, 213 lbs
Date of Birth: 5/31/1999
Fastball- 60 (65) Slider- 55 (60) Curveball- 45 (50) Changeup- 50 (60) Control- 45 (60)
Future Value: 60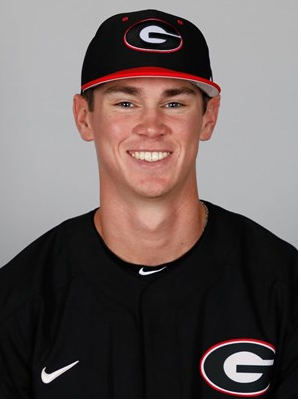 Written by Corey Leaden
Analysis
Emerson Hancock spent all three seasons in Athens as a part of the rotation, after not signing with the Diamondbacks when they selected him the 38th round of the 2017 Draft out of high school. In his career at Georgia he made 33 appearances (all starts) where he accumulated 192 innings with 3.47 ERA and a record of 16-7, with 206 strikeouts and 55 walks (9.7 K per 9, 2.6 BB per 9). Hancock was the frontline guy most of his time at Georgia but had a couple poor starts during 2020 season. Due to the shortened season he made no SEC starts in his junior year of college.
He is a tall lanky starter, athletic body, and perfect frame for MLB. Hancock primarily delivers using a high leg kick and ¾ delivery; while featuring four above-average offerings (fastball, slider, curveball, changeup). His fastball sits in mid-90's, topping out at 97, but does a real good job featuring all four options, and is willing to go to any pitch in strikeout situations. He's greatly confident in his fastball, and his slider comes out hard sits mid-to- low 80s his best secondary pitch. He features his curveball a lot more in his third time through the order, while his changeup sits mid 80s with good arm-side run. He has great control which is displayed by 34-to-3 K-to-BB in his junior year. Hancock locates pitches to target, with great command.
His curveball is just average, with no big drop. But it is a capable pitch and he uses it well as a fourth option. It is a pitch to monitor as he continues his development through minor league baseball. Hancock features plus attributes in almost every other category. Hancock has a great pedigree, body, and athleticism, though there are some concerns regarding a lat injury in 2019 and his overall consistency. But I think he has a chance to be a potential Opening Day starter of the future for whatever team selects him.
Summation
All-Star caliber pitching prospect with three plus pitches and plus control. He has a fourth-pitch curveball when he needs it to face an order multiple times. He's an elite SEC pitcher with a great body mixed with good athleticism, and is arguably the top pitcher in the draft .
Projection
All- Star potential starter with three plus pitches including a mid-90s fastball. High strikeout potential mixed with plus command and control.
Ceiling: Shane Bieber
Floor: Dylan Bundy
Draft Expectation: Top-5 Pick