Over the 10 days leading up to the 2020 MLB Amateur Draft, Baseball Info Solutions will be publishing a series of position-by-position scouting reports from two of our Video Scouts for the top-5 collegiate draft prospects and two honorable mentions. Each player is graded by the 20-80 scouting scale, given a comprehensive evaluation, and assigned a floor and a ceiling comparison, which indicate–if a player makes the Major Leagues–the range of the type of player into which he can develop.
#5 Nick Gonzales, 2B
New Mexico State (JR, 2020)
R/R 5-10, 190 lbs
Date of Birth: 5/27/1999
Hit- 40 (60) Power- 40 (55) Run- 50 (50) Arm- 45 (45) Field- 45 (50)
Future Value: 55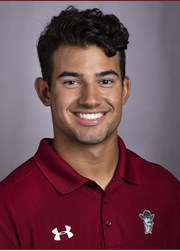 Written by Corey Leaden & Brandon Tew
Analysis
Not many players had a better 2019 then Nick Gonzales, who took home numerous awards across regular and summer league play. He's a 2019 All- American, NCAA batting champ (hitting .432), and the Cape Cod League MVP. After his top-notch summer against baseball's top prospects, he started 2020 with a blistering effort over 58 at-bats; he had 12 HR, and was batting .448 before season was cut short. There were questions about the level of competition Gonzales was facing at New Mexico State, but he put almost all those questions to rest after his MVP performance in the premier wood bat Cape Cod League.
Gonzales looks super-comfortable at the plate standing with an open stance shoulder-width apart and a slight bat waggle in his setup. The relaxed nature of his setup allows him to stay calm and fire his hands at the baseball later than other guys would. That means he lets the ball travel deeper in the zone and can stay back on breaking pitches longer. After the slight bat waggle, the lumber gets into an optimal position to square up the baseball. This allows Gonzales to end up with his energy heading toward the pitcher and in rhythm. Gonzales has great balance and is willing to work the count. An advanced hitter with a plan in every at-bat.
Almost every swing he takes is short and compact as he rarely overswings to try and produce power.
The raw power Gonzales has is greater than his in-game pop right now although he is progressing nicely and has the potential to reach average to slightly above-average power for his position. The New Mexico State product's willingness to drive the ball gap-to-gap allows him to display some opposite-field power, which is a great sign that he can continue to add a power component to his bat. The way Gonzales takes pitches and always seems in rhythm again displays an advanced understanding at the plate that will help him early on his pro career.
Gonzales is an average defender, smooth and fluid at second base. He will make all the routine plays and works well to get around the baseball and keeps himself in control. However, when he gets to the ball, he is sure handed. He turns a quick pivot at second on double-plays and while his arm is below average the quickness with which he gets the ball out allows him to still make plays.
Summation
The best potential hit tool in the 2020 Draft, while all other tools are projected to be average. A top of the lineup guy, who will get on base at an incredible clip. The question lies in what can be developed of his other tools.
Projection
Everyday second baseman, who can be an elite leadoff guy.
Ceiling: Dustin Pedroia
Floor: Tony Graffanino
Draft Expectation: Top 10 Pick