Introduction
Sports Info Solutions currently tracks approximately 40 routes run by potential receivers. Many players are better at running some routes than others, while some routes fit a player's skill set better than others. 
When looking at the stat Yards per Target (yards gained / number of targets), it gives a good indicator of how efficient receivers are at piling up yards each time their quarterback targets them. I found the most efficient receiver at six routes, or set of routes among those players who just moved on from college to the NFL and looked at their 2019 film to see what characteristics make them stand out among the rest.
Curl – Ceedee Lamb, Oklahoma
2019: 16.5 YPT, 13 Targets, 13 On-Target, 13 Receptions, 215 Yards, 1 TD (minimum 10 targets)
2020 Draft: Round 1, Pick #17 – Dallas Cowboys
The biggest thing that stands out when watching Ceedee Lamb run curl routes is his route savvy. He does a great job of reading defenses and identifying coverages. When defenders bail off the line, Lamb breaks off his route and lets his quarterback know he's open right away. He's able to find the open holes in zones and work away from defenders to give his quarterback a better throwing lane and give him an uncontested catch opportunity. Lamb is also really good at breaking the defender's cushion and getting him to flip his hips just at the top of the route.
Once Lamb makes the catch, his run after catch ability allows him to turn a 5-10 yard curl route into a 20-30 yard gain. Of his 13 receptions on curl routes this season, four of them went for at least 20 yards. In a Cowboys offense in which Dak Prescott targeted a curl route on over 19% of his attempts in 2019, look for Lamb to come in right away and contribute early on.
Top 2021 Draft Eligible Prospect: Trevon Grimes, Florida (4SR)
Out – Cody White, Michigan State
2019: 11.9 YPT, 18 Targets, 15 On-Target, 15 Receptions, 214 Yards, 1 TD (minimum 15 targets)
2020 Draft: Undrafted – Signed by Kansas City Chiefs
The out route is a route that demands one of the most precise cuts by a receiver. Inefficient route runners often will round cuts at the top of their routes. However, regardless if the receiver is using a true speed cut or not, the route needs to be flat to the sideline and not veer upfield or that's when the corner can jump it for an interception. With all of that said, there's a reason why Cody White was the most efficient out route runner in 2019, and that's because he possesses the traits needed to run a textbook out route.
White is quick off the line and does a really good job at the top of the route to drop his weight, stick his inside foot in the ground, and quickly break outside. He also has an uncanny ability of getting his head snapped around extremely quick.
The video below is the first play for Michigan State's offense in their bowl game against Wake Forest. It's a great look at White's ability to stick his foot in the ground at the top of the route and then snap his head around to look for the ball. It's so good that the corner slips trying to break with him.
When the ball approaches, White has strong hands to pluck the ball out of the air. He has the awareness along the sideline to stay inbounds on balls thrown close to the sideline and also can turn upfield and gain yards after the catch. His efficient route-running ability should give him a chance to win a back-end job for the reigning Super Bowl Champions.
Top 2021 Draft Eligible Prospect: Warren Jackson, Colorado State (4SR)
Slant – Jauan Jennings, Tennessee
2019: 16.2 YPT, 14 Targets, 13 On-Target, 11 Receptions, 227 Yards, 1 TD (minimum 10 targets)
2020 Draft: Round 7, Pick #217 – San Francisco 49ers
Jennings lined up in the slot 76% of the time in 2019 and all 13 of his slant routes came from that spot. He's not the fastest guy in the world (40 yard dash in 4.72 seconds at the Combine), but he makes up for it with good, precise route running.
Even when defenders have inside leverage on him, he does a good job stemming his route off the line and getting the defender to hop outside to give Jennings an inside release. At the top of the route, Jennings nearly always sticks his foot in the ground with authority to create separation. He possesses strong hands which allow him to pluck the ball out of the air and does a really good job of getting upfield quickly after the catch to break the angles of incoming defenders and gaining extra chunks of yardage.
He did have two on-target incompletions on slant routes, both in the Alabama game. One was a good defensive play to break up the pass at the catch point and the other was a concentration drop that turned into an interception. With those aside, Jennings' route running allows for him to take a short pass for a long gain. The NCAA average yards per reception on slant routes is just over 13 yards, but Jennings was able to take 7 of 11 receptions beyond that in 2019.
The 49ers have a really strong, young crop of players at the position in Deebo Samuel, Brandon Aiyuk, and Jalen Hurd, among others, but Jennings shows enough traits to contribute at the next level, whether it's one of the last roster spots in San Francisco or with another team.
Top 2021 Draft Eligible Prospect: DeVonta Smith, Alabama (4SR)
Post – George Campbell, West Virginia
2019: 27.7 YPT, 9 Targets, 7 On-Target, 6 Receptions, 264 Yards, 3 TD (minimum 5 targets)
2020 Draft: Undrafted – Signed by New York Jets
Campbell's stat line is ridiculous. After coming to West Virginia from Florida State in 2019, Campbell caught 19 passes for 469 yards and 7 touchdowns. Additionally, 32% of his receptions and a whopping 56% of his yardage came via the post route, along with 3 of his 7 scores.
When watching Campbell run the post, it's obvious he has the speed to win deep. If he's pressed, his quickness off the line allows him to gain a free release and get into his route quickly. If the defender is playing off, Campbell does a good job of attacking him and then usually gives a quick, hard jab to the outside to open up the middle of the field. 
Once he gets by the defender, he has the speed to create additional separation. He also possesses really good tracking ability down the field to adjust to off-target throws and still make the grab.
There is a lot of youth and uncertainty in the Jets wide receiver room right now with the exception of Jamison Crowder. Campbell has enough traits to win himself one of the last receiver spots with a good camp.
Top 2021 Draft Eligible Prospect: Reggie Roberson, SMU (4SR)
Corner – Devin Duvernay, Texas
2019: 16.3 YPT, 12 Targets, 9 On-Target, 9 Receptions, 195 Yards, 2 TD (minimum 5 targets)
2020 Draft: Round 3, Pick #92 – Baltimore Ravens
Duvernay is primarily a slot receiver, so all of his corner routes came out of the slot. In addition to his speed and quickness, he also possesses smarts in that he knows how to set up his route based on defender leverage. Many times he will stem to the inside off the line against defenders with inside leverage so that he can get on the same plane. At that point, he gets the defender guessing if he's going outside or inside. Duvernay's quickness at the top of the route allows him to gain separation as he heads for the sideline.
He also shows strong hands to make contested catches and has good awareness and body control to stay in bounds along the sideline. Not only can he use the corner route to win deep, but he scored twice running the corner inside the 15 yard line, showing it's an effective target type at all areas of the field.
In Baltimore's offense, look for Duvernay to thrive out of the slot for quarterback Lamar Jackson.
Top 2021 Draft Eligible Prospect: Khalil Shakir, Boise State (3JR)
Vertical Routes – Tee Higgins, Clemson
Consists of: Fade, Go/Fly, Seam
2019: 34.0 YPT, 13 Targets, 10 On-Target, 10 Receptions, 442 Yards, 6 TD (min 10 targets)
2020 Draft: Round 2, Pick #33 – Cincinnati Bengals
When you think of vertical routes, you just think of running by the defender, letting the quarterback throw it to you, and that's that, but there's much more to it, especially in Higgins' case. First off, Higgins was able to get to the end zone on 6 of his 10 receptions via vertical routes, which is an absurd percentage.
He shows a burst and second gear once he gets by the defender to create even more separation with speed. In addition to that, his ability to track the ball in the air is exceptional. Higgins possesses a large catch radius and great body control to find the ball and go get it.
When a defender contests the catch, Higgins' high point ability and strong hands allow him to still go up and make the grab. On underthrown passes, he's even shown on more than one occasion that he can backpedal the last few steps away from the defender, use his hands to create extra separation, and go get the ball. The video below shows one of those examples.
LSU's Ja'Marr Chase led all of college football in yardage on these routes with 461 in 2019. His quarterback? New Bengals signal caller Joe Burrow. Look for Higgins and Burrow to get well-acquainted early on in Cincinnati.
Top 2021 Draft Eligible Prospect: Isaiah McKoy, Kent State (3JR)
NCAA Average Comparison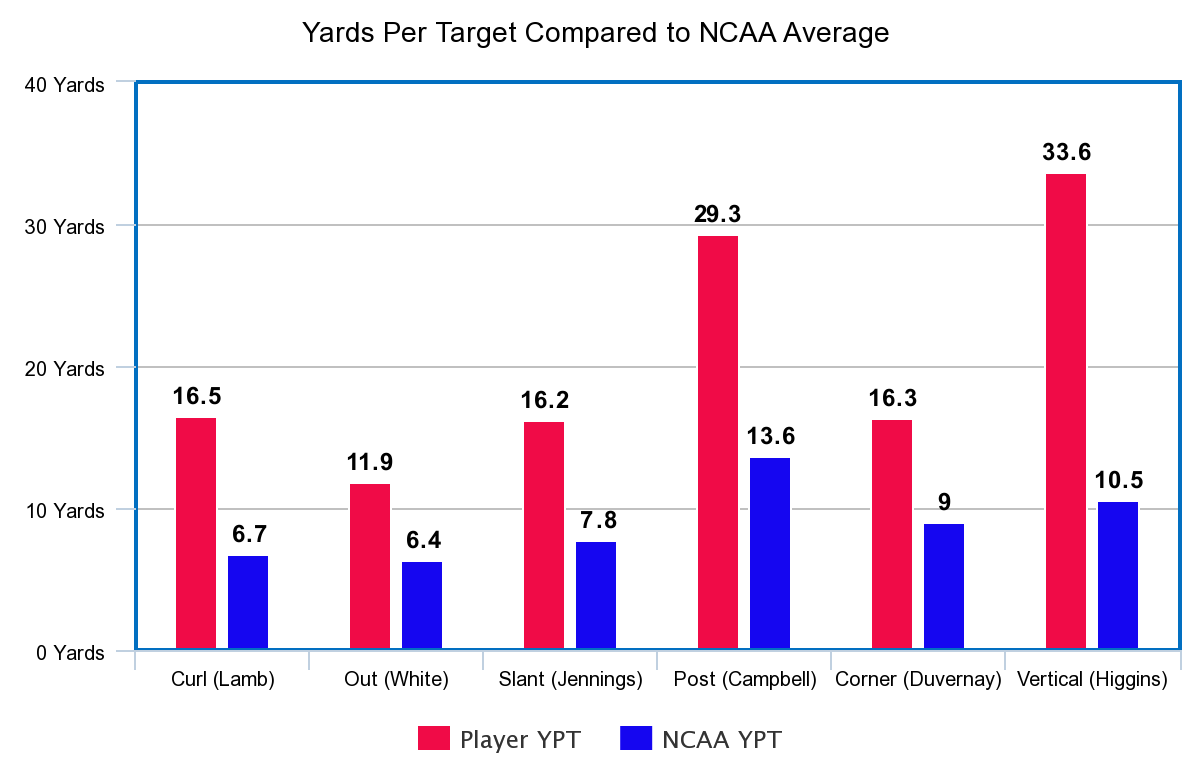 Now when comparing each of the players we just looked at to the NCAA averages, we can see how much they stand out. All six of these receivers turned average gains into explosive ones on their respective routes. Look for these players to excel at these routes if and when given the opportunity at the next level.
Most Efficient Receivers Returning in 2020
I've highlighted six names to watch for next season on certain routes in the NFL, but who are the most efficient route runners overall that are returning to college? The table below shows the top five players in Yards per Target who are returning in 2020. True Juniors dominate the list with 4th-year Senior DeVonta Smith in there as well.
| | | | | | | |
| --- | --- | --- | --- | --- | --- | --- |
| Player | College | Eligibility | Targets | Rec | Yards | YPT |
| Ja'Marr Chase | LSU | 3JR | 124 | 84 | 1780 | 14.4 |
| DeVonta Smith | Alabama | 4SR | 89 | 76 | 1259 | 14.2 |
| Rashod Bateman | Minnesota | 3JR | 98 | 70 | 1219 | 12.4 |
| Chatarius Atwell | Louisville | 3JR | 106 | 70 | 1276 | 12.0 |
| Dyami Brown | UNC | 3JR | 86 | 51 | 1034 | 12.0 |
*minimum of 75 targets
It's pretty easy to see why LSU's Ja'Marr Chase leads the way. The 2019 Biletnikoff Award Winner, Chase helped lead LSU's new-look offense to a National Championship by hauling in nearly 1,800 yards on 14.4 YPT. 
DeVonta Smith surprised many by not declaring for the NFL Draft and returning to Alabama for his Senior season. He likely could be the best of the Alabama trio of receivers when things are all said and done. 
For Rashod Bateman at Minnesota, he no longer has Tyler Johnson on the team to draw coverage away from his side. We'll see if he can stay productive even with one of the most efficient quarterbacks in Tanner Morgan throwing to him. 
Chatarius "Tutu" Atwell returns to what could be a dynamic Louisville offense which has Dez Fitzpatrick lining up with Atwell on the outside catching balls from Malik Cunningham. 
North Carolina's Dyami Brown also has a strong supporting cast. Dazz Newsome is another one of the top returning receivers in college football for 2020. They have a pretty good quarterback as well in Sam Howell controlling the offense.
Conclusion
Some players are more efficient at running certain routes than others. While it's best to have a receiver that can run nearly every route on the route tree, it's also good to gameplan around what receivers do best. Being efficient leads to yardage gained, which leads to first downs, which lead to touchdowns, which are points that ultimately lead to wins. 
Half of the receivers among these six routes/route sets we took a look at were selected in the first three rounds of the draft just a short time ago. Find receivers that can run routes well and be efficient when given the opportunity, and you'll likely find some of the better talent that's headed to play on Sundays.