2020 MLB Draft Top 5 College Baseball Prospect Rankings
Leading up to the 2020 MLB Amateur Draft, Baseball Info Solutions will be publishing a series of position-by-position scouting reports from two of our Video Scouts for the top 5 collegiate draft prospects and two honorable mentions. Each player is graded by the 20-80 scouting scale, given a comprehensive evaluation, and assigned a floor and a ceiling comparison, which indicate–if a player makes the Major Leagues–the range of the type of player into, which he can develop.
#1 Spencer Torkelson, 1B
Arizona State (JR, 2020)
R/R 6-1, 220 lbs.
Date of Birth: 8/26/1999
Hit- 50 (60) Power- 55 (70) Run- 40 (40) Arm- 50 (50) Field- 45 (55)
Future Value: 60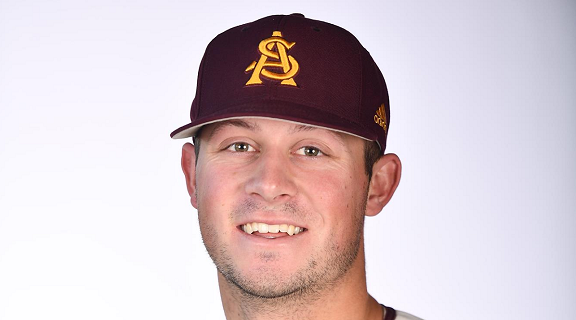 Written by Brandon Tew
Analysis:
Not many baseball players can say they have broken a record that Barry Bonds held. That is what Torkelson did his freshman year at Arizona State launching 25 HR for the Sun Devils. Torkelson displayed great raw power in the batter's box and followed up that performance with 23 HR in his sophomore season in Tempe. Torkelson has turned himself into the consensus number 1 pick on June 10.
Standing with a slightly open stance, Torkelson shifts his weight to his back leg as his front leg stays in rhythm as the pitcher starts to release the baseball. This allows Torkelson to explode towards the baseball with maximum energy and power. The power and bat speed is effortless as Torkelson never overswings and extends himself as a hitter.
With a tiny stride back towards the mound to square himself up. Torkelson then drops the bat head on the ball and whips the bat through the zone with a compact and smooth swing. With the elite bat speed Torkelson routinely lets outside pitches travel deeper into the zone and does not force anything as he drives the ball to the right side of the diamond.
Relaxed at the plate and extremely loose and comfortable, Torkelson can turn on inside pitches with ease while still display the rare ability to drive the ball out of the ballpark the other way. The loft he creates on his swing is impressive as he skies massive fly balls over the fence.
Torkelson has the unique talent and shows it off with his game power and raw power during batting practice. Even when Torkelson does not square a ball up, he still has enough strength to drive the ball out from foul pole to foul pole.
The power might stand out when you watch Torkelson, but he is a complete hitter taking pitches with good plate discipline and showing a great understanding of what he wants to accomplish at the plate.
Torkelson's advanced approach at the dish rarely has him fooled with the same pitches in back-to- back at-bats. He punishes pitchers for making mistakes with hanging breaking pitches but also has the bat control to foul off nasty ones to get to the next fastball in the at-bat. 
Torkelson hits the ball hard often, with a career batting average of .337 and an OPS of 1.166 has elite potential at the next level with his bat. Torkelson's maturity and mental makeup and approach to the game remind me of Anthony Rizzo who has been a mainstay in the middle of the lineup and at first base for the Cubs the unquestioned leader of that team. Torkelson has those similar qualities to the lefty which make him a special prospect.
The defense at first base is solid. Torkelson has worked hard to refine his defensive skills and as a very good athlete he shows off baseball athleticism routinely by making movements and motions look easy that other guys find more challenging on a ball field.
Torkelson has a good glove at first base and an average arm that is accurate, and while he most likely will stick at first baseand be above average, teams could opt to move him to left field if needed. It could be rather quickly too as he displays the type of power that the last two Rookies of the Year in the NL possess in Roñald Acuna Jr. and Pete Alonso.
Summation:
An elite first base prospect with devastating power from the right side. Torkelson's power coupled with his approach at the plate and plate discipline makes him a can't-miss power bat in this year's draft. He has potential to be first player to the majors from this class. Torkelson has the power to put up massive HR totals in the MLB and could put up 40 or more on a regular basis.
Projection:
All-Star caliber 1B with all the tools to be an elite bat
Ceiling: Pete Alonso, a right-handed Anthony Rizzo
Floor: Billy Butler
Draft Expectation: #1 Pick