BY ALEX VIGDERMAN
A day after one Padres star infielder was in the spotlight, third baseman Manny Machado turned some virtual heads on a play where he made a catch here: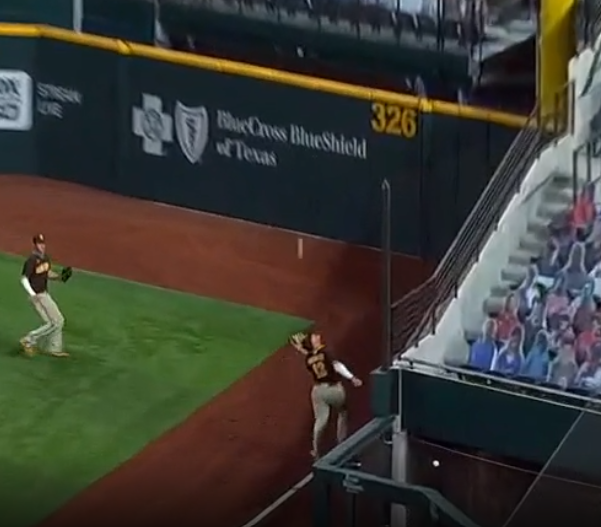 Of course, Machado wasn't playing a "typical" third base on that play. He started in shallow right field as part of a Full Ted Williams Shift. But even given that, it's shocking to see an infielder make a play nearly 300 feet from home plate.
That got me thinking: is that the weirdest place we've seen someone catch a flyball (given the position they were playing)?
The answer is "yes," perhaps unsurprisingly. If you consider where each position tends to be aligned (shifts notwithstanding), Machado's catch was an incredible 300 feet from where you'd expect a third baseman to catch a flyball.
Of course, nowadays, the notion of a player's "position" is a little fuzzy. Infield shifts are as common as "standard" alignments, not to mention the slow growth of outfield shifting, four-man outfields, and five-man infields. Like I said before, there's no way that any infielder—especially not a third baseman—is in position to make that catch if shifts aren't a thing.
Just for fun, let's put ourselves in the mindset of a baseball viewer ten years ago and check out the wonkiest locations for each position to field a ball since 2012 (when shifts started ramping up).
Pitcher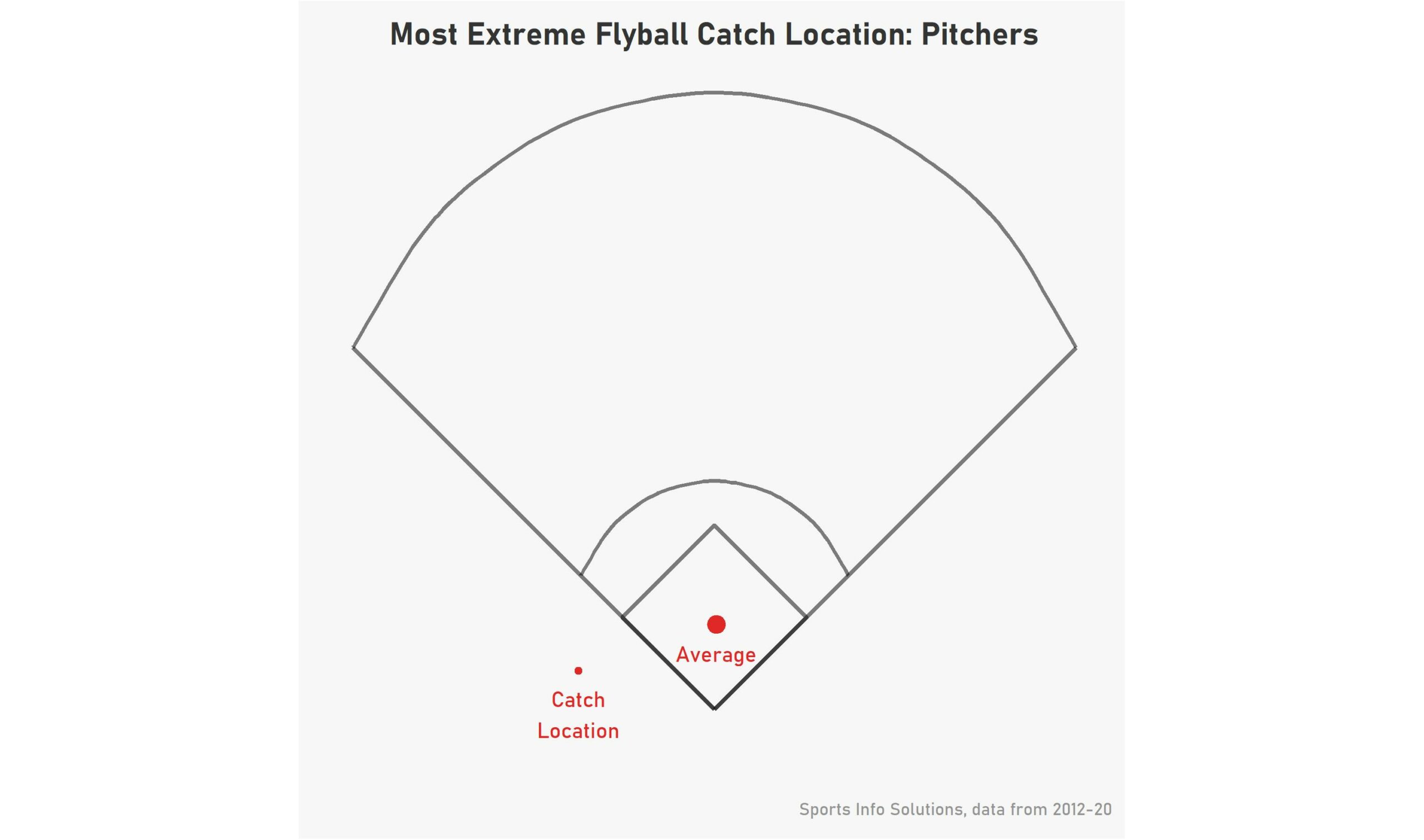 Unsurprisingly, pitchers have the shortest distances from typical positioning. They're not shifting, they are trained to defer on balls in the air, and they start the play falling off the mound. The most extreme play I found was a nice play by Rays reliever Jaime Schultz, but he only had to range 100 feet to get there.
Honorable Mention: Mike Fiers has thrown two no-hitters and has been newsworthy in other ways, but here we get to watch him stumble his way to a rather incredible foul out.
Catcher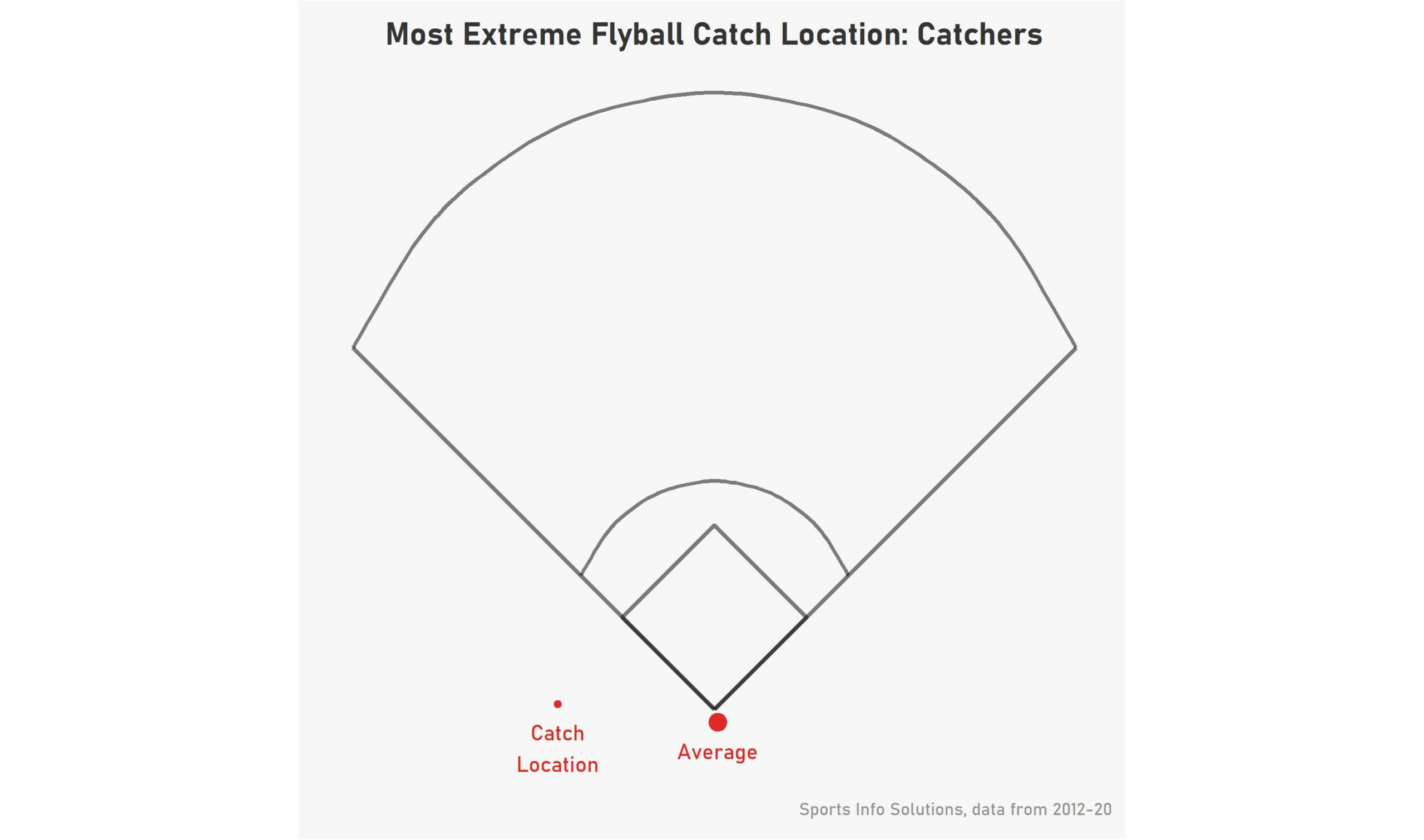 Foul territory in Oakland is notoriously extensive, so it's no surprise that the most extreme catch location for a catcher was made in the Coliseum. On this play, Josh Phegley gets on his horse to make a play just before getting to the dugout. Again, this isn't so notable a play from the perspective of this article for similar reasons to pitchers.
First Base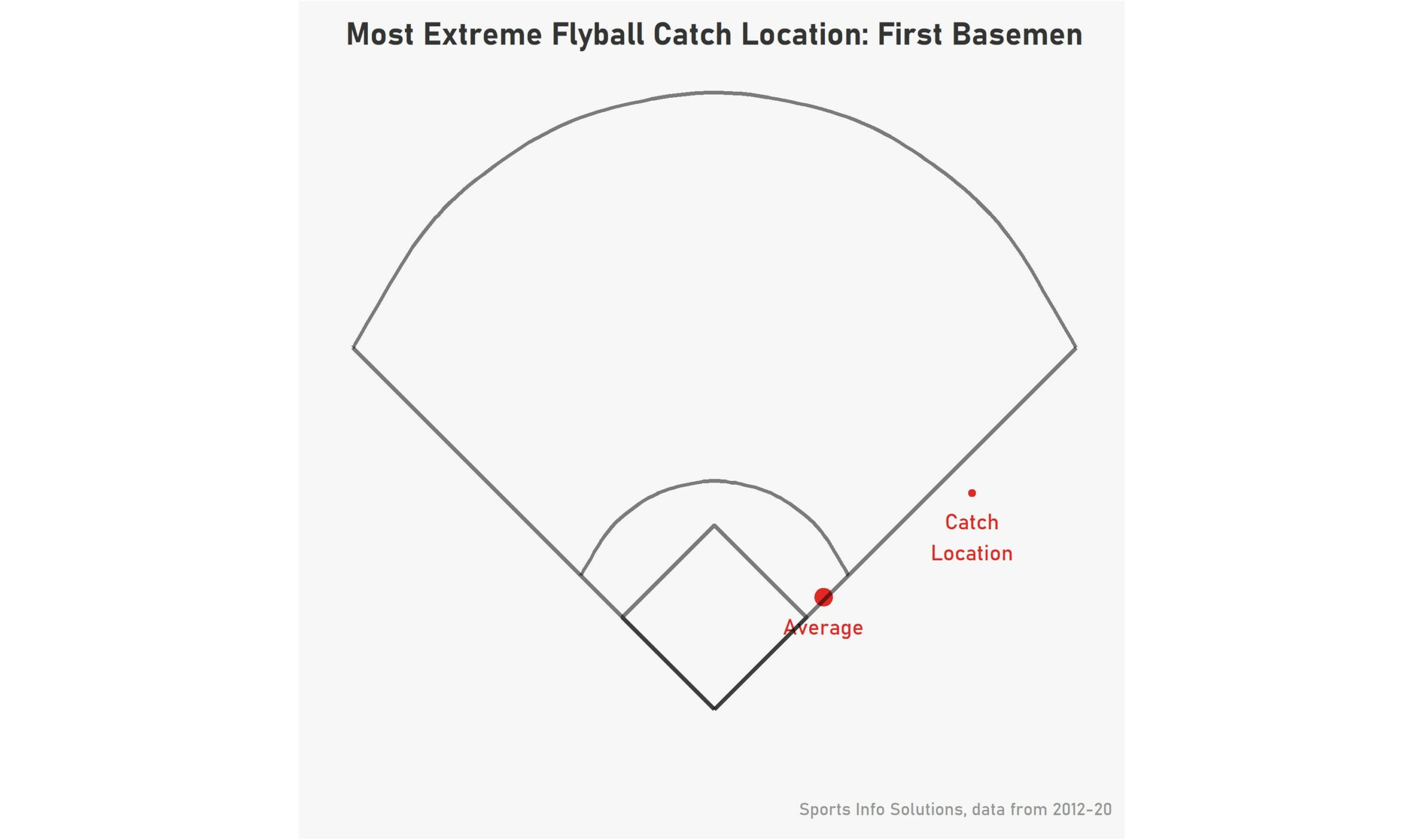 We're still in tepid waters thanks to first basemen having to be anchored to their base to cover on groundballs. This play by Ryan O'Hearn takes him pretty deep into foul territory, but it's only 125 feet from where first basemen typically field balls.
Second Base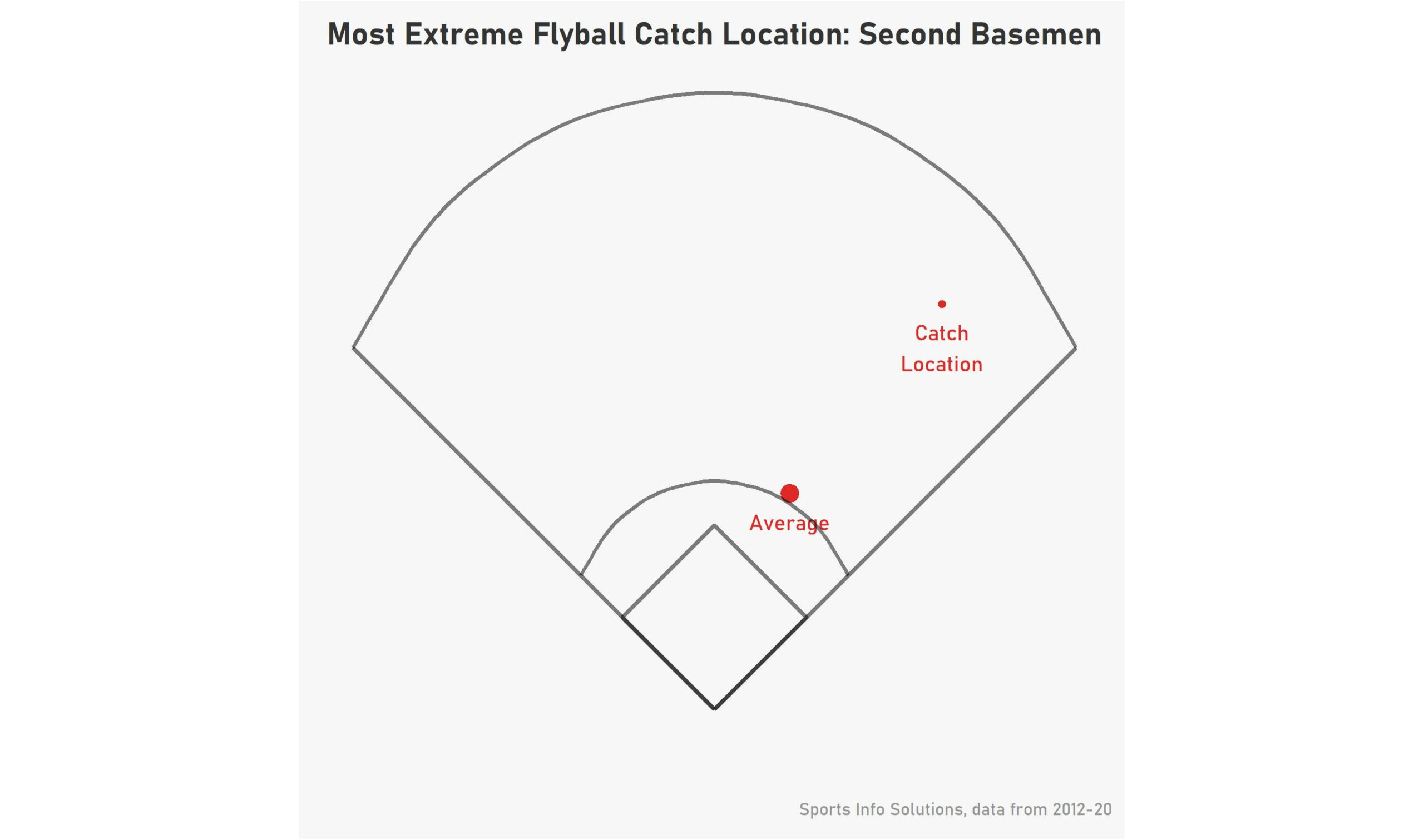 Now we're talking. You might think that catch location looks an awful lot like where a right fielder would normally stand. And you'd be right! The Rays employed a four-man outfield with three infielders on the right side of second base against Rio Ruiz up by a run in the ninth inning. Second baseman Brandon Lowe makes a routine play that is a small step for a right fielder, but a giant leap for a second baseman.
Third Base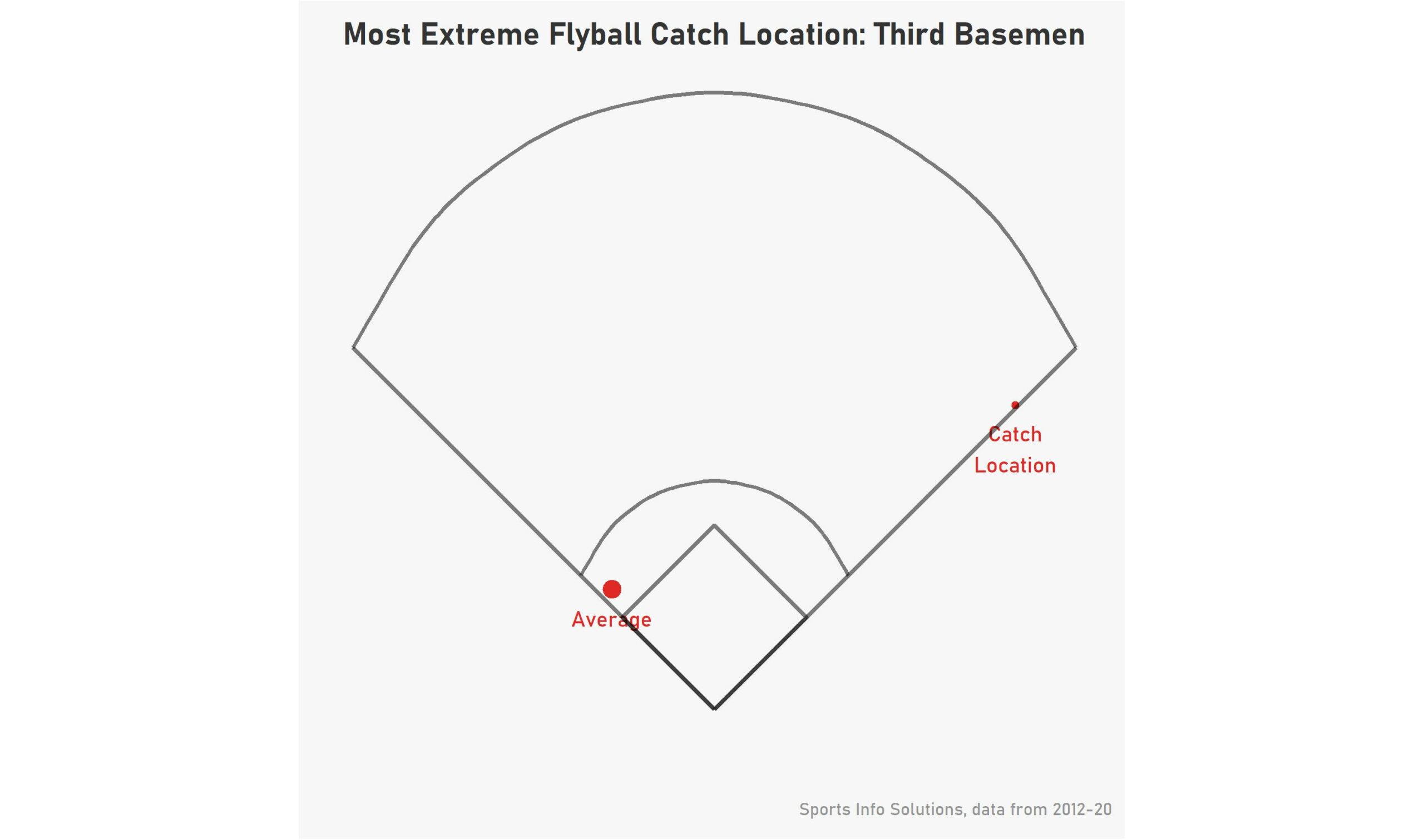 Here we have the Machado play. This one's unique on this list because it combines extreme positioning with pretty good range, so it's no surprise that it's the wonkiest fielding location we've seen.
Honorable Mention: For a short time, infield shifts were destroying defensive metrics. Teams would play their third baseman in short right field and he would get credit for incredible range when it wasn't warranted. Because he was the poster boy for this phenomenon at the time, we at SIS call this the "Brett Lawrie Problem." Here's an example of the kind of thing we were seeing at the time.
Shortstop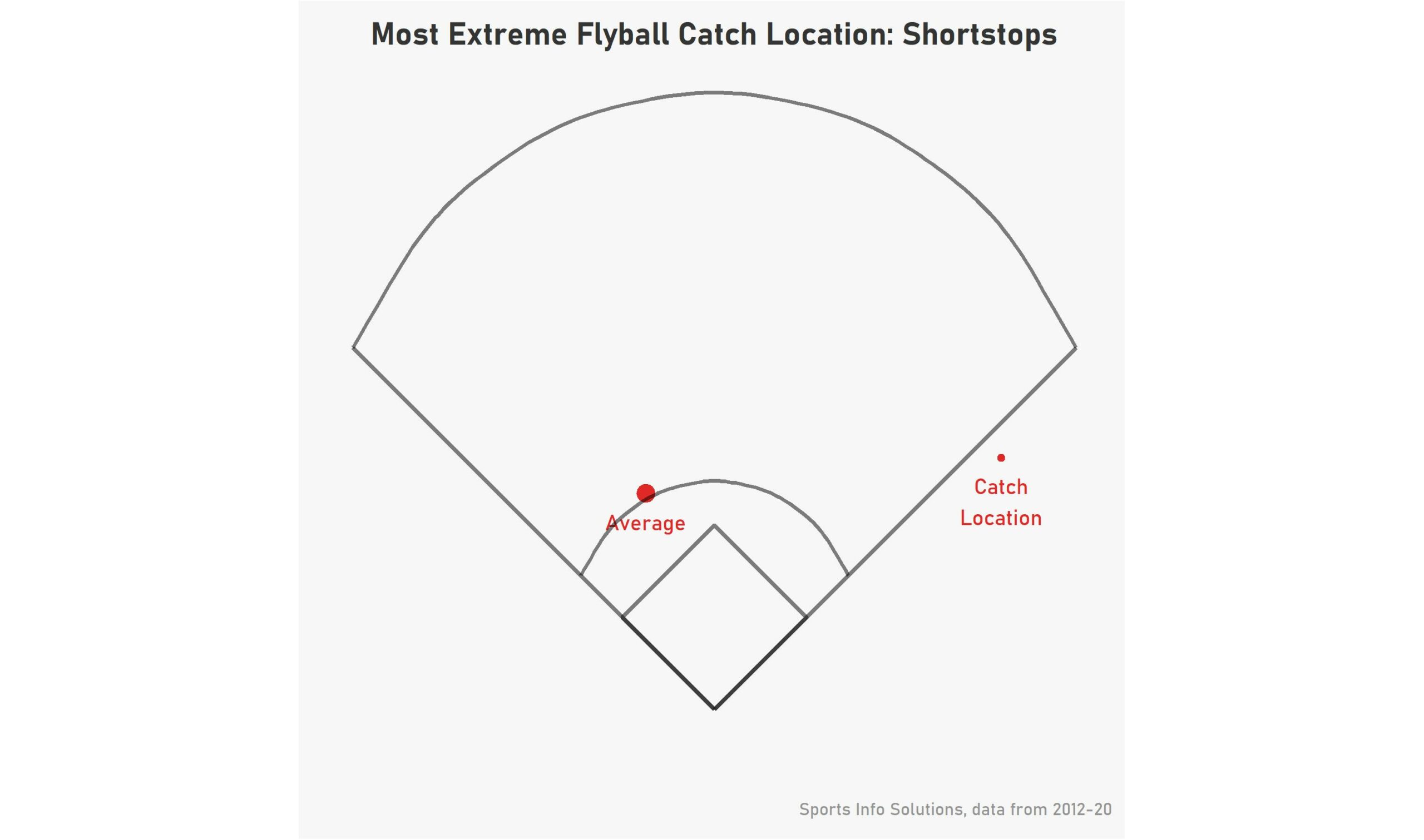 This might be the most impressive play of the group, as Darwin Barney ranges from a similar position to Machado on the previous play to make a sliding grab near the wall in foul territory.
Like with Oakland, Toronto's foul ground features heavily in plays like this. In fact, there was a similar play from the same game where second baseman Devon Travis went a long way to make a catch.
Left Field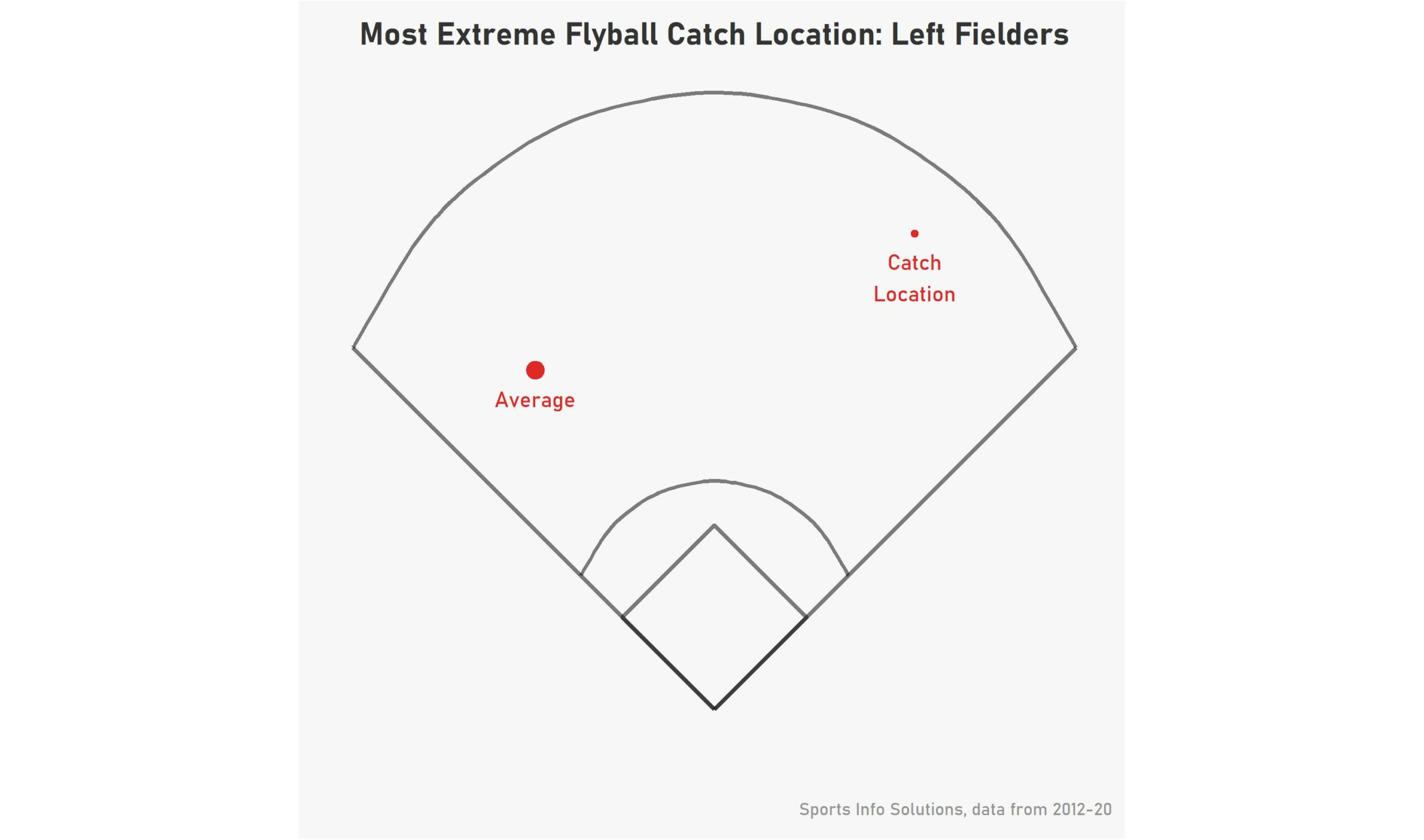 We'll just call this the DJ LeMahieu Appreciation category. Multiple of the weirdest catch locations for left fielders involve NL West teams heavily shading their outfielders to right field to defend the former Rockies second baseman's oppo-heavy approach. Of course, that calls into question whether we should be calling him a left fielder to begin with, but that's a larger question for another day.
On the most extreme play, David Peralta is playing center field (sort of), makes a relatively easy play in right field, and then starts running back to his usual spot.
Honorable Mention: Another fun LeMahieu example is this play by Matt Szczur, who starts the play in left center field and records the out in deep center field.
Center Field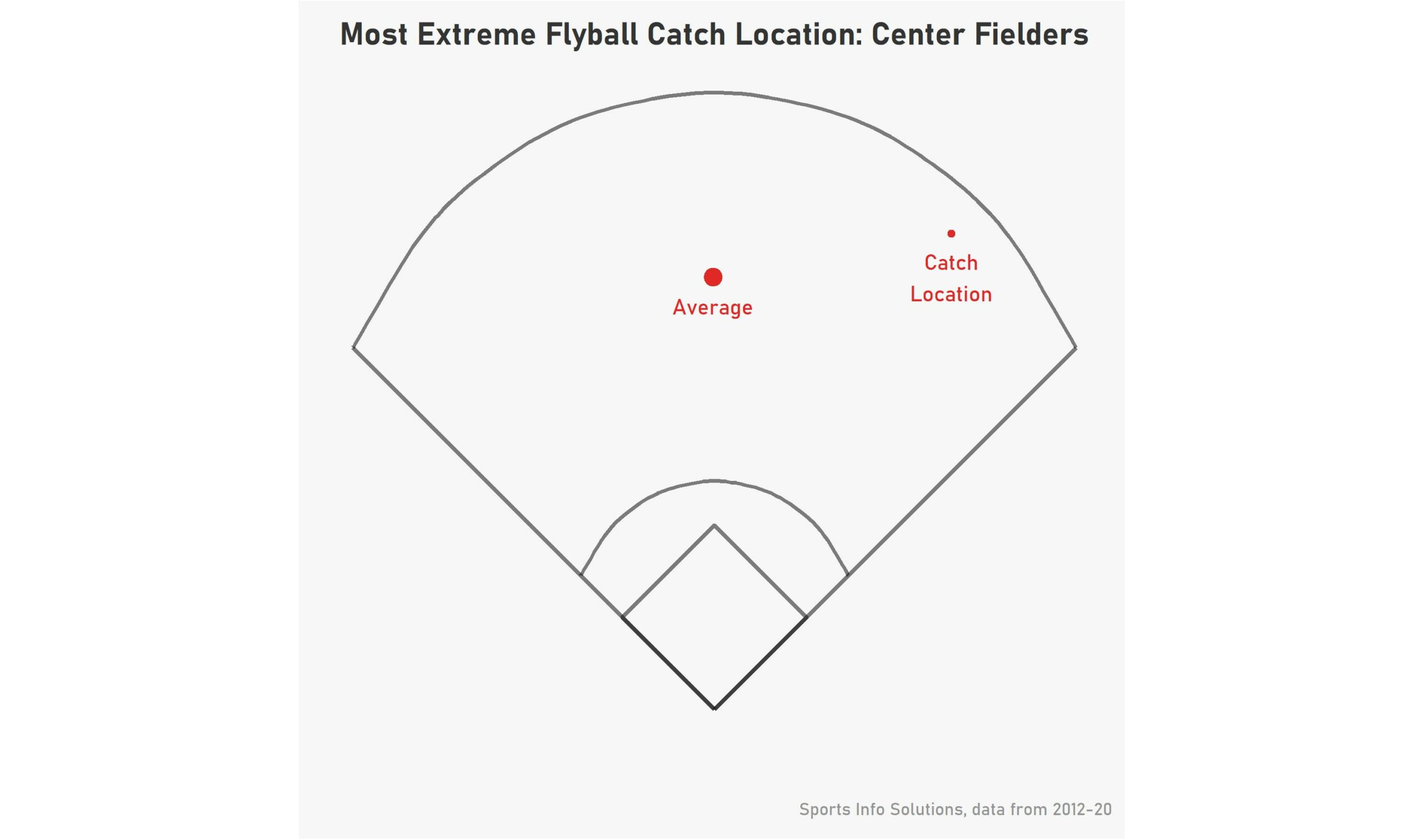 When the Dodgers traded for Mookie Betts, I was kind of hoping that they would put him back in center field, where he had started his outfield career. This play from his first month as a major leaguer shows the kind of range Mookie has from that position.
After a handful of plays whose uniqueness is very much driven by positioning, it's nice to see a rangy play that's more "pure."
Right Field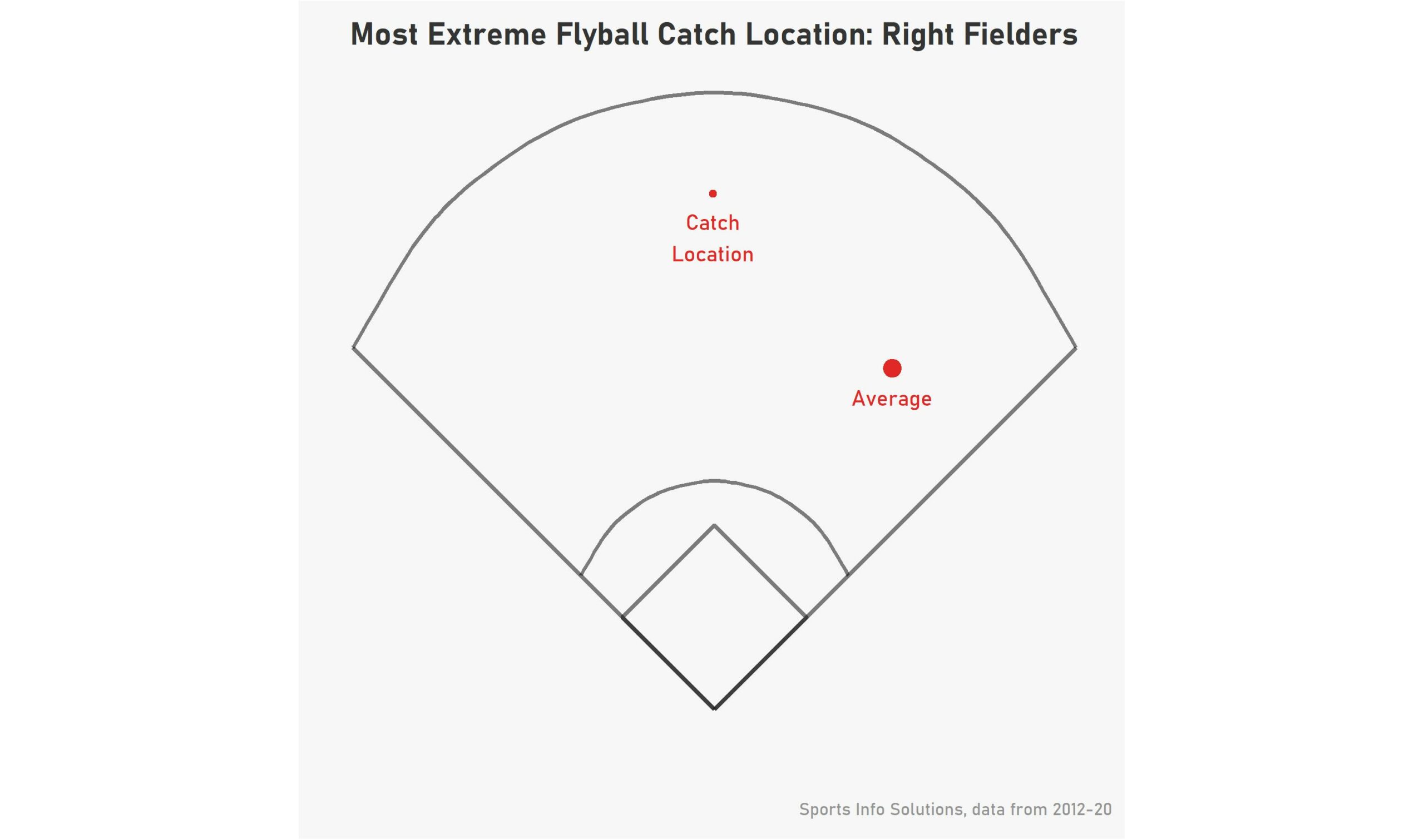 What DJ LeMahieu presents outfields from the right side of the plate, Joe Mauer presented from the left side. His heavy opposite-field profile led many teams to shade their outfielders towards left field, and this dead-center catch by Avisail Garcia is a great example of it.