By MARK SIMON AND ALEX VIGDERMAN
The jockeying for position among the NFL's elite quarterbacks continued in Week 9.
Aaron Rodgers' big game against the 49ers bumped him up to the No. 2 position in our World's No. 1 Quarterback Rankings. Patrick Mahomes remains safely nestled in the No. 1 spot after another huge effort against the Panthers. Russell Wilson dropped from No. 2 to No. 3 after his first negative-scoring game of the season (two interceptions and two fumbles will do that).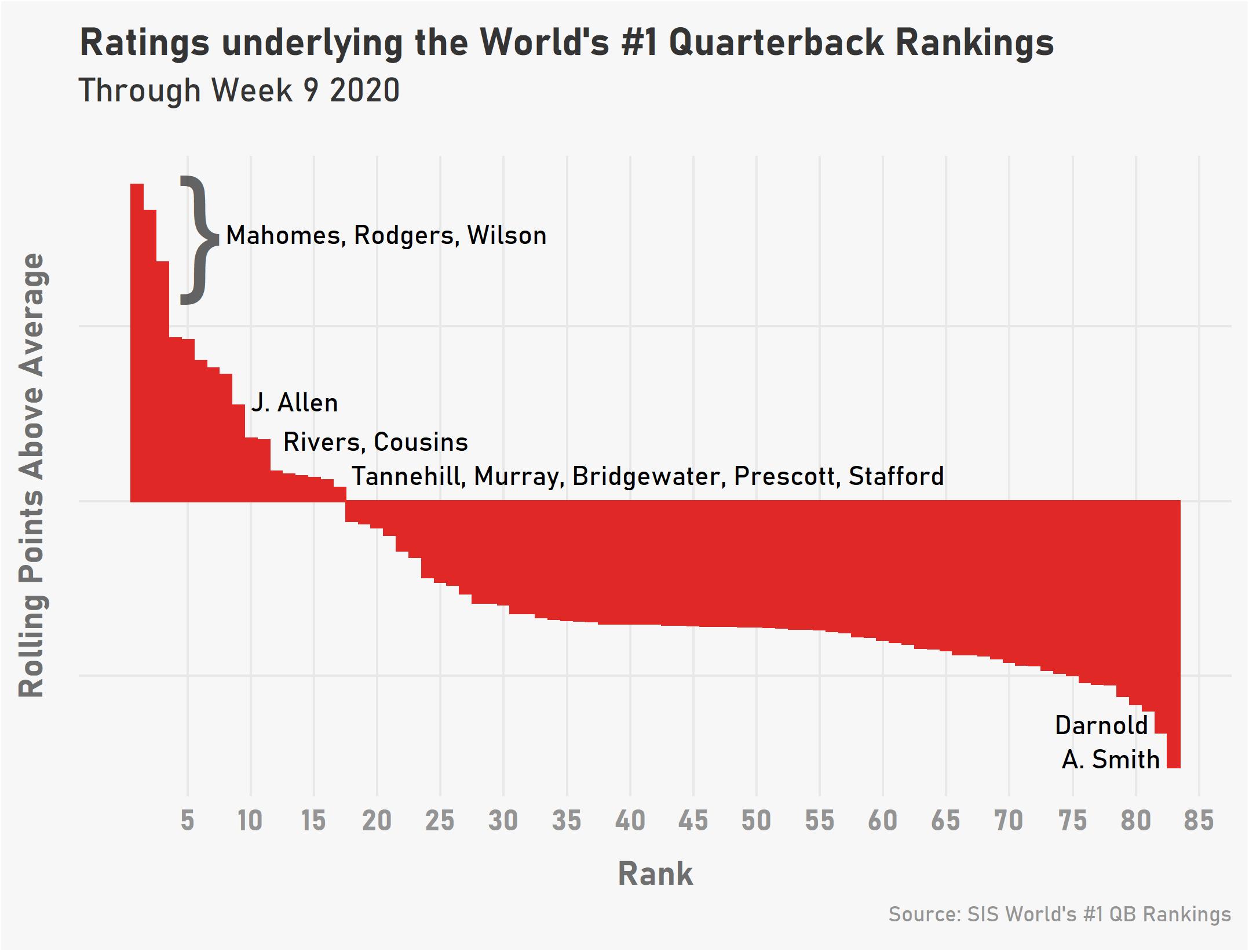 A reminder of what this is:
The World's No. 1 Quarterback Ranking is based on a model devised by Bill James to evaluate The World's No. 1 Starting Pitcher. Bill's model was based on cumulative evaluation of individual starts over an extended time period using the metric Game Score.
The World's No. 1 Quarterback Ranking uses our player value stat, Total Points to make a cumulative evaluation of game performance over a three-year period. The key to our calculation is Points Above Average, the statistical underpinning of Total Points that is centered at zero so that positive numbers are above average and negative numbers are below average.
Success over time is key to maintaining a good ranking. Prolonged inactivity results in a ranking drop. The recent performances carry the most weight.
Elsewhere, Drew Brees looks to be on the verge of catching Derek Carr for No. 4 in our rankings. Carr had his second straight negative-scoring game in Points Above Average, making way for Brees, who threw for four touchdowns and completed more than 80% of his passes in a win over the Buccaneers, to reach and pass him.
We should note though that Brees didn't gain that much. By Points Above Average this was his fifth-best game of the season and didn't even crack the top ten for any quarterback in Week 9. He rose relative to Carr because the Raiders QB posted his second below-average game in a row.
No. 6 Deshaun Watson is also within striking distance of Carr's spot. Watson ranks third in the NFL in Total Points this season behind Mahomes and Josh Allen, tied with Rodgers.
Watson moved ahead of Tom Brady in the rankings after Brady had the worst Points Above Average game of any quarterback last week. Watson has strung together three statistically-strong games in a row, though his team has won only one of them.
Josh Allen now ranks No. 9 overall, moving up one spot after Philip Rivers dropped two places (and nearly dropped three spots) to No. 10. Rivers essentially tied with Brady for the worst game of any quarterback last week (one week after we made him the lede in this weekly review).
The current Top 10 is as follows:
Patrick Mahomes
Aaron Rodgers
Russell Wilson
Derek Carr
Drew Brees
Deshaun Watson
Tom Brady
Matt Ryan
Josh Allen
Philip Rivers
Kirk Cousins is the line of demarcation
The top 11 is currently a tough group to crack. Kirk Cousins currently holds that last spot. He's averaging twice as many Points Above Average per 60 snaps in the weighted calculation than No. 12 Ryan Tannehill.
Cousins ranks No. 19 in Total Points this season but remains highly ranked in this system because he finished No. 7 last season and No. 10 in 2018. Those give him some staying power, though it won't help for long.
Cousins has had an odd season. He leads the league with 8.9 yards per attempt but also ranks second with 10 interceptions. The Vikings rank last in the NFL in pass attempts per game but that doesn't hurt Cousins since this metric is based on per-snap performance.
Hello, Tua Tagovailoa!
The Dolphins QB had a breakthrough game against the Cardinals last week checking off all the boxes. He went 4-of-6 on throws at least 15 yards downfield, 4-of-6 when pressured, and 3-of-3 on third down.  Tagovailoa had the third-highest Points Above Average for a quarterback in Week 9 behind Rodgers and Ben Roethlisberger. One great game allowed him to move from No. 59 to No. 26 (one spot behind Lamar Jackson).
It will be a battle of the rookies on Sunday afternoon when Tagovailoa goes up against the Chargers, whose rookie QB Justin Herbert ranks No. 17. Herbert's game this past Sunday against the Raiders ranked No. 6 for the week.
Herbert has had a slow progression from No. 25 after his debut in Week 2 to his current spot. He's coming off the best start of his career.
Here are the updated rankings. We've removed any quarterback who hasn't been on a depth chart in the last year.
| | | | | |
| --- | --- | --- | --- | --- |
| Rank | Name | PAA Per 60 Snaps | Last Wk Rank | Start of Season Rank |
| 1 | Patrick Mahomes | 7.2 | 1 | 1 |
| 2 | Aaron Rodgers | 6.6 | 3 | 2 |
| 3 | Russell Wilson | 5.5 | 2 | 3 |
| 4 | Derek Carr | 3.7 | 4 | 4 |
| 5 | Drew Brees | 3.7 | 5 | 6 |
| 6 | Deshaun Watson | 3.2 | 7 | 15 |
| 7 | Tom Brady | 3.0 | 6 | 11 |
| 8 | Matt Ryan | 2.9 | 9 | 9 |
| 9 | Josh Allen | 2.2 | 10 | 39 |
| 10 | Philip Rivers | 1.4 | 8 | 10 |
| 11 | Kirk Cousins | 1.4 | 11 | 5 |
| 12 | Ryan Tannehill | 0.7 | 12 | 22 |
| 13 | Kyler Murray | 0.6 | 15 | 17 |
| 14 | Teddy Bridgewater | 0.6 | 16 | 21 |
| 15 | Dak Prescott | 0.5 | 14 | 7 |
| 16 | Matthew Stafford | 0.5 | 13 | 16 |
| 17 | Justin Herbert | 0.3 | 18 | N/A |
| 18 | Jacoby Brissett | -0.5 | 17 | 12 |
| 19 | Ryan Fitzpatrick | -0.5 | 19 | 13 |
| 20 | Taysom Hill | -0.6 | 21 | 18 |
| 21 | Ben Roethlisberger | -0.8 | 25 | 35 |
| 22 | Jared Goff | -1.1 | 20 | 14 |
| 23 | Joe Burrow | -1.3 | 22 | N/A |
| 24 | Jimmy Garoppolo | -1.7 | 24 | 20 |
| 25 | Lamar Jackson | -1.8 | 23 | 8 |
| 26 | Tua Tagovailoa | -1.9 | 59 | N/A |
| 27 | Baker Mayfield | -2.1 | 26 | 41 |
| 28 | Drew Lock | -2.3 | 28 | 36 |
| 29 | Matt Moore | -2.3 | 29 | 24 |
| 30 | Chase Daniel | -2.4 | 30 | 25 |
| 31 | Nick Mullens | -2.6 | 27 | 37 |
| 32 | Jameis Winston | -2.6 | 31 | 26 |
| 33 | Matt Schaub | -2.7 | 32 | 32 |
| 34 | Blake Bortles | -2.7 | 33 | 33 |
| 35 | Jeff Driskel | -2.7 | 34 | 29 |
| 36 | Mike Glennon | -2.7 | 35 | 38 |
| 37 | Brett Hundley | -2.8 | 36 | 40 |
| 38 | Nate Sudfeld | -2.8 | 37 | 42 |
| 39 | Trevor Siemian | -2.8 | 38 | 44 |
| 40 | Geno Smith | -2.8 | 39 | 43 |
| 41 | Paxton Lynch | -2.8 | 40 | 45 |
| 42 | David Fales | -2.8 | 41 | 46 |
| 43 | DeShone Kizer | -2.8 | 42 | 48 |
| 44 | Joshua Dobbs | -2.8 | 43 | 49 |
| 45 | David Blough | -2.8 | 44 | 51 |
| 46 | Sean Mannion | -2.9 | 45 | 52 |
| 47 | Jake Luton | -2.9 | N/A | N/A |
| 48 | Josh McCown | -2.9 | 46 | 56 |
| 49 | Cody Kessler | -2.9 | 48 | 55 |
| 50 | Marcus Mariota | -2.9 | 47 | 47 |
| 51 | Gardner Minshew | -2.9 | 49 | 30 |
| 52 | Garrett Gilbert | -2.9 | N/A | N/A |
| 53 | AJ McCarron | -2.9 | 51 | 58 |
| 54 | Case Keenum | -2.9 | 50 | 27 |
| 55 | Blaine Gabbert | -2.9 | 52 | 59 |
| 56 | Matt Barkley | -3.0 | 53 | 60 |
| 57 | Robert Griffin III | -3.0 | 54 | 62 |
| 58 | C.J. Beathard | -3.1 | 55 | 53 |
| 59 | Mason Rudolph | -3.1 | 56 | 64 |
| 60 | Jarrett Stidham | -3.2 | 57 | NULL |
| 61 | Brandon Allen | -3.2 | 58 | 65 |
| 62 | Nathan Peterman | -3.3 | 60 | 75 |
| 63 | Devlin Hodges | -3.4 | 61 | 67 |
| 64 | Tyrod Taylor | -3.4 | 62 | 63 |
| 65 | Colt McCoy | -3.4 | 63 | 69 |
| 66 | Nick Foles | -3.5 | 71 | 28 |
| 67 | Brian Hoyer | -3.5 | 64 | 68 |
| 68 | Eli Manning | -3.5 | 66 | 70 |
| 69 | Andy Dalton | -3.6 | 67 | 54 |
| 70 | Kyle Allen | -3.7 | 68 | 73 |
| 71 | Brett Rypien | -3.7 | 69 | N/A |
| 72 | Joe Flacco | -3.8 | 70 | 57 |
| 73 | Ben DiNucci | -3.9 | 72 | N/A |
| 74 | Cam Newton | -3.9 | 73 | 31 |
| 75 | Daniel Jones | -4.0 | 65 | 66 |
| 76 | Will Grier | -4.1 | 74 | 74 |
| 77 | Josh Rosen | -4.2 | 76 | 76 |
| 78 | Mitchell Trubisky | -4.2 | 75 | 71 |
| 79 | Ryan Finley | -4.5 | 77 | 77 |
| 80 | Carson Wentz | -4.7 | 78 | 19 |
| 81 | Dwayne Haskins | -4.8 | 79 | 34 |
| 82 | Sam Darnold | -5.3 | 81 | 50 |
| 83 | Alex Smith | -6.1 | 80 | 23 |