By Mark Simon and Alex Vigderman
So who the heck is the fourth-best quarterback in the NFL? Or the seventh best?
We know that's not the purpose here. But right now, the No. 1 quarterback in the league is obvious (Patrick Mahomes). And the No. 2 and 3 quarterbacks (Aaron Rodgers and Russell Wilson) are clearcut too, even as they flip places from time to time. That makes for boring articles as we try to publicize these rankings. Thus, we move along.
The most popular comment we got in the early going of releasing these rankings was that Derek Carr was an undeserving No. 4 (we explained why he was where he was). He's been supplanted by Deshaun Watson, whose status in that position now hinges on how he fares without a couple of his best receivers. They're now neck-and-neck at 4-5. Tom Brady currently resides in the No. 6 spot but he's showing his age and you wonder if his aging body can survive a full season like it used to.
Drew Brees is injured and thus slipping in the rankings. If healthy, he could stake a claim to No. 4. But we deal here in what is. And right now, Brees is an isn't. So instead, Kirk Cousins is No. 7 and Brees is No. 8 and slipping, and his absence could extend a stretch of five different quarterbacks ranking No. 8 in the last five weeks.
Let's interrupt to remind you what this is:
The World's No. 1 Quarterback Ranking is based on a model devised by Bill James to evaluate The World's No. 1 Starting Pitcher. Bill's model was based on cumulative evaluation of individual starts over an extended time period using the metric Game Score.
The World's No. 1 Quarterback Ranking uses our player value stat, Total Points to make a cumulative evaluation of game performance over a three-year period. The key to our calculation is Points Above Average, the statistical underpinning of Total Points that is centered at zero so that positive numbers are above average and negative numbers are below average.
Success over time is key to maintaining a good ranking. Prolonged inactivity results in a ranking drop. The recent performances carry the most weight.
Ok, back to what we were saying.
There's a lot of quarterback parity (at least relative to the top of the list) once you get to No. 9 Philip Rivers. He's neck-and-neck with No. 10 Matt Ryan, with Josh Allen a step behind at No. 11. We can talk about Justin Herbert, Ryan Tannehill, Kyler Murray and Teddy Bridgewater. They're not quite there. They're not good enough and not consistent enough yet. And if you're asking about Ben Roethlisberger, last year's absence cost him spots. He's No. 18 (and we'll add in Wednesday's game against the Ravens next week).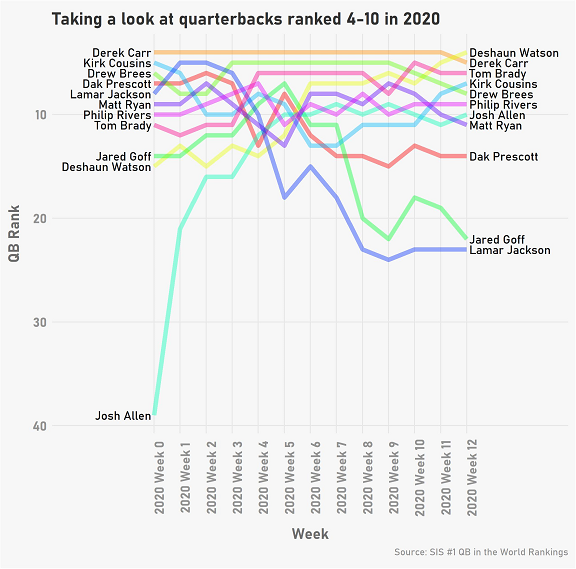 Anyhow, it's worth noting that the gap between the No. 1 and No. 3 quarterbacks on our list is actually larger than the gap between the No. 4 and No. 11 quarterbacks. Which we suppose also tells you just how good the No. 1 guy is right now.
Maybe in the end, that's the point here.
Here are the updated rankings
| | | | | |
| --- | --- | --- | --- | --- |
| Rk | Player | PAA Per 60 Snaps | LastRk | StartOfSeasonRk |
| 1 | Patrick Mahomes | 8.4 | 1 | 1 |
| 2 | Aaron Rodgers | 6.7 | 2 | 2 |
| 3 | Russell Wilson | 4.8 | 3 | 3 |
| 4 | Deshaun Watson | 4.5 | 5 | 15 |
| 5 | Derek Carr | 4.5 | 4 | 4 |
| 6 | Tom Brady | 3.4 | 6 | 11 |
| 7 | Kirk Cousins | 3.2 | 8 | 5 |
| 8 | Drew Brees | 3.0 | 7 | 6 |
| 9 | Philip Rivers | 2.2 | 9 | 10 |
| 10 | Matt Ryan | 2.1 | 10 | 9 |
| 11 | Josh Allen | 1.6 | 11 | 39 |
| 12 | Justin Herbert | 0.7 | 12 | N/A |
| 13 | Ryan Tannehill | 0.6 | 13 | 22 |
| 14 | Dak Prescott | 0.4 | 14 | 7 |
| 15 | Kyler Murray | 0.1 | 15 | 17 |
| 16 | Teddy Bridgewater | 0.1 | 16 | 21 |
| 17 | Matthew Stafford | -0.2 | 17 | 16 |
| 18 | Ryan Fitzpatrick | -0.3 | 22 | 13 |
| 19 | Ben Roethlisberger | -0.5 | 18 | 35 |
| 20 | Jacoby Brissett | -0.8 | 20 | 12 |
| 21 | Baker Mayfield | -1.1 | 26 | 41 |
| 22 | Jared Goff | -1.2 | 19 | 14 |
| 23 | Lamar Jackson | -1.3 | 23 | 8 |
| 24 | Taysom Hill | -1.5 | 21 | 18 |
| 25 | Jimmy Garoppolo | -1.8 | 24 | 20 |
| 26 | Joe Burrow | -1.9 | 25 | N/A |
| 27 | Matt Moore | -2.4 | 27 | 24 |
| 28 | Tua Tagovailoa | -2.4 | 28 | N/A |
| 29 | Chase Daniel | -2.4 | 29 | 25 |
| 30 | Mike Glennon | -2.6 | 36 | 38 |
| 31 | Gardner Minshew | -2.6 | 31 | 30 |
| 32 | Drew Lock | -2.6 | 32 | 36 |
| 33 | Daniel Jones | -2.7 | 65 | 66 |
| 34 | Matt Schaub | -2.7 | 33 | 32 |
| 35 | Jeff Driskel | -2.7 | 34 | 29 |
| 36 | Blake Bortles | -2.7 | 35 | 33 |
| 37 | Brett Hundley | -2.8 | 37 | 40 |
| 38 | Nate Sudfeld | -2.8 | 38 | 42 |
| 39 | Trevor Siemian | -2.8 | 39 | 44 |
| 40 | Geno Smith | -2.8 | 40 | 43 |
| 41 | Paxton Lynch | -2.8 | 41 | 45 |
| 42 | David Fales | -2.8 | 42 | 46 |
| 43 | DeShone Kizer | -2.8 | 43 | 48 |
| 44 | Joshua Dobbs | -2.8 | 44 | 49 |
| 45 | David Blough | -2.8 | 45 | 51 |
| 46 | Josh McCown | -2.8 | 47 | 56 |
| 47 | Sean Mannion | -2.8 | 46 | 52 |
| 48 | Cody Kessler | -2.9 | 48 | 55 |
| 49 | Marcus Mariota | -2.9 | 49 | 47 |
| 50 | Phillip Walker | -2.9 | 50 | N/A |
| 51 | AJ McCarron | -2.9 | 52 | 58 |
| 52 | Blaine Gabbert | -2.9 | 53 | 59 |
| 53 | Jameis Winston | -2.9 | 51 | 26 |
| 54 | Case Keenum | -2.9 | 54 | 27 |
| 55 | Matt Barkley | -3.0 | 55 | 60 |
| 56 | Robert Griffin III | -3.0 | 56 | 62 |
| 57 | Garrett Gilbert | -3.0 | 57 | N/A |
| 58 | C.J. Beathard | -3.0 | 59 | 53 |
| 59 | Mason Rudolph | -3.1 | 60 | 64 |
| 60 | Jarrett Stidham | -3.1 | 61 | N/A |
| 61 | Nathan Peterman | -3.1 | 62 | 75 |
| 62 | Joe Flacco | -3.2 | 63 | 57 |
| 63 | Devlin Hodges | -3.3 | 66 | 67 |
| 64 | Tyrod Taylor | -3.3 | 67 | 63 |
| 65 | Brian Hoyer | -3.4 | 69 | 68 |
| 66 | Nick Mullens | -3.4 | 58 | 37 |
| 67 | Brandon Allen | -3.4 | 64 | 65 |
| 68 | Eli Manning | -3.5 | 70 | 70 |
| 69 | Kyle Allen | -3.5 | 71 | 73 |
| 70 | Cam Newton | -3.5 | 30 | 31 |
| 71 | Brett Rypien | -3.5 | 73 | N/A |
| 72 | Andy Dalton | -3.6 | 72 | 54 |
| 73 | Colt McCoy | -3.7 | 68 | 69 |
| 74 | Alex Smith | -3.7 | 78 | 23 |
| 75 | Ben DiNucci | -3.8 | 74 | N/A |
| 76 | Josh Rosen | -3.9 | 75 | 76 |
| 77 | Will Grier | -3.9 | 76 | 74 |
| 78 | Kendall Hinton | -4.0 | N/A | N/A |
| 79 | Nick Foles | -4.3 | 79 | 28 |
| 80 | Dwayne Haskins | -4.5 | 80 | 34 |
| 81 | Mitchell Trubisky | -4.9 | 77 | 71 |
| 82 | Ryan Finley | -4.9 | 82 | 77 |
| 83 | Carson Wentz | -5.2 | 83 | 19 |
| 84 | Jake Luton | -5.4 | 84 | N/A |
| 85 | Sam Darnold | -5.7 | 81 | 50 |