By MARK SIMON
Free (up) Kiké Hernández.
What exactly are we saying here? This isn't a plea to get Hernández on a team that will give him more playing time. He played in 80% of the Dodgers' games the last two seasons. This is a suggestion to whomever signs this free agent to play him at second base and just let him be.
It's understood that part of Hernández's value is in his utility (heck, he won a Fielding Bible Award in 2020 for multi-position play) and that he's not a great hitter against right-handed pitching (.235 BA, 25 HR in 553 at-bats the last three seasons). But let's counter that with the fact that the last two seasons he's played like an all-world second baseman in the field. Yes, we'd still take Andrelton Simmons as the best defensive player in this free agent class but Hernández has a pretty good highlight reel too.
Hernández has saved 21 runs with his defense in that time in just over 800 innings. By comparison, three-time Fielding Bible Award winner Kolten Wong has three more runs saved than Hernández does, but in nearly twice as many innings. We'll add that Hernández is one of two infielders to amass at least 10 Range Runs Saved in fewer than 1,000 innings at a position in that span. The other is Rangers third baseman Isiah Kiner-Falefa (who incidentally will be a full-time shortstop in 2021).
It's hard to fully capture Hernández's range value visually, but here's a look at everywhere in which he made a play the last two seasons.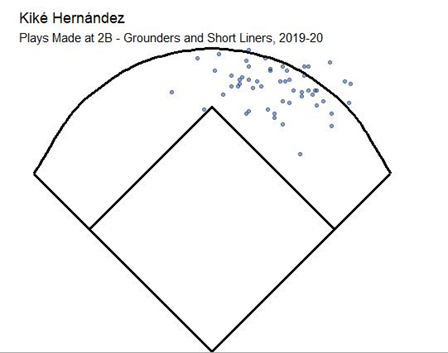 When you watched Hernández play second base in 2020, the thing that stood out the most was his hustle. He was aggressive in going after balls. According to charting by SIS Video Scouts, Hernández sprinted for 26 balls as a second baseman last season and successfully made the play on 22 of those attempts. His 85% success rate was easily the highest among the 20 second basemen with the most attempts last season.
Highest Success Rate on Sprints – 2020 Season
| | | |
| --- | --- | --- |
| Name | Plays Made/Opportunities | % |
| Kiké Hernández | 22/26 | 85% |
| Kolten Wong | 32/44 | 73% |
| Keston Hiura | 18/26 | 69% |
| Danny Mendick | 15/22 | 68% |
This is partly a product of how the Dodgers used their second basemen. The Dodgers weren't shy about placing them deep on the outfield grass when in a shift. That gives them more time to field a hard-hit ball and allowed Hernández to sprint when others wouldn't have time to do so. The three players who played the deepest second base last season per Statcast were Dodgers, with Hernández placing second between Chris Taylor and Gavin Lux.
"To be a good infielder, you definitely have to have good hands," Hernández said on the SIS Baseball Podcast earlier this year. "But on the defensive side, you do everything with your legs … Whether you catch ground balls or don't catch ground balls, that's based on your footwork. For me, moving my feet constantly. I just want to get to every balls. The quicker I get to the ball in the infield, the more time I have to set my feet and make a good, strong throw.
Here's an example of what we're talking about with his sprints. Dodgers broadcaster Joe Davis has gotten used to this kind of play. He makes it sound almost routine, even though that's not a way by which most second basemen make plays.
Hernández was able to make the play on that and similar balls. He can also come in on the ball. As Angels broadcaster Mark Gubicza points out, his glove-to-hand transfer is excellent and allows him to make plays like this.
"A lot of practice and a lot of preparation," Hernández said of the build up of that skill. "Something I take a lot of pride in is practicing with intent. Every throw I make in practice, I'm making it with intent."
And just to complete the package, Hernández can make the unusual play without issue. In this one from last season, he's playing in a defensive shift on the shortstop side of second base. The ball is hit to the right of second base, which under normal circumstances means that the runner on second can go to third base without issue. Not so fast.
In short, Hernández can do just about everything you would want a second baseman to do. Yes, you can have DJ LeMahieu and Kolten Wong and you'll do extremely well. But Hernandez should be a good first choice at second base for someone.