Now that the football season is over and the work for The SIS Football Rookie Handbook is behind us, it's time to combine those two things together and give you the 2020 Sports Info Solutions All-Rookie Teams. 
Using SIS's Total Points metric as our guide, we have come up with the All-Rookie 1st and 2nd Teams, consisting of one quarterback, three wide receivers, one running back and tight end, and a full offensive line on offense, and four defensive linemen/edge rushers, two off-ball linebackers, two cornerbacks, two safeties, and one hybrid player on defense.
While Total Points was used in most of the decision making, we also factored in playing time and a few other advanced stats to break any ties or close calls.
Here are the 2020 Sports Info Solutions All-Rookie Teams:
Let's begin with our overall Offensive, Defensive, and Special Teams Rookies of the Year. With 116 Total Points, far and away above any other rookie, Justin Herbert takes home Offensive Rookie of the Year. With 38 Total Points, No. 2 overall pick Chase Young is the Defensive Rookie of the Year. Finally, with 13 Total Points to lead all rookie special teamers, Tyler Bass is crowned Special Teams Rookie of the Year.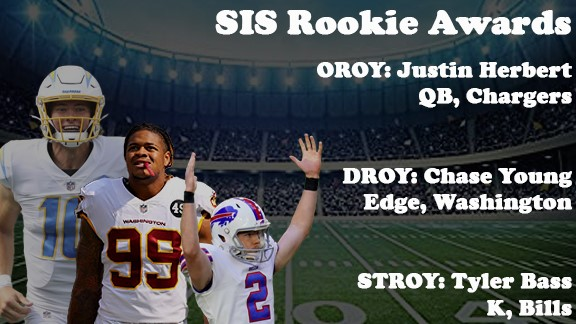 Sports Info Solutions All-Rookie 1st-Team Offense
| | | | |
| --- | --- | --- | --- |
| Position | Player | Team | Total Points |
| Quarterback | Justin Herbert | Chargers | 116 |
| Running Back | Jonathan Taylor | Colts | 37 |
| Wide Receiver | Justin Jefferson | Vikings | 45 |
| Wide Receiver | Tee Higgins | Bengals | 24 |
| Wide Receiver | Brandon Aiyuk | 49ers | 23 |
| Tight End | Cole Kmet | Bears | 10 |
| Tackle | Tristan Wirfs | Buccaneers | 36 |
| Tackle | Jedrick Wills | Browns | 21 |
| Guard | Michael Onwenu | Patriots | 29 |
| Guard | Cesar Ruiz | Saints | 25 |
| Center | Lloyd Cushenberry III | Broncos | 14 |
| Kicker | Tyler Bass | Bills | 13 |
Quarterback: Justin Herbert, Chargers
After having to make a surprise start Week 2 against the reigning Super Bowl champs, Justin Herbert never looked back. Herbert's 116 Total Points ranked 7th among all quarterbacks and 4,336 yards ranked 6th. His 6-9 record and one 4th-quarter comeback weren't indicative of his overall play as he led the team down for a score or a chance to win multiple times, but to have the kicking game or defense falter behind him. Herbert broke nearly every rookie passing record and looks to be a star in the making in Los Angeles.
Running Back: Jonathan Taylor, Colts
Jonathan Taylor was outside the NFL's top 20 in rushing and had logged only one broken tackle through Week 10 of the 2020 season. But despite missing a game and a week of practice due to COVID protocols down the stretch, only Offensive Player of the Year Derrick Henry gained more rushing yards and first downs the rest of the regular season than Taylor, who also broke 11 tackles in that six-game period.
Wide Receiver: Justin Jefferson, Vikings
When the Vikings threw to Justin Jefferson, good things happened. He finished his rookie season third among all receivers and tight ends in Points Earned (behind only Travis Kelce and Stefon Diggs). After being bound to the slot his final year at LSU, 41% of his rookie year receptions came from wide alignments, he received the third-most Air Yards in the NFL, and he was one of only four players with over 100 targets to average at least 10 Yards per Target. His 45 Total Points were the most of all non-QB rookies.
Wide Receiver: Tee Higgins, Bengals
In the 2021 NFL Draft, Tee Higgins fell to the second round and was paired with No. 1 overall pick Joe Burrow in Cincinnati. Even with a healthy A.J. Green, Higgins was targeted 108 times (one behind Tyler Boyd for the team lead) and led the team with 908 yards on 67 receptions. Higgins' 1st-Down Rate of 77.6% ranked 6th among all receivers with at least 50 targets. Additionally, his 137 Yards After Contact ranked 19th among wide receivers.
Wide Receiver: Brandon Aiyuk, 49ers
For a team riddled with injuries, the 49ers found consistency with their first-round pick Brandon Aiyuk. Aiyuk made 11 starts, saw 96 targets and caught 60 of his 71 catchable targets for a team-leading 748 yards and 5 touchdowns. Not only did he make plays as a receiver, but he also added 77 yards and 2 touchdowns on the ground.
Tight End: Cole Kmet, Bears
After beginning the year third on the Bears' tight end depth chart, Kmet played over 70% of snaps in each of the team's final eight games of the season, including playoffs. Coinciding with Mitchell Trubisky's return to the lineup, Kmet was third on the team in targets and receptions in that final stretch, and he was second among all tight ends in On-Target Catch Rate for the season (minimum 40 targets).
Tackle: Tristan Wirfs, Buccaneers
Tristan Wirfs was a clear first-place finisher in rookie OL Total Points this year, largely due to his ability to assist Tom Brady and the Buccaneers' passing game, from which 24 of his 36 Total Points came. Wirfs didn't miss a snap at right tackle all season, including the Super Bowl run. Tampa Bay finished second in the NFL in sack rate, a testament to the 43-year-old Brady as much as it is to Wirfs and his linemates. Wirfs received the 3rd-most votes among right tackles in All-Pro voting as a rookie.
Tackle: Jedrick Wills, Browns
Jedrick Wills was one of the key pieces to the Browns' success this year and a big reason Cleveland saw their first playoff appearance since 2002. As Baker Mayfield's blind-side protector, Wills helped Mayfield to the 5th-best On-Target% and 6th-best IQR in the second half of the regular season. On the ground, Wills ranked 23rd among offensive linemen who started at least 10 games with 2.6 Yards Before Contact on runs to his gap.
Guard: Michael Onwenu, Patriots
While Onwenu spent 12 of his 16 starts at right tackle, we're bending the rules a bit to get our best groups represented. The Patriots' sixth-round pick was expected to back up along the interior but earned immediate playing time and rotated at both guard spots and jumbo tight end before settling in at right tackle in Week 7. He was second in his rookie class in Run and Pass Total Points, respectively.
Guard: Cesar Ruiz, Saints
Although Cesar Ruiz was a center at Michigan and Erik McCoy was already on the roster, the Saints still drafted Ruiz with the No. 24 overall pick. After missing Week 1 due to injury and easing into action Week 2, Ruiz slotted in at right guard and played at least 60% of the offensive snaps in 12 of the final 14 games with 9 starts, including playing 100% of the snaps in each playoff game. He made his name as a run blocker, with positive plays 48.5% of the time on runs to his gap, and his 15 Total Points on run plays ranked 21st among all offensive linemen.
Center: Lloyd Cushenberry III, Broncos
Cushenberry was the only Broncos offensive player to not miss a snap in 2020. He led the NFL in Blown Blocks on run plays, but his 12 Total Points and zero holding penalties on pass plays give him the nod among rookie centers.
Kicker: Tyler Bass, Bills
A sixth-round pick in the 2020 NFL Draft, Tyler Bass went 2-for-4 against the Jets in his NFL debut but finished 33-for-39 the rest of the way, including playoffs. The next meeting with the Jets, Bass went 6-for-8 scoring all 18 Bills points in a 18-10 win. Additionally, his 57 made extra points tied for the most in the NFL with Wil Lutz.
Sports Info Solutions All-Rookie 1st-Team Defense
| | | | |
| --- | --- | --- | --- |
| Position | Player | Team | Total Points |
| Edge | Chase Young | Washington | 38 |
| Edge | Alex Highsmith | Steelers | 23 |
| Interior Defensive Lineman | Derrick Brown | Panthers | 21 |
| Interior Defensive Lineman | Javon Kinlaw | 49ers | 16 |
| Linebacker | Patrick Queen | Ravens | 34 |
| Linebacker | Jordyn Brooks | Seahawks | 27 |
| Linebacker/Defensive Back | Jeremy Chinn | Panthers | 29 |
| Cornerback | Cameron Dantzler | Vikings | 43 |
| Cornerback | Jaylon Johnson | Bears | 32 |
| Safety | Kamren Curl | Washington | 36 |
| Safety | Antoine Winfield Jr. | Buccaneers | 29 |
| Punter | Joseph Charlton | Panthers | 11 |
Edge: Chase Young, Washington
Not only did Chase Young lead the 2020 rookie defensive end class in pressures and sacks, he also led the group in tackles and TFLs on run plays. He tied for the overall NFL lead in forced and recovered fumbles, was top-10 in pressures after Week 10, and fully lived up to his lofty draft status, earning Defensive Rookie of the Year honors.
Edge: Alex Highsmith, Steelers
Despite logging only two sacks on the season and not getting significant game time until the final 5 games of the year, Highsmith actually led the 2020 rookie class with a 12.4% Pressure Rate for the year (minimum 20 pressures). His 19 total pressures over those final five regular season games were tied for 8th in the entire league in that stretch among all defensive ends and linebackers.
Interior Defensive Lineman: Derrick Brown, Panthers
The 7th overall pick in the 2020 NFL Draft, Derrick Brown finished in the top 15 of all NFL defensive tackles in QB hurries and tackles for loss. He played over 50% of snaps in all 16 games, and he was credited with 8 Points Saved against the pass and 9 against the run, validating his true three-down ceiling as a prospect.
Interior Defensive Lineman: Javon Kinlaw, 49ers
Javon Kinlaw stamped his ticket to the first round during an outstanding week at the Senior Bowl and then continued that production for the 49ers in 2020. Kinlaw played in 14 games with 12 starts and was on the field for 53% of the overall defensive snaps. He finished the season with 34 tackles, 1.5 sacks, 15 pressures, and even had 3 passes deflected at the line. He also showed off his athleticism picking off Jared Goff and returning it 27 yards for a touchdown against the Rams in late November.
Linebacker: Patrick Queen, Ravens
Patrick Queen started every game for the Ravens and proved his range by finishing in the top 10 in tackles on designed off-tackle and outside runs league-wide. He also added 18 pressures and 3 sacks as a pass rusher. He'll need to improve his tackling efficiency (5th-worst Broken/Missed Tackle Rate among LBs with at least 5 tackles/game) and his coverage rates could be better, but overall Queen was easily the top rookie LB in Total Points.
Linebacker: Jordyn Brooks, Seahawks
Jordyn Brooks didn't rush the passer much, but he teamed up with Bobby Wagner at the heart of the Seahawks run defense. Brooks actually tied his teammate with 13 Run Defense Points Saved which ranked him 17th in the league among all linebackers. Brooks totaled 57 tackles and ranked third in the league among linebackers with only a 3.4% Broken + Missed Tackle Rate despite being on the field for only 32% of snaps over 14 games.
Linebacker/Defensive Back: Jeremy Chinn, Panthers
Jeremy Chinn immediately contributed as a late second-round pick in 2020 and lined up just about everywhere in his 15 starts. Chinn saw 40% of his snaps as an off-ball linebacker, 25% at safety, 23% in the slot, and 8% on the edge. He also saw nine snaps as an outside corner. As far as numbers go, he filled up the stat sheet. His 117 tackles tied for 17th-most in the league. Chinn also gave up the 2nd-fewest yards per attempt from the slot behind only Minkah Fitzpatrick (among 66 safeties who saw at least 10 targets while defending receivers from the slot).
Cornerback: Cameron Dantzler, Vikings
For the first eight weeks of the season, Dantzler had the league's 6th-worst Passer Rating Against among cornerbacks (minimum 15 targets) and had allowed 4 touchdowns. However, after returning in Week 11 from a scary midseason neck injury, Dantzler led all NFL corners in Passing Points Saved and was third-best in Passer Rating Against the rest of the season, logging 2 interceptions and conceding no further touchdowns. He finished with the most Total Points of the 2020 defensive rookies.
Cornerback: Jaylon Johnson, Bears
There were concerns about Jaylon Johnson's shoulder injury history coming into the NFL and another one forced him to miss the final 3 games of the season. However, before that, Johnson started all 13 games, never seeing less than 85% of the snaps except for the game he got injured. Johnson gave up the 29th-most yards, but he tied for the 2nd-most passes defended with 15 and the 7th-best Deserved Catch Rate at just 70% among cornerbacks who saw at least 25 targets their way.
Safety: Kamren Curl, Washington
Seventh-round pick Kam Curl rotated as Washington's nickel back for the first 7 weeks of the season before safety Landon Collins ruptured his Achilles. Curl stepped into his role full-time and, from that point on, led all secondary defenders in tackles and was a top-10 safety in Run Defense Points Saved. He wasn't lacking in coverage, either. For the season, he had the 7th-best Passer Rating Against among safeties (minimum 20 targets) and tallied 3 interceptions and 2 sacks, adding up to a Draft-Day steal and the clear No. 1 rookie safety in Total Points.
Safety: Antoine Winfield Jr., Buccaneers
Size and durability concerns led to Antoine Winfield Jr. falling to the middle of the second round in the Draft. However, he went on to start 19 games (only missing the NFC Championship Game against Green Bay with injury), play 97% of the regular season defensive snaps, and win a Super Bowl. He finished the regular season with 92 tackles, 3 passes defended, and an interception, even adding a second against Patrick Mahomes in the Super Bowl. Winfield also ranked top 25 among safeties in Passer Rating Against (minimum of 20 targets).
Punter: Joseph Charlton, Panthers
Joseph Charlton showed off his leg at South Carolina and then the Senior Bowl before landing with the Panthers as an Undrafted Free Agent. Charlton had the 3rd-fewest punts of any full-time punter in 2020 with 45, yet he still managed 21 punts inside the 20, 9 punts inside the 10, forced 16 fair catches, and only had 3 touchbacks. His 46.2 raw punt average ranked 10th and his 42.2 net average ranked 15th.
In all, six offensive 1st-Teamers and five defensive 1st-Teamers received a 6.7 final grade or higher from us in the 2020 edition of The SIS Football Rookie Handbook, suggesting those players will at least be high-end three-down starters beginning their second season. We'll see if they begin 2021 the way they played in 2020 to warrant those final grades, but we like their chances.
Below, you can find our All-Rookie 2nd Teams which still included big names, such as Joe Burrow, Clyde Edwards-Helaire, Mekhi Becton, Yetur Gross-Matos, and Isaiah Simmons.
Sports Info Solutions All-Rookie 2nd-Team Offense
| | | | |
| --- | --- | --- | --- |
| Position | Player | Team | Total Points |
| Quarterback | Joe Burrow | Bengals | 49 |
| Running Back | Clyde Edwards-Helaire | Chiefs | 13 |
| Wide Receiver | Chase Claypool | Steelers | 21 |
| Wide Receiver | Darnell Mooney | Bears | 17 |
| Wide Receiver | Laviska Shenault | Jaguars | 12 |
| Tight End | Adam Trautman | Saints | 5 |
| Tackle | Mekhi Becton | Jets | 21 |
| Tackle | Robert Hunt | Dolphins | 21 |
| Guard | Jonah Jackson | Lions | 24 |
| Guard | Solomon Kindley | Dolphins | 19 |
| Center | Tyler Biadasz | Cowboys | 8 |
| Kicker | Rodrigo Blankenship | Colts | 7 |
Sports Info Solutions All-Rookie 2nd-Team Defense
| | | | |
| --- | --- | --- | --- |
| Position | Player | Team | Total Points |
| Edge | Alton Robinson | Seahawks | 15 |
| Edge | Yetur Gross-Matos | Panthers | 13 |
| Interior Defensive Lineman | DaVon Hamilton | Jaguars | 14 |
| Interior Defensive Lineman | Tershawn Wharton | Chiefs | 14 |
| Linebacker | Willie Gay | Chiefs | 15 |
| Linebacker | Tae Crowder | Giants | 11 |
| Linebacker/Defensive Back | Isaiah Simmons | Cardinals | 15 |
| Cornerback | Michael Ojemudia | Broncos | 25 |
| Cornerback | Trevon Diggs | Cowboys | 21 |
| Safety | Jordan Fuller | Rams | 25 |
| Safety | Kyle Dugger | Patriots | 14 |
| Punter | Tommy Townsend | Chiefs | 7 |
There were a few close calls on both teams and honorable mentions we'd like to highlight.
The 1st-Team tackle spot next to Wirfs was a neck-and-neck three-way tie in Total Points between Wills, Becton and Hunt, the 1st-Team guard spot next to Onwenu was tight between Ruiz and Jackson (If you're a stickler who would have wanted us to stick to players with a majority of games at their selected position, Jackson of the Lions would have ascended to First Team and Onwenu would have moved to 1st-Team tackle) and Michael Pittman Jr. and Gabriel Davis are deserving of a mention for 2nd-Team wide receiver consideration. Defensively, Mykal Walker had a good case for a 2nd-Team linebacker selection, as did Jeff Gladney at cornerback.
The Carolina Panthers (three 1st-Team & one 2nd-Team) and the Kansas City Chiefs (four 2nd-Team) tied with the most selections at four apiece. Additionally, all but six teams were represented, suggesting there was a lot of talent in the 2020 Draft class that was dispersed throughout the league.
Be sure to grab your copy of this year's SIS Football Rookie Handbook to get a leg up on who we think could vie for the 2021 All-Rookie Teams. It's available for pre-order now at this link with an expected release date of March 1.