BY JAMES RODRIGUEZ
As we continue our series of articles on football injuries, I want to focus on two athletes that have different injury histories, production, and playing style. I will use one athlete's injury-riddled campaign to guide a thought process for a current athlete battling a comparable injury.
We must begin with an anatomy lesson, and I promise I will keep this brief: 
The most common muscle groups injured are the groin, hamstring, quads, and calves. These lower-body muscles are susceptible to injury because they are long muscles that span the length of 2 joints. 
These muscles generate a tremendous amount of force to accelerate, run, jump, and cut. With all that power, these muscles can easily become tight, which makes them susceptible to strain under stresses that lengthen them. That is about as basic as I can sum it up for the purposes of this article.  
Keep in mind that these posts are written to be transferred and applied to other players not specifically highlighted. They are to be a guide on how to approach a situation. 
Exhibit A: Julio Jones.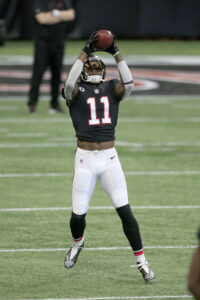 He is one of the best wide receivers to ever grace a football field. In addition to his accolades, he has played in at least 13 games in 8 of his 10 seasons. The exceptions are his third season when he broke his foot and last year when he tried to manage a hamstring injury. 
My most recent article went into depth on hamstring injuries and this situation will buffer that research-based take. Jones initially injured his hamstring during Week 2, 2020.
This is a breakdown of his 2020 campaign: 
Week 3– Out
Week 4- Reaggravates and limited to 21% of the snaps
Week 5– Out
Week 6-9- Very productive and effective
Week 10- Bye
Week 11- Reaggravates and limited to 36% of the snaps
Week 12- Out
Week 13– Effective return but subsequently shut down for the remainder of the season
Jones did prove that he could play with the muscle strain, but it was the management of it and the unpredictability of his performances that was so frustrating to fans. As previously discussed in our last article, the biggest risk factor for a hamstring strain is a history of a hamstring strain. 
That can be extrapolated to other muscles as well.
Which leads us into Exhibit B: Curtis Samuel.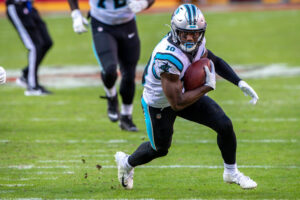 If Jones was the apples in my metaphor, allow me to introduce Samuel as the oranges. And yes, I understand that these are two different injuries. Samuels' being the groin and Jones' being the hamstring, but they are both muscles and they follow the same tissue regeneration principles. We will use one athlete's recovery to help explain our determination of how to handle the other. 
Samuel initially suffered his groin strain mid-June and slowly worked his way back to a full  practice by September 6 with the anticipation that he would be ready to play by Week 1. Two days later, he reaggravated his groin and was placed on IR. That is 12 weeks that the training staff was preparing Samuel for his eventual return only to have their plans foiled. 
Research states that a reaggravation of the initial injury can make the subsequent rehab duration longer by up to 30%. If that is the case, this recovery could take 12 to 16 weeks which would completely neutralize any value this season.
I don't expect his recovery to take that long, but I also don't anticipate him returning after the completion of his IR stint in Week 4.
Fantasy Ramifications
As he continues to progress through his rehab, reports will be glowing about his readiness to play. I caution you during this time as I will refer you to the story of Jones last season. 
If you had Jones on your team last year, you remember the frustrations of handling this situation. You likely played him on the weeks where he couldn't finish the game because, well, he's JULIO JONES. And you probably benefited from a mere 4 of his 6 productive games last season because he burned you in the others. 
You may grab Curtis to roster him, but the chances of you playing him his first week back are unfortunately lower than the chances of him reaggravating his injury.
If you have the roster flexibility at the time reports of Samuel's return postulate, he can be your midseason flyer. If you are in a situation, where you need your roster spots to manage the bye weeks or you need a win to make the playoffs, he doesn't need to be on your roster.
Best of luck to those athlete's recoveries and to our fantasy teams as we negotiate the everchanging landscape.