In a Week 2 loss to the Bears, Joe Burrow threw three interceptions and was sacked five times.
That dropped him nine spots in our World's No. 1 QB Rankings. After that game, Burrow ranked 33rd. For perspective, at that moment he was eight spots behind Washington QB Taylor Heinicke. Heinicke and Burrow basically changed places in Week 2. Burrow went from 24 to 33. Heinicke went from 34 to 25 after beating the Giants.
Flash forward five months and Burrow now ranks No. 7.
And for what it's worth, Heinicke ranks third-to-last, ahead of only Ben Roethlisberger and Mike Glennon.
But we're here to focus on the Super Bowl QB.
A reminder that The World's No. 1 Quarterback Ranking is based on a model devised by Bill James to evaluate The World's No. 1 Starting Pitcher. Bill's model was based on cumulative evaluation of individual starts over an extended time using the metric Game Score.
The World's No. 1 Quarterback Ranking uses our player value stat Total Points to make a cumulative evaluation of game performance over a three-year period. The key to our calculation is Points Above Average (PAA), which is the statistical underpinning of Total Points that is centered at zero so that positive numbers are above average and negative numbers are below average.
Success over time is key to maintaining a good ranking. Prolonged inactivity results in a ranking drop. The most recent performances carry the most weight.
That last sentence is Burrow's season story. He ranked as low as No. 33 as we noted. After a six-sack, two-pick game against the Chargers in Week 13, he ranked No. 21, two spots behind Jimmy Garoppolo and 15 places behind Kirk Cousins, of whom he now sits one spot ahead.
Here's the current Top 10.
Patrick Mahomes
Justin Herbert
Aaron Rodgers
Josh Allen
Tom Brady
Matthew Stafford
Joe Burrow
Kirk Cousins
Derek Carr
Kyler Murray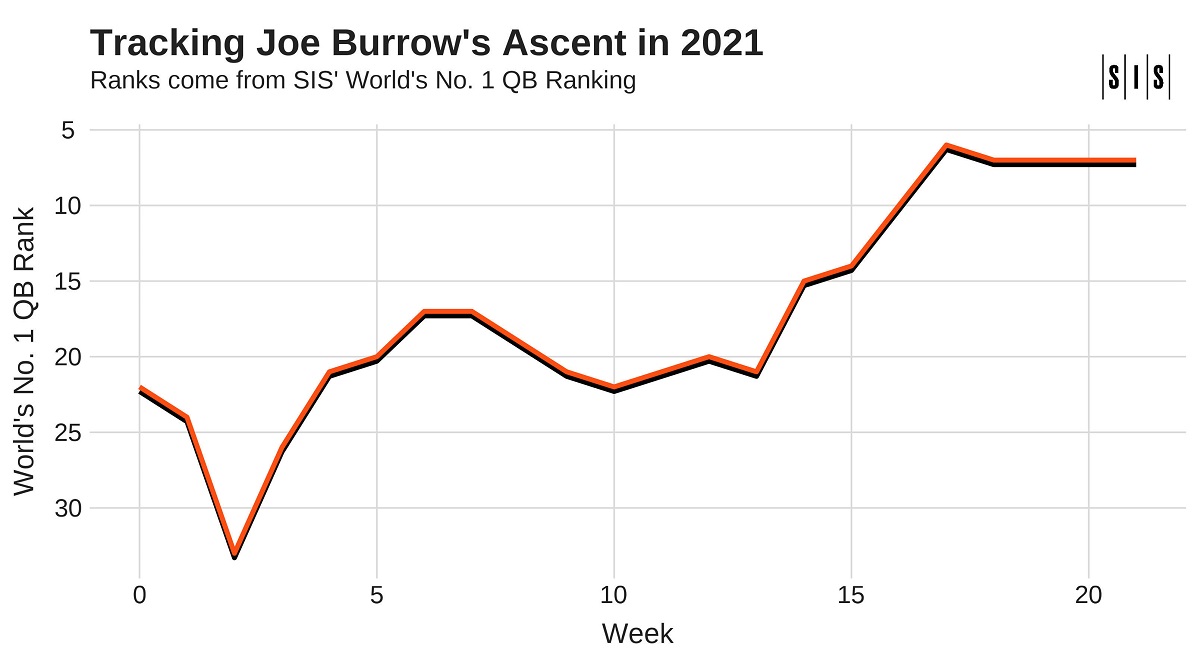 Since Week 14, which was actually a loss to the 49ers, Burrow has played at a different level, with 15 touchdown passes, 2 interceptions, and ranks top-two in completion percentage, catchable pass percentage, and on-target percentage (including the postseason).
But maybe we could have seen this coming. Even in Weeks 1-13, when Burrow had 23 TD passes and 14 interceptions, Burrow led the NFL in catchable pass percentage (89%) and was 2nd in on-target percentage (83%).
Burrow's on-target percentage was actually one percentage point better in Weeks 1-13 than it has been from Week 14 to now.
Where Burrow's growth has come that has led to his jump up the rankings is in his play when pressured. Yes, he's still taking his fair share of sacks (remember the nine times he went down against the Titans), but when he's able to get the ball out, he's done much more damage relative to what he was doing earlier in the season. He's looked to shorter passes for greater success.
Case in point against the Chiefs, where he was 9-of-14 for 120 yards and a touchdown, including two key first-down completions to Tee Higgins on the drive at the end of the first half that cut KC's lead to 21-10
Burrow When Pressured in 2021
| | | |
| --- | --- | --- |
| | Weeks 1-13 | Since Week 14 |
| Catchable Pass % | 78% | 90% |
| TD-INT | 4-6 | 4-0 |
| Sack % | 27% | 25% |
| ADOT | 12.1 yds | 7.5 yds |
The Rams' pressure will be a different kind of pressure than any Burrow has seen this season.
Los Angeles ranks first in the NFL in Pass Coverage Points Saved Per Play.  Including the postseason, they have allowed only 3 touchdown passes and recorded 11 interceptions when pressuring opposing quarterbacks (the rest of the NFL has allowed 236 TD and recorded 168 interceptions when pressuring a QB).
But hey, if you want to win a Super Bowl and keep climbing the World's No. 1 QB Rankings, you're going to have to get past the biggest obstacle in your way at some point.
Here's the full set of rankings.
| | | | | |
| --- | --- | --- | --- | --- |
| Rk | Player | PAA Per 60 Plays | LastRk | StartOfSeasonRank |
| 1 | Patrick Mahomes | 6.2 | 1 | 2 |
| 2 | Justin Herbert | 6.2 | 2 | 10 |
| 3 | Aaron Rodgers | 6.1 | 3 | 1 |
| 4 | Josh Allen | 5.8 | 4 | 6 |
| 5 | Tom Brady | 5.3 | 5 | 3 |
| 6 | Matthew Stafford | 3.7 | 6 | 14 |
| 7 | Joe Burrow | 3.1 | 7 | 22 |
| 8 | Kirk Cousins | 2.4 | 8 | 9 |
| 9 | Derek Carr | 2.0 | 9 | 7 |
| 10 | Kyler Murray | 1.7 | 10 | 15 |
| 11 | Russell Wilson | 1.5 | 11 | 5 |
| 12 | Lamar Jackson | 0.9 | 12 | 12 |
| 13 | Teddy Bridgewater | 0.8 | 13 | 18 |
| 14 | Ryan Tannehill | 0.8 | 14 | 8 |
| 15 | Dak Prescott | 0.7 | 15 | 17 |
| 16 | Mac Jones | 0.6 | 16 | N/A |
| 17 | Matt Ryan | -0.1 | 17 | 11 |
| 18 | Carson Wentz | -0.5 | 19 | 81 |
| 19 | Taysom Hill | -0.7 | 20 | 20 |
| 20 | Jimmy Garoppolo | -0.7 | 18 | 25 |
| 21 | Jameis Winston | -0.9 | 21 | 55 |
| 22 | Jacoby Brissett | -1.1 | 22 | 21 |
| 23 | Josh Johnson | -1.3 | 23 | 49 |
| 24 | Jalen Hurts | -1.4 | 24 | 70 |
| 25 | Tua Tagovailoa | -1.4 | 25 | 50 |
| 26 | Ryan Fitzpatrick | -1.9 | 26 | 16 |
| 27 | Trevor Siemian | -1.9 | 27 | N/A |
| 28 | Gardner Minshew | -2.0 | 28 | 32 |
| 29 | Colt McCoy | -2.2 | 29 | 51 |
| 30 | Jared Goff | -2.2 | 30 | 31 |
| 31 | Tyrod Taylor | -2.3 | 31 | 56 |
| 32 | Kyle Allen | -2.3 | 33 | 34 |
| 33 | Chad Henne | -2.3 | 32 | 29 |
| 34 | John Wolford | -2.4 | 34 | 24 |
| 35 | Case Keenum | -2.5 | 35 | 60 |
| 36 | Marcus Mariota | -2.5 | 36 | 27 |
| 37 | Mason Rudolph | -2.5 | 37 | 26 |
| 38 | Geno Smith | -2.5 | 38 | N/A |
| 39 | C.J. Beathard | -2.6 | 39 | 30 |
| 40 | Blaine Gabbert | -2.6 | 40 | 36 |
| 41 | Brett Hundley | -2.7 | 41 | 35 |
| 42 | Matt Barkley | -2.7 | 42 | 48 |
| 43 | Chase Daniel | -2.7 | 43 | 39 |
| 44 | Nick Mullens | -2.7 | 44 | 72 |
| 45 | Nate Sudfeld | -2.7 | 45 | 52 |
| 46 | Josh Rosen | -2.7 | 46 | 58 |
| 47 | Brian Hoyer | -2.7 | 47 | 59 |
| 48 | David Blough | -2.8 | 48 | 61 |
| 49 | Joe Flacco | -2.9 | 51 | 63 |
| 50 | Zach Wilson | -2.9 | 50 | N/A |
| 51 | Drew Lock | -2.9 | 49 | 23 |
| 52 | Will Grier | -2.9 | 52 | 69 |
| 53 | Mike White | -2.9 | 53 | N/A |
| 54 | Brett Rypien | -2.9 | 54 | 65 |
| 55 | Jarrett Stidham | -2.9 | 55 | 66 |
| 56 | Jordan Love | -3.0 | 56 | N/A |
| 57 | Tyler Huntley | -3.1 | 57 | 57 |
| 58 | Sean Mannion | -3.1 | 58 | 45 |
| 59 | Garrett Gilbert | -3.1 | 59 | 54 |
| 60 | Nick Foles | -3.1 | 60 | 76 |
| 61 | Cooper Rush | -3.2 | 61 | N/A |
| 62 | Ian Book | -3.2 | 62 | N/A |
| 63 | Daniel Jones | -3.2 | 63 | 71 |
| 64 | Baker Mayfield | -3.3 | 64 | 13 |
| 65 | Dwayne Haskins | -3.3 | 65 | 78 |
| 66 | Chris Streveler | -3.3 | 66 | 62 |
| 67 | Trevor Lawrence | -3.4 | 67 | N/A |
| 68 | Trey Lance | -3.4 | 69 | N/A |
| 69 | Jake Luton | -3.4 | 68 | 79 |
| 70 | Mitchell Trubisky | -3.5 | 70 | 80 |
| 71 | Brandon Allen | -3.7 | 72 | 75 |
| 72 | Phillip Walker | -3.7 | 71 | 67 |
| 73 | Tim Boyle | -3.7 | 73 | N/A |
| 74 | Justin Fields | -3.8 | 74 | N/A |
| 75 | Cam Newton | -3.8 | 75 | 19 |
| 76 | Jake Fromm | -4.0 | 76 | N/A |
| 77 | Andy Dalton | -4.1 | 77 | 46 |
| 78 | Davis Mills | -4.8 | 78 | N/A |
| 79 | Sam Darnold | -5.2 | 79 | 82 |
| 80 | Taylor Heinicke | -5.5 | 80 | 28 |
| 81 | Ben Roethlisberger | -6.5 | 81 | 53 |
| 82 | Mike Glennon | -6.8 | 82 | 73 |