We previously wrote about Roki Sasaki's perfect game with the promise of more articles to come on great pitching in NPB. So now let's examine the June 18 no-hitter for one of Japan's brightest young stars, Yoshinobu Yamamoto of the Orix Buffaloes.
The 23-year-old Yamamoto dominated the Seibu Lions lineup, the first team to be held hitless twice in a season since 1971 when the Nishitetsu Lions did the same.
Yamamoto has been brilliant during his young career, sporting a 1.83 ERA in 699  innings pitched since he debuted in 2017. He also won the Sawamura Award (Japan's Cy Young) last season as NPB's top pitcher.
What he's got
He combines excellent stuff and great command, attacking the strike zone with a refined and electric pitch mix, and a ruthless attitude as well.
His mindset is pouring in strikes with a hard 94-mph fastball; and in his no-hit game he achieved a 71-percent strike rate on 45 fastballs.
His four-seamer carries well through the zone and stays on plane all the way to the mitt. This causes hitters to swing consistently underneath the pitch when high in the zone. His fastball created eight swings and misses and six strikeouts (three looking and three swinging).
His incredible command of the pitch is very noticeable as he exhibits precision hitting the catcher's glove constantly. It wasn't until the bottom of the fifth that Yamamoto allowed his only baserunner, a walk on four pitches.
Besides this one hiccup, he was dialed in, throwing the fastball to all four quadrants of the zone. In the 9th, he threw his hardest pitch at 96.3 mph, dotting the outside corner for a strike – upping velocity without sacrificing command.
He got 26 strikes on 34 splitters, generating 10 swings and misses on the pitch. These whiffs were set up by throwing the fastball down in the zone, at the knees.
His splitter shows excellent fading action, moving down and arm side with a lot of movement. It netted 5 ground ball outs and 2 swinging strikeouts, because batters couldn't lift the pitch in the air.
Yamamoto also manipulates the shape of the splitter at times, as it resembles a sinker at around 92 mph. The pitch on average hits 90 mph, four off his average fastball.
If the batter lets the harder sinker-type split go, it might catch the bottom of the zone similar to his low four-seamer. If you swing, you may look foolish as the late-fading splitter vanishes.
Grip pressure is key to what variation he throws. Yamamoto puts pressure on his pointer finger on the back half of the baseball seam and then pronates it by turning his arm over. When he pronates less, his grip causes the baseball to sink, and when he turns his arm over, he creates more fade to the pitch.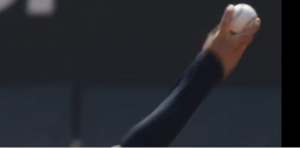 When Yamamoto throws high fastballs in the zone, he creates a beautiful pairing with his unique curveball. He uses a Ginoza grip, turning his wrist over and showing the back side of his hand to the batter.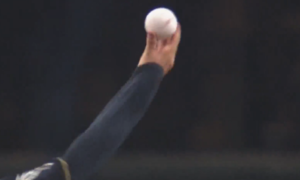 Then, he pushes or flicks the baseball, causing the pitch to tumble towards the plate with amazing 12-6 action off his finger. The breaking pitch falls out of the sky as it comes towards the plate with impressive sharpness.
Yoshinobu Yamamoto, Fastball & Curveball, Overlay.
Also see his unique curveball release.
One of the prettiest RHP curveballs in the world!

Yamamoto: 16-5, 1.42 ERA (170 innings) and has won his last 13 decisions.
Leads NPB in nearly every major pitching category. pic.twitter.com/GgeQul7q27

— Rob Friedman (@PitchingNinja) October 2, 2021
Along with fantastic sharpness, Yamamoto throws this curveball at a higher velocity than most, averaging around 77 mph. He can even get this pitch into the low 80s at times, whereas most curveballs with this grip usually are thrown in the low 70s.
Still, he primarily throws fastballs and splitters, throwing only 16 curveballs during this game. He mixes in the curveball, not only as a change-of-speed pitch but to keep hitters off of his high fastball.
He went to his fastball more with two strikes, throwing 17, compared to eight splitters and six curveballs, with his one and only slider thrown with two strikes in the 7th as well.
He showed a balanced first-pitch usage with 10 fastballs, 13 splitters, two curveballs, and one cutter. He attacks both right-handed and left-handed batters with fastballs, splitters, and curves in the same locations.
And when you add in a cutter at around 90 mph glove side (5 of 6 thrown for strikes), he creates another way to keep hitters from timing up and barreling his fastball. Hitters must respect the mix of his pitches.
A willingness to throw any of his three primary pitches at any time causes hitters fits. Yamamoto's combination of stuff and command is truly fun to watch and was on full display during his masterful no-hitter.