This is the third in our series of articles scouting NPB pitchers through the lens of their best work – the no-hitters they've thrown this season. Previous articles looked at those thrown by Roki Sasaki and Yoshinobu Yamamoto. In this piece, we'll look at the two others.
Higashihama's No-Hitter
Nao Higashihama, a 31-year-old veteran of the SoftBank Hawks, threw his first career no-hitter on May 11 against the Seibu Lions.
Higashihama has a 2.30 ERA this season  and 0.88 WHIPdespite averaging only 5.7 K per 9 (down from his career average of 7.6).
The veteran righty peppered the strike zone with 64 strikes on 97 pitches. His path to success was in working the outer edges and staying out of the middle of the plate.
Higashihama's fastball was around 92 mph and he does a good job of hiding the baseball behind his right leg to get a little more deception. He typically works away from right-handed batters and this outing was no exception as he threw 26 sliders and 19 fastballs to them in this start.
The slider is meant to work down in the zone and tunnel with his fastball to get righties out. The ball has a good tight spin out of his hand and he throws the pitch in and around the zone with the intent of creating weak contact, rather than swings and misses. The slider, at an average of 87 mph, has sharp bite and creates a lot of ground balls when tossed down and away from righties.
The difference between Roki Sasaki and Higashihama is the willingness to throw certain pitches. Higashihama primarily stayed fastball and slider to right-handed batters throwing only nine splitters as a show-me pitch at around 89 mph to right-handed batters, keeping them honest.
His approach to lefties is a different story, Higashihama pounded a weak spot in the zone to lefties on the outer part of the plate as he showed the two lefties in Seibu's lineup fastball in, and then out, followed by the splitter as his out pitch.
What's really impressive is that with two strikes on a hitter, Higashihama mixed all three of these pitches incredibly well.
He threw 9 fastballs, 9 splitters and 7 sliders in two-strike counts in this game. With only 6 strikeouts and 16 whiffs total, Higashihama repeatedly induced weak-contact grounders.
Compare this with the hard-throwing Sasaki who had 22 whiffs and 19 strikeouts total, with 20 whiffs on his splitter and just two on his fastball. Sasaki at times lived in the middle of the zone throwing a lot of strikes and getting many foul balls or takes with his fastball. Sasaki relentlessly attacked hitters with first-pitch fastballs, throwing 21 of them out of his 27 hitters faced, a 71% strike rate (15-of-21).
Higashihama mixes up his first pitch usage with 10 fastballs, 6 split-fingers, and 10 sliders. He also had a high strike rate with his fastball, 72%, as he painted corners on batters.
Higashihama with his balanced pitch selection ended up collecting 14 ground ball outs in the game out of the 19 balls in play, and didn't allow a hard-hit ball in the entire game. The pitchability of Higashihama was on full display as he even worked in a slow 72 mph curveball late in the game for a strike during the 3rd at-bat of the 6th inning, It was an effective wrinkle the second time through the order.
Higashihama kept hitters off-balance in a completely different way than Sasaki but both relied on a good number of fastballs to set up hitters. This is universally thought of as one of the better ways to approach hitters: establish the fastball early for a strike, which opens different avenues for your secondary pitches to get batters out.
And though we're all about evaluating pitching here, we need to remember to give props to his defense.
Nao Higashihama threw the 95th no-hitter in NPB history last night for the Softbank Hawks in 97 pitches!

The final out was a bit touch and go… 😯 pic.twitter.com/NOjNO2TmAj

— Baseball Brit (@BaseballBrit) May 11, 2022
Shota Imanaga's No-Hitter
Shota Imanaga of the Yokahama Baystars had the most unique game plan for his no-hitter on June 7 against the Nippon-Ham Fighters. The 28-year-old lefty sprayed the ball all over the zone, throwing 77 strikes on 117 pitches.
Imanaga has a 2.75 ERA and 0.92 WHIP this season. He's much more of a strikeout pitcher than Higashihama, averaging 9.2 per 9 innings.
When he did miss his intended target, he usually put the pitch in a good spot for a miss. If he wanted to go down and away from a right-handed batter with a fastball, he might miss up in the zone with it, but still on the outer part of the plate.
The fearlessness the lefty displayed was evident as he constantly tried to change eye levels with high fastballs up-and-in, followed by soft stuff down. In contrast, Higashihama and Sasaki were more horizontal in their approaches, working the bottom third of the zone in and out.
The difference in first-pitch usage was also drastic. Imanaga, unlike the other two, threw the kitchen sink at the plate, with 13 fastballs, 7 splitters, 5 cutters, and 3 curveballs thrown on the first pitch of at-bats.
Imanaga loved the use of his cutter/slider hybrid to keep hitters off the barrel. He throws the pitch with his hand more behind the ball, which looks more like a cutter with just a tiny bit of cut. However, he threw the cutter-type pitch in slider situations, down and glove side in the zone.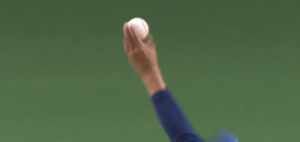 The grip above creates just a little cut to the ball and that's what Imanaga is looking for as he throws it primarily glove side.
Imanaga wasn't looking for the harder or more horizontal sweep of a slider. Imanaga threw 23 fastballs and 23 cutters vs left-handed batters, tunneling that pitch away very well in this game, and mixing and matching speeds.
Against right-handed batters he threw more splitters, 27 of them, almost all down and arm-side away. Both the split and cutter were used similarly to Higashihama with the idea of weak contact more than strikeouts.
Imanaga sprinkled in the curveball, which was actually hit hard at times, including a screaming line drive in the 6th that he snared to preserve his no-no, a great defensive play with a little luck as well.
During Imanaga's no-hitter, he allowed four hard-hit balls.
Overall, Imanaga got a good number of swings and misses, with 20 of them, compared to Sasaki's 23, Yamamoto's 21 and Higashihama's 16. He also had 7 strikeouts with his fastball, 4 looking and 3 swinging, the most of all three pitchers.
Imanaga was effectively wild in and out of the zone with his misses. He added two more strikeouts with the cutter, blending a little bit of what Sasaki and Higashihama did well in both of their starts into his one: a good fastball and a good cutter/slider with a good amount of splitters to right-handed batters.
Japanese baseball lends a different perspective into the game and this season so far has provided no shortage of dominant pitching performances to watch. Higashihama and Imanaga's no-hitters looked different from Yamamoto's and Sasaki's. It's cool to see how different pitchers dominate and we'll keep looking out for more NPB excellence the rest of the season.