With the Eastern Conference Playoffs beginning today, we wanted to break down each first-round matchup using our proprietary data. Each tile chart below outlines how teams faired in their head-to-head matchups this season including all possessions played, and all metrics given are Per 100 Possessions and do not include garbage time unless otherwise stated.
For a primer on Advantage Creation and some of the other metrics mentioned in these articles, check out our Twitter @SIS_Hoops and reach out if you have any questions!
Milwaukee Bucks (1) vs Miami Heat (8)
The Milwaukee Bucks defense is once again an elite unit, ranking 3rd in Opponent Points Per Chance (1.007), contesting the most shots in the league, and placing 1st in Adjusted Def Shooting Foul Rate (13.2), where players are penalized for fouls drawn by the offense.
The Bucks are primed to make an up-and-down Miami Heat offense work for every basket. A good helping of the Heat's scoring comes by way of the foul line, where they rank 6th in free throw rate this season (22.4).
Shots in the paint outside of the restricted area, where Milwaukee gives up the most looks of any team in the league (8.6) and Miami happens to be the league leader in shot frequency (7.3) with a 49.6% FG% (6th), could be the battleground where this series is decided.
Flipping ends of the court, Miami has been able to deter opponents from shooting at the rim, ranking 1st in Opponent Rim Attempts (30.5). Once opponents get there, however, Erik Spoelstra's squad has not contested well, ranking 29th in Above Average Rim Contest % (32.6%). With the immense rim pressure that Giannis Antetokounmpo puts on defenses — ranking in the 99th percentile in rim FGAs with 18.0 and in the 83rd percentile in rim TS% at 70.4% — the points in the paint battle will be of paramount importance. Keeping Giannis away from the rim will prove difficult as he is 2nd overall in Advantage Creation (36.5), but Giannis' TS% falls to the 11th percentile when rim FGAs are removed (43.1%).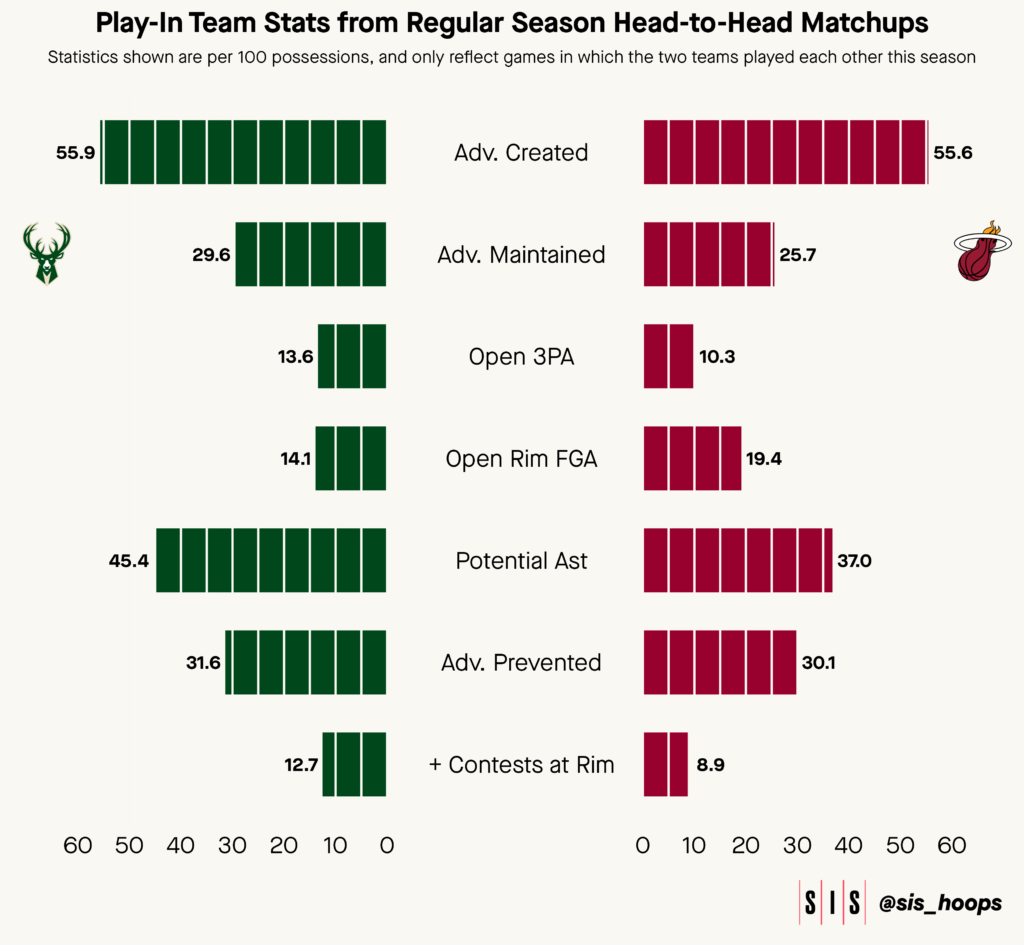 Boston Celtics (2) vs Atlanta Hawks (7)
The Boston Celtics measure as one of the best offenses this season, ranking 1st in Expected Offensive Rating (104.2) and 2nd in Points Per Chance (1.116). It is hard to envision how the Atlanta Hawks slow Boston's attack, as the Hawks rank 26th in Expected Defensive Rating (104.0) and 19th in Points Per Chance (1.046). Additionally, the Celtics rank in the top 10 in Advantage Creation (8th, 74.7) and are the best in the NBA at maintaining those advantages throughout the possession (1st, 34.3), while the Hawks rank 26th in Advantage Prevention (29.5).
Because their chances of stopping the Celtics are low, the Hawks' best path to victory involves outscoring the Celtics. Since the All-Star Break, the Hawks rank 2nd in Offensive Rating (122.1) and are led by one of the NBA's most prolific Advantage Creators, Trae Young, who ranks 2nd in the league this season with 33.3 Advantages Created per 100 Possessions.
And while the Celtics' defense is very good, the team has allowed the 2nd most advantages per 100 possessions against Isolations, a place where two Hawks thrive. In Isolation, Young creates 4.9 Advantages per 100 Possessions (94th Percentile) and Murray creates 3.5 per 100 Possessions (88th Percentile).
If he can create advantages, Young is capable of getting good shots for himself and his teammates. Young averages 22.4 Potential Assists per 100 Possessions (99th Percentile), but the main question will be if the Hawks can convert on those shots, where they have been inconsistent all season.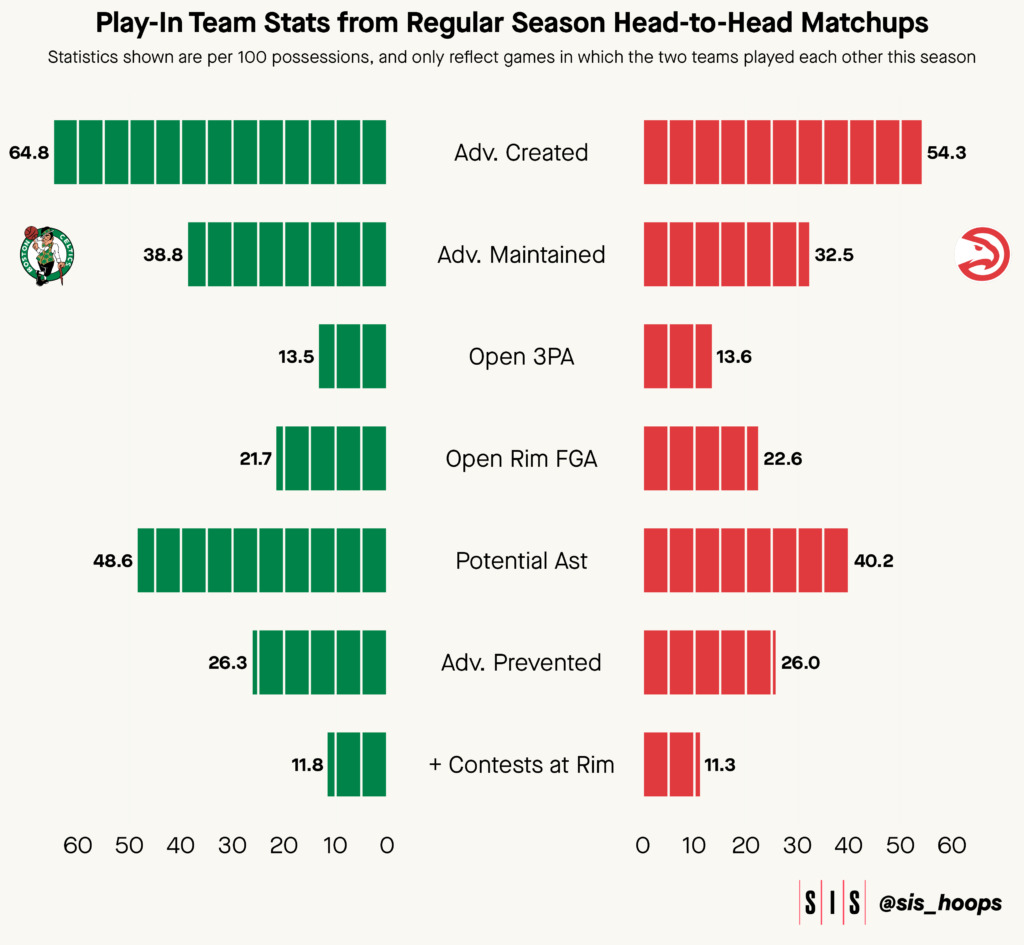 Philadelphia 76ers (3) vs Brooklyn Nets (6)
Since the Brooklyn Nets traded away superstars Kevin Durant and Kyrie Irving at the deadline, this series presents one of the largest star disparities: MVP favorite Joel Embiid and former Net James Harden versus Mikal Bridges and Spencer Dinwiddie. For the Nets to pull off the upset, they will need all of their players to contribute on both ends of the floor.
Since the All-Star Break, the Nets have struggled on the offensive end, but they have shown some promising signs on the defensive end, ranking 6th in Above Average Contest % (32.2%), which includes Blocks, Alters, and Plus contests, 1st in Least Defensive Miscues (6.12), and 1st in Least Advantages Allowed (45.0).
While these are great signs for Brooklyn's future, it will be much more difficult to execute in these areas against Embiid, who is in the 96th percentile for Advantages Created (27.4) and the 92nd percentile for Points Per Chance (1.181) and a Philadelphia 76ers team that ranks 6th in eFG% against Above Average Contests (38.4%).
A particular area of interest with Embiid is the fact that Philadelphia ranks 1st in the NBA in Adjusted Shooting Foul Rate (13.8), where players get additional credit for fouls they draw. However, last season we saw the Sixer's Adjusted Shooting Foul Rate decrease in the postseason.
Lastly, how the Nets choose to guard Embiid is key – Claxton had a great year on defense, rating in the 98th percentile for Defensive Points Per Chance (0.944), the 95th percentile in Foul% on Contests (8.3%), and the 98th percentile in Advantage Prevention (12.8), but defending Embiid is a lot to ask of the young center.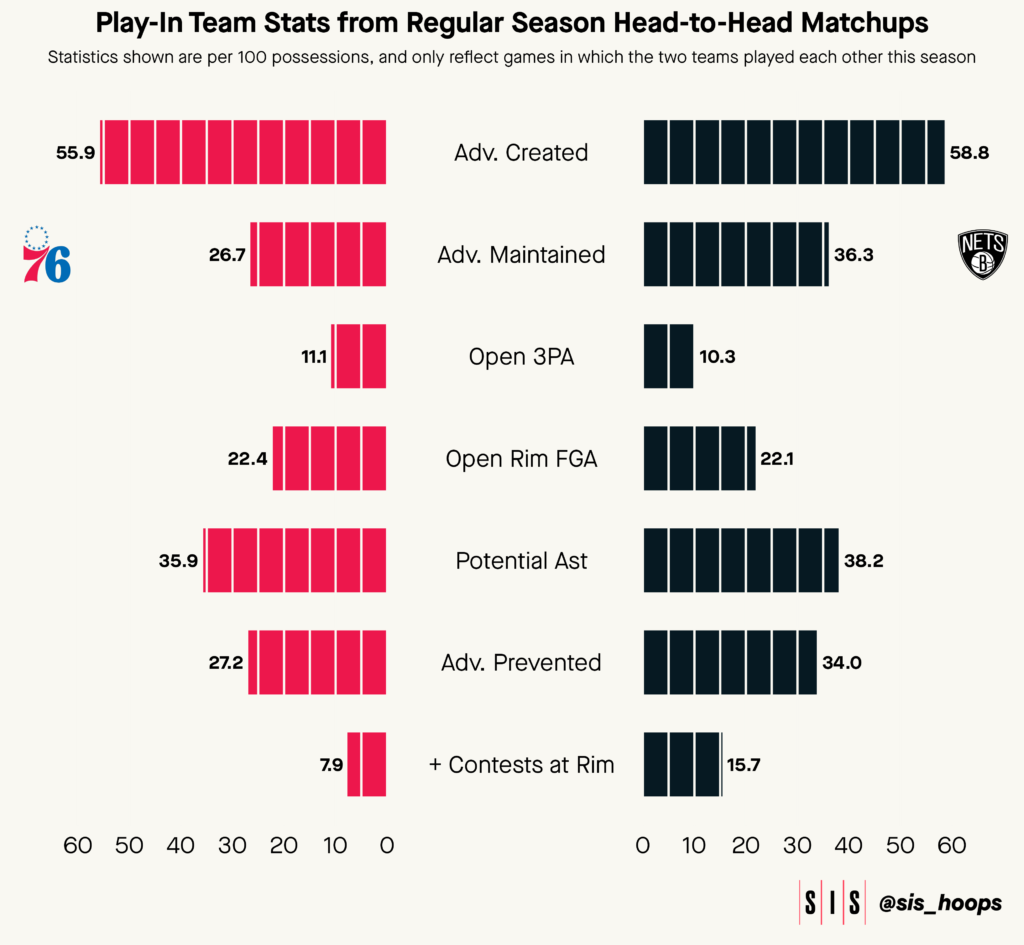 Cleveland Cavaliers (4) vs New York Knicks (5)
This matchup will be defined by how the Knicks' offense fares against the Cavaliers' defense.
The Cleveland Cavaliers measured as one of the best defensive teams in the NBA according to SIS data, ranking 2nd in Defensive Rating (106.4) and 1st in Expected Defensive Rating (98.6). This indicates that they forced their opponents into difficult shots by driving down the value of those shots through high-quality contests.
The Cavs rank 1st overall in Above-Average Contest % (37.4%), and they avoid below-average contests (3rd, 13.6%) and fouling (6th, 12.0%). On the other side of the matchup, the Knicks rank 22nd in eFG% against Above-Average Contests, which means they will have to convert those shots at a higher rate than they did in the regular season or create more open looks if they are going to challenge the Cavaliers' indomitable defense.
Additionally, the Knicks rank 4th in SIS Offensive Rating (119.2) but only 21st in Points Per Chance (1.057). The key to their success is in the SIS Advanced 4 Factors where the Knicks rank 2nd in Adjusted Shooting Foul Rate, they rank 3rd in Adjusted Turnover Rate, where players are penalized for unforced turnovers, and most importantly, they rank 1st in Contested Offensive Rebound %.
The Knicks' offensive rebounding will be key to their success, but it will not come easily as the Cavaliers rank 1st in Contested Defensive Rebound %. Who controls the glass when the Knicks are on offense could be a significant factor in the outcome of this series.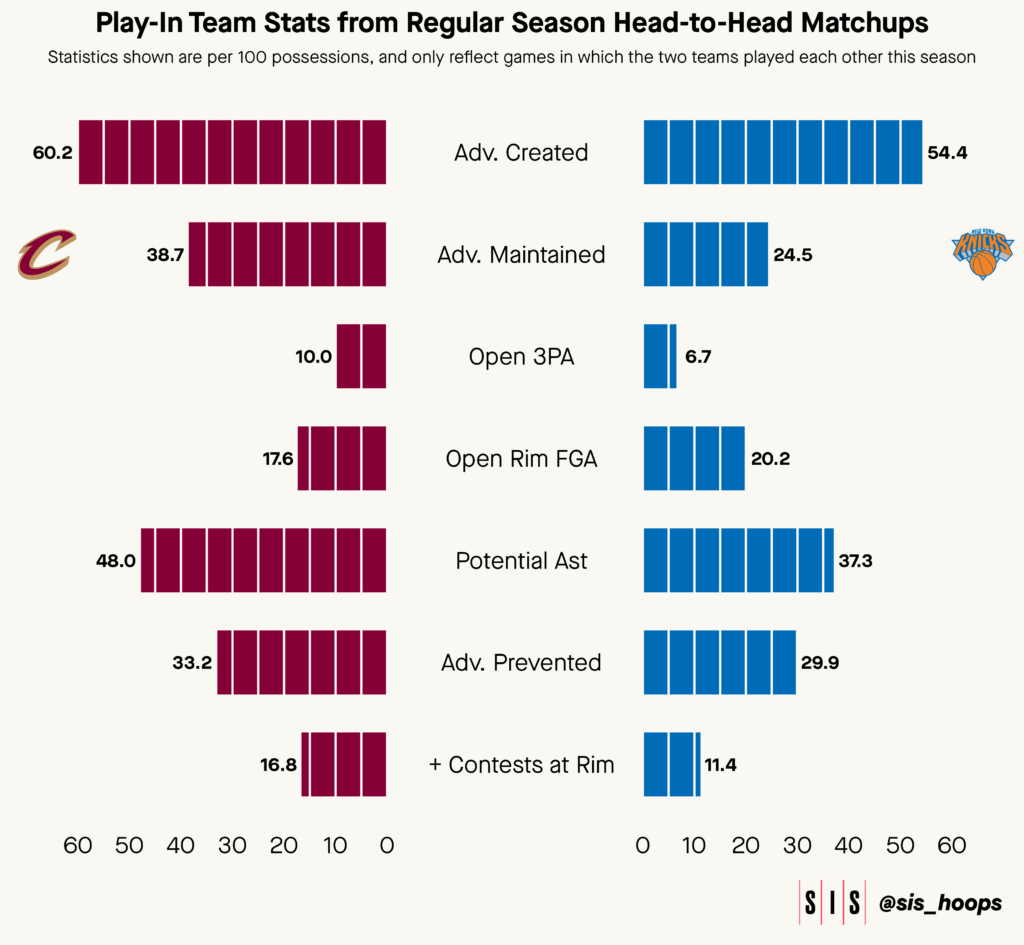 Huge thanks to Matt Bolaños, Noah Thro, Connor Ayubi, Blake Benjamin, Rebecca MaWhinney, and Stewart Zahn for helping pull together research for these previews!