It seems like every day we're seeing another great catch from an Astros center fielder, whether it be Jake Meyers or Chas McCormick. Combined, Astros center fielders rank tied for 4th in MLB in Defensive Runs Saved with 7.
We talked to McCormick in the past, but we just talked to Meyers on our most recent episode of The Sports Info Solutions Baseball Podcast (click here to listen). We wanted to know how he did what he did to make some of these great-looking plays. He walked us through three of them.
May 22 vs Owen Miller
This ball was hit 405 feet to center field at 105 MPH off the bat and with a 23-degree launch angle. Meyers had 5 seconds to catch this ball, and in his fastest one-second, he was running nearly 20 miles-per-hour (close to 29 feet per second). Our catch probability on this ball was 30% given where the ball was hit, how hard it was hit, and where Miller was playing.
Meyers rates well in Statcast's jump stats. He caught this ball because he read it well off the bat (a jump about 8 feet better than average) and because his pre-game prep came in handy. This was his first game in Milwaukee.
"I thought I got a really good jump on it. It wasn't really high in the air. My initial reaction when I got to Milwaukee was that there wasn't a whole lot of space in center field. The wall seems pretty close. I had a feeling I was going to have plays up against the wall. And it was two innings into the first game, a ball hit right next to the wall. I knew I could catch it. That was something I knew might happen.
During BP I always go look with our outfield coach, Gary Pettis. We check out the wall, see how the ball is bouncing off. I like to check the wall. Every wall has different stuff. New parks you have to really go do your homework.
During BP is also the best time to get reps in. I think that's key for young outfielders. Treat BP like the game and you'll get a lot better.
I was okay. (I'm careful) because of what happened to me in 2021 (a torn labrum trying to catch a ball in the postseason), it's something I have to continually learn about. You're more valuable on the field than off, but you need to make the plays that you can make. So it's finding the fine line of when to take risks and when not to."
May 9 vs Brandon Drury
 This ball was hit 111 MPH at an 11-degree launch angle. That's an extremely low line drive and thus it has a low catch probability, 24%. This ball is supposed to be a hit. But major league center fielders like Meyers, who understand how to read a ball off the bat, can make this kind of play."
 "I knew that one was hit hard. That one was a little more backspun, so it carried out to me a little bit and that gave me a chance to get under it.
(In terms of reading swings), that's something my dad, who played in the minor leagues, taught me to do growing up. That was something I focused on that I think other guys didn't really focus on. I also pitched growing up and in college (at Nebraska). That was a tool that he taught me for both (pitching and outfield). And now I do it subconsciously in games now."
June 3 vs Shohei Ohtani
This was trickier than a ball with a 65% out probability should be. But out probabilities, while very useful, don't necessarily take everything into account. In this case, Meyers got a poor jump, stat-wise, but was still able to recover. There was a good reason for the non-instant reaction to this one.
"I couldn't tell how he hit that ball. That one was more of a topspin ball. Sometimes to get to the ball, you get to a good position and you just have to be athletic and try and catch the ball. The No. 1 rule is catch the ball. It doesn't matter how you do it, just catch it … When I'm on the field, it's intuition. There isn't much going on upstairs with me. Kind of play the game like I know how to."
We mentioned before how when it comes to jumps that Jake Meyers is among the best outfielders in the game. MLB's Tom Tango helped us out and sent along this chart that shows just how much better Meyers is at getting jumps than other outfielders.
The orange line shows the frequency with which Meyers gets a jump between -40 and +20 feet above an average CF. The black dashed line shows the MLB rates. Meyers gets jumps 4 to 8 feet better than an average outfielder much more often than an average outfielder.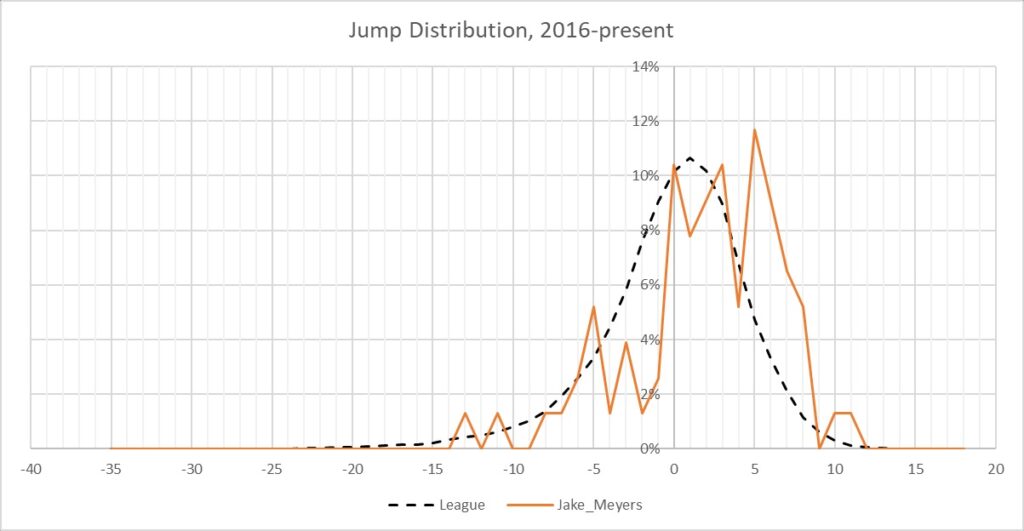 For more on Meyers, his interactions with Dusty Baker, and the toughest type of play he's tried to make in the big leagues, AND an interview with Marcus Semien, check out The Sports Info Solutions Baseball Podcast.